Three lucky Progresif Postpaid and Home WiFi customers brought home an iPhone 12 Purple edition, a Dyson V11 Vacuum Cleaner, and a 65" Skyworth Smart TV last week as part of Progresif's Consumer Fair campaign which gave new customers entries into a lucky draw.
The lucky winners were Wong Jau Liaun, Azmi Hj Matzin and Pg Hassanuddin Pg Hj Damit respectively and the prizes were presented by the Chief Executive Officer of Progresif, Hjh Nurul Haniah Hj Jaafar at the headquarters in Gadong.
Along with the Postpaid and Home WiFi lucky draws, Progresif also gave existing customers opportunities to be winners with a Tag & Win campaign where the prizes up for grabs were Handsets and Progresif merchandise.
"Good things happen when you choose progress and this is an exciting time to be Progresif," said Progresif Head of Brand Strategy, Hafiza Mohamad in a statement.
" In the months to come, Progresif is actively looking forward to rewarding its customers – be it Prepaid, Postpaid or Home WiFi customers," she added. 
Currently Progresif has an ongoing campaign for Prepaid customers with up to $3,000 worth of cash prizes on offer.
Entering the competition is easy as purchasing a $10 Prepaid Starter Pack, and existing Progresif Prepaid customers may enter by simply Topping-up a minimum amount of $10 to get a one lucky draw entry.
Customers can double their chances when they subscribe to a One Mobile Plan and TopUp via the Progresif Care App. 
Progresif is a Brunei-based Government Linked Company under Darussalam Assets headquartered in Bandar Seri Begawan.
Founded in 2014, Progresif's mission is to establish Progresif as a catalyst for change in the communications, digital, media and lifestyle sectors focused on enhancing quality of life and supporting economic growth in Brunei.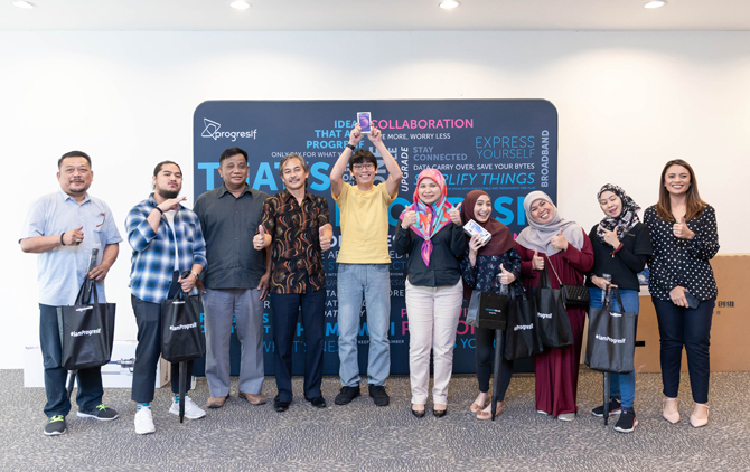 THE BRUNEIAN | BANDAR SERI BEGAWAN