From a therapeutic hobby turned into a small business by creating customised rugs for a special someone, Nazihah Sofian created By The Loop to fill her time and take her mind off things.
The homegrown brand came to be when the 27-year-old came across an account on Instagram on making customised rugs which sparked her interest before starting to look for a tufting gun machine.
However, it was quite a challenge to find the equipment in Brunei and sourcing from overseas was an expensive option.
"Soon after, I came across punch needle rugs. It is similar but manually done and I immediately went to Hokko to find the supplies and was thankful that they had a Punch Needle Kit. Before you know it, I was punch needling for hours and hours, eventually went back and forth to Hokko for more yarn and fabric hunting," reminisced the youthpreneur.
The method of making the rugs called punch needling is a combination of embroidery and rug hooking. For By The Loop, everything is made by hand, specialising mostly in coasters and wall decorations.
Despite being in its infancy stage, the business has garnered quite promising attention from local customers since its inception last September, thanks to the cute and unique products.
"I literally created this business out of boredom and just for the fun of it but seeing that I had a good response with my first ever smiley coasters, I got really motivated and able to make more cute punch needling items," said Nazihah.
According to the youthpreneur, the name By The Loop comes from the process of making the items. It is when the punch needle tool meets the fabric and pierces through one side, leaving a loop on the other that transforms the fabric into a fluffy surface mimicking a rug-like texture.
Before starting the business, she looked through Instagram and saw there were some local creatives making and selling customised rugs with tufting gun machine but not the punch needle. So, she took the initiative to make mini rugs instead.
The creative crafter started off by selling only smileys and yin-yang designs in the form of coasters or mini rugs for in-stock products.
"I try to incorporate my work into it, just a sense of happy vibes when the outcome is or even better than what they initially visualized, and that is what makes me so happy & feel so achieve. Keeps me going!" said the enthusiastic maker.
The rugs are sold through pre-order basis only where she opens a slot on Saturdays for both customised and ready-made orders via the website bytheloop.cocoart.com
Nazihah plans to introduce more products in her business in the future such as punch needle bags, keychains, and pins, among others, which she is currently working on.
By The Loop has helped the full-time entrepreneur in so many ways from helping her during her deepest slump of unemployment since graduating in 2019 and being inspired by a new day while inspiring others to find their inner creativity.
With a positive mindset, Nazihah believed that everything happened for a reason. She started going on a social media detox and found offline things to do which led to her hands-on crafting activity which has helped cope with her mental health.
"I love what I do, and I feel that's the most important thing to consider. Be very patient and keep consistent. If it gets a bit too much, then listen to your own self, take a break if you need to," she concluded.
Head over to By The Loop and see the fuzzy mini rugs crafted personally by the youthpreneur on her Instagram @by_theloop.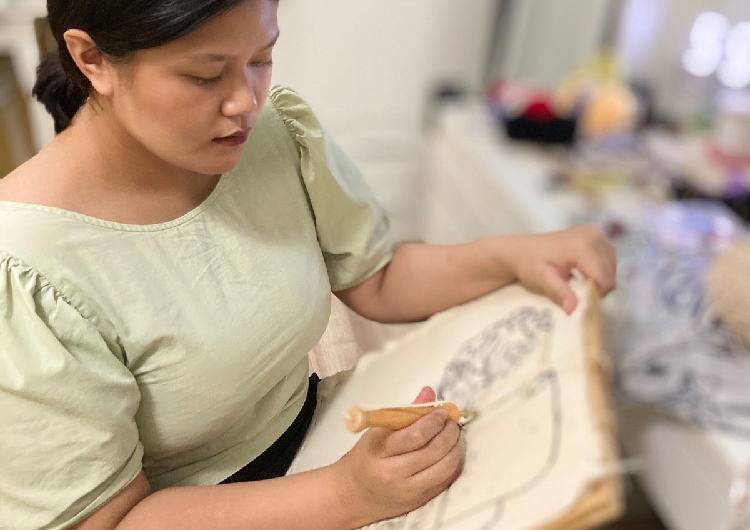 This article was first published on 18 December 2021 in our Weekly E-Paper issue 172 | More stories here
THE BRUNEIAN | BANDAR SERI BEGAWAN