Armed with a needle and a thread, self-taught embroidery artist, Dk Nurul Arina Pg Hj Mohd Abu Hassan uses a variety of stitching techniques to embroider portraits of loved ones with her colourful threads and meticulous needlework.
Whether they are hand-stitched flowers or Disney characters, Rina will put her heart and soul into every embroidered piece that she makes.
RinaKU Embroidery began in 2020 out of the creativepreneur's passion for custom embroidery and cross-stitch work. For two years, the business has been making customised embroidery designs for commissioned orders.
For her, the loops and the threading started off as a hobby. Her first creation was a flower crown lady. Now, the creativepreneur has turned her passion into a profitable business that she would also share with people.
Two years ago, the creativepreneur barely knew how to master the split stitch, that was until she came across tutorial videos on YouTube. Rina would hours behind her work station gently pulling the needle and thread through the fabric.
"I have always adored embroiderers and hand-crafters. I like to look at the details of their skills from the YouTube videos for years but I never had the chance to try it out because I didn't have the time and materials," she shared.
During the first pandemic, Rina who first turned to embroidery as a creative outlet started learning about the different hoops and tricks, and how to transform them into works of art.
The creativepreneur fell in love with learning the different techniques of embroidery, and in her search of new challenges, she progressed from a running stitch to a complicated french knot.
Rina shared that she loves the act of embroidery because the artform is very relaxing and also therapeutic.
Prior to opening her business, she made an Instagram page @rinakuembroidery dedicated to her journey, sharing photos of her finished products.
Her hobby quickly snowballed into a budding business when Rina noticed people were interested in her designs after using social media to document her learning process.
She also shared that she feels encouraged by the constant support she has received throughout her creative journey,
"I would share my progress and finish work with my family and friends, and they would encourage me to make my hobby into business and now, here we are," she said.
Rina experiments with new designs and patterns every day. From start to finish, it might take her hours or days, depending on the complexity of the designs.
According to her, most of her designs are inspired by everyday life. Each of her works begins as a drawing before it is hand-stitched.
"The source of my inspiration is quite random. Sometimes, I would get them just by looking at the patterns of the clouds to the trees that I pass by or along the beach," she shared.
The embroiderer would also find inspiration through social media platforms such as Pinterest and Instagram.
In addition to her personal designs, Rina also makes custom embroidery pieces to celebrate important life events from weddings, birthdays to baby's first steps.
Rina has produced over 60 embroideries since then. "So far, I have made more than 50 items for a customised collection and almost 5-10 pieces for my personal collection," she said.
"My favorite embroidery piece would be the 'Malam Berbedak Pengantin Perempuan' and also the Disney Princess Challenge: Megara. It is one of my proudest ones because of the challenging details of the facial appearance," she said.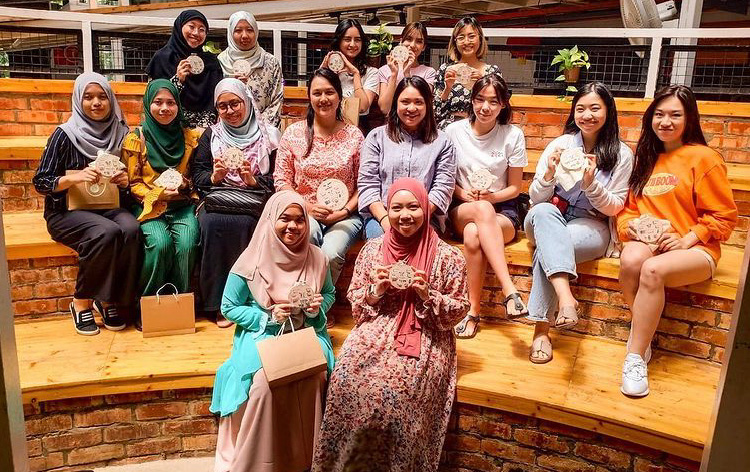 Inspiring others one thread at a time
Throughout her two-year journey, Rina not just creates embroidery pieces as a business, she also offers classes to individuals who are interested in creating their own work of art.
It was in October 2020, when Rina decided to organise her own embroidery
workshop to share her knowledge and connect people through her craft .
RinaKU Embroidery hosts monthly embroidery classes and workshops for people of all ages. For the classes, customers will each get their own tools and supplies.
She covers all the embroidery basics from transferring patterns to introducing chain stitch, blanket stitch, cross stitch and more.
However, during the second pandemic she had moved the embroidery classes online.
"I have been conducting my workshops and taking customised designs for years now, it may not have been an easy business for RinaKU Embroidery but it is building a connection seeing there are a lot who cherish hand-crafters," she shared.
Embroidery is a slow art and a lot of effort goes into it, she said. As her own teacher, Rina shared that during the creation process there have been some trials and errors, but she has learned a lot from it.
"For me, untangling multiple threads, blending colors and shading and creating intricate and small details are the biggest creative challenges that I face as an embroiderer," she said.
As for future plans, with RinaKU Embroidery slowly growing, Rina is planning to open an embroidery-themed cafe where people can enjoy a relaxing place to stitch and also a place where she could share her love for embroidery.
This article was first published on 12 March 2022 in our Weekly Epaper issue 184 | More stories here
THE BRUNEIAN | BANDAR SERI BEGAWAN