Youthpreneurs Waina and Mira Hashim enjoy ending a good meal with sweet treats. This inspired the sisters to kickstart their personal baking hobby into a business with The Aftersbox.
Fresh out of the oven, the business is currently focusing on cookies as the youthpreneurs learn the skills of running a business with hopes to expand its dessert options in the future.
"Whilst eating and working on this, it is like a light bulb moment like in the movies, and we were hit with the idea of turning it into a business. So here we are, selling our delicious bakes," said Waina.
The 19- and 22-year-olds are both full-time Laksamana College of Business students taking a Business major in Accounting and Finance.
The sisters started their journey as entrepreneurs at the beginning of this year and have since gained a lot of customers who kept coming back for their sweet desserts.
Originating from the idea of enjoying a sweet dessert after every meal, Waina and her sister decided to incorporate that into the name, settling on 'The Aftersbox'.
Currently being a home-based business, the sisters started off just baking cookies with a handful of options but have since then expanded on their toppings.
As of now, they have created 10 toppings based on further experimentation and customer feedback.
Their toppings are currently Chocolate Chips, Nutella stuffed, Kinder Beuno, Biscoff stuffed, Red Velvet stuffed, Oreo Cheesecake, S'mores, Ovomaltine, Toblerone and Nutella Cornflakes.
"On top of that, we also managed to expand on our dessert options including cookie bars and brownies," said the entrepreneur.
Their best-seller in the meantime according to the youthpreneur is definitely S'mores cookies as they are often sold out first. So when it is available, she encourages customers to grab them straight away.
Each of the cookies is priced in the range of $2 to $3 depending on the topping.
However, they are still working on their menu and there are more to come in the future as the two are planning on introducing seasonal flavours or topping to keep their menu interesting to their customers.
Since the two bakers are fairly new in the business, they cannot really say what makes their business different from other similar cookie businesses and believe that when the time comes, their customers will know what makes them unique.
Apart from baking the best cookies that they can provide their consumers, they also take their time to market and advertise their products that match the essence of the business.
The business is currently selling mainly through Instagram @theaftersbox and the occasional pop-ups and since then they have gained many customers.
"Recently, we have also done a number of collaborations with other F&B businesses to further increase our exposure and sales, to get the business name out there," said the 19-year-old.
Since this is a family-run business, Waina and Mira do all the baking themselves to cater to the needs of their loyal and new customers.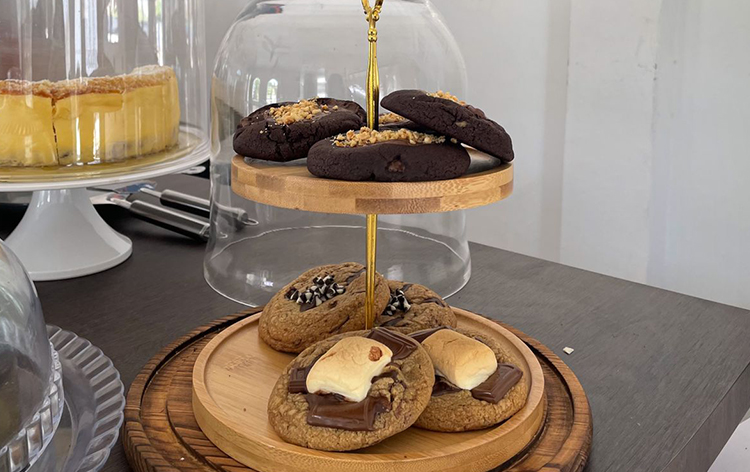 With that being said, it comes with its own set of challenges as well and some of them are the limited baking equipment in their household as well as many late nights spent on baking.
"The road to where we are at now has been bumpy and rough at times but the results have been amazing and beyond our expectations and our customer satisfaction at the end is what makes it all worth it," said the youth.
Being in the business for almost a year now, the two entrepreneurs have learned a lot along the way and a strong piece of advice that they would like to share with their fellow entrepreneurs is to always be optimistic and have patience when running a business.
There will be times when they come across people who are demotivating, but by sticking to what they know and trusting the process, the result will show itself in time when things are done properly, shared Waina.
The Aftersbox has also officially partnered up with Glashaus Coffee for pop-ups and pickups of their orders in the coming month or so and they are encouraging their followers to keep watch of the space.
Support these two sisters' small business and have a sweet treat to end a big meal by ordering their cookies on their Instagram @theaftersbox.
THE BRUNEIAN | BANDAR SERI BEGAWAN