A group of Bruneians and Malaysians have successfully reached the Everest Base Camp (EBC) standing at 5,400 meter recently after a 12-day expedition.
Prior to the climb, the group faced the challenge to fly into Lukla airport in Nepal, the starting point of hiking towards the base camp, due to bad weather.
The team was stranded for two days in Phaplu, a small village in Khumbu before opting for another starting point located in Kharikhola which is a village further down the mountain side.
The alternative has required the team to take a six-hour off-road journey to Kharikola and start hiking for an additional two days before back track. This marks a new record for hikers to climb from a different starting point apart from the usual place.
In a statement from the team, they previously climbed Mount Kinabalu (4,093 meter), Mount Pulag Philippines (2,928 meter), Annapurna Base Camp (4,130 meter) and Mera Peak (6,476 meter).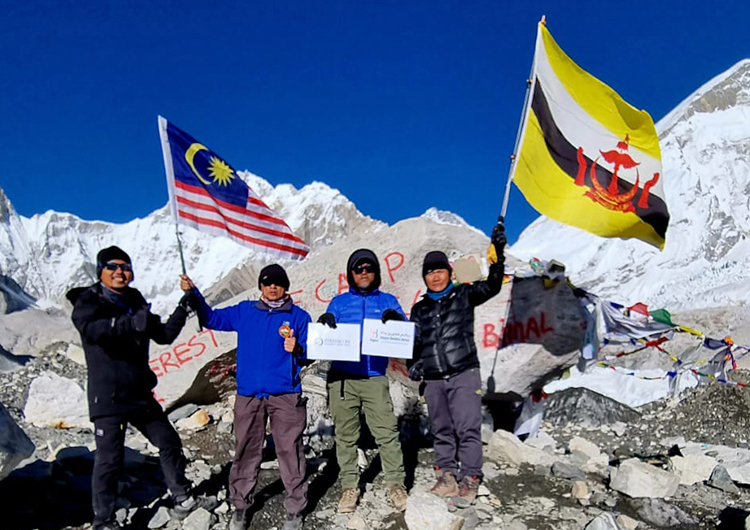 However, different mountains have their own challenges, they said.
"The first three days were really challenging, facing the heavy rains (end of monsoon) and landslides as we are using non-gazette routes to climb to Phakding in the Lukla area," added the team.
After Namche Bazaar, the team was blessed with beautiful weather and blue sky waiting for their acclimatisation hike.
"It really boosted our motivation to complete the expedition. Day by day, hiking is getting tougher due to high altitude (above 4,000 meter), less oxygen (less than 45 per cent of oxygen) and extreme weather up to -16C. We keep our positive mind to face the challenges and keep walking towards our main objective, the Everest BC," continued the team.
After nine days of scaling the mountains at high altitudes, less oxygen and extreme weather, the team successfully reached Everest BC and flew the national flag.
The expedition was led by Noordin Khalid from UNN with team members Ibanyuk Kud, Hairul Nazim, Captain Faiz, Affizan, Yukhairi and Amir Hamzah.
THE BRUNEIAN | BANDAR SERI BEGAWAN