Bid rigging is one of the most harmful types of anti-competitive conduct.
Tenderers must prepare and submit their bids independently and refrain from participating in any discussion or coordination on the bids with their competitors.
This collusive practice is strictly prohibited under the Competition Order, 2015. Any form of collusive behavior can have an adverse effect on a country's economy and government expenditure.
Hence, it is important for procurement agencies to take preventative measures to reduce the risks of bid rigging. This was highlighted by the Competition Commission of Brunei Darussalam (CCBD) through its Executive Secretariat during a dialogue session with officials from the Maritime and Port Authority Brunei Darussalam (MPABD) in particular, its Internal and Quotation Committee, Asset Management Division and Finance division.
The session was attended by the Chief Executive of the Maritime and Port Authority Brunei Darussalam (MPABD) Captain Abdul Mateen Abdurrahman Liew @ Martin Liew.
Also in attendance were the Chairperson of the CCBD Nik Hafimi Abdul Haadii and the Director of the CCBD Hajah Rena Azlina Dato Paduka Haji Abdul Aziz.
The Executive Secretariat of CCBD began the session by providing an overview of CCBD's institutional framework as an independent quasi-judicial body mandated to enforce the Competition Order, 2015.
The session also deliberated on the Competition Order 2015, particularly the three key prohibitions under the Order namely Anti-Competitive Agreements, Abuse of Dominant Position; and Anti-Competitive Mergers.
The session highlighted the harmful effects of bid rigging which include, increased prices and compromised quality of goods.
Bid rigging refers to the agreement (written or oral) between bidders or potential bidders to manipulate the bidding process by collectively pre-determining the bid winner. Consumers, including the government,
may be heavily affected by it as public procurement accounts for a significant amount of government expenditure.
The session underscored the need for procurement officials to play a proactive role in "Deter, Detect and Report" bid rigging. Attendees were reminded to take measures to prevent bid rigging from happening.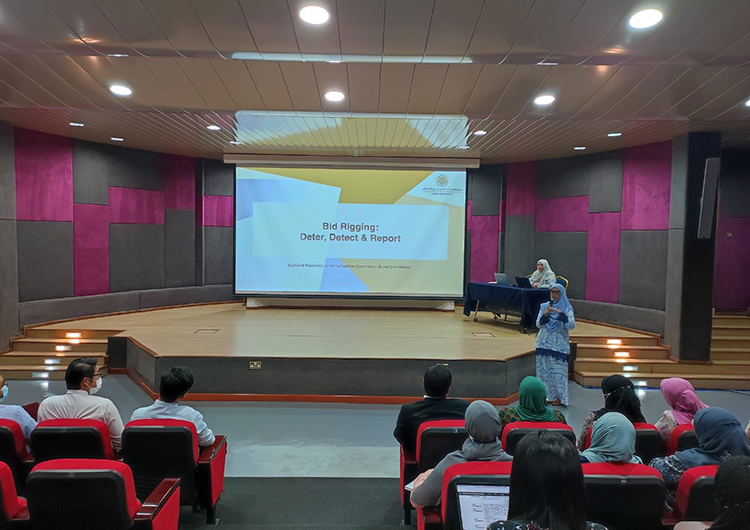 This can be initiated by adopting practical steps in designing pro-competitive tender documents. Procurement officials are advised to be vigilant on signs of bid rigging to detect bid rigging.
Any suspicions of bid rigging conduct may be reported to the CCBD by providing relevant information and documents such as tender bids,
correspondences and well record of suspicious behaviours and statements.
The session concluded with a Q&A segment and a short interactive quiz to further enhance the understanding and awareness of participants on the Competition Order, 2015.
The CCBD welcomes any request for dialogue or briefing to fight bid rigging in public procurement which can be directed to the Executive Secretariat to the CCBD through email at exec.secretariat@ccbd.gov.bn For further information, visit CCBD's website at www.ccbd.gov.bn or contact 2383100.
THE BRUNEIAN | BANDAR SERI BEGAWAN