The Embassy of the United States of America in Brunei Darussalam recently raised $29,500 for Pusat Ehsan Al-Ameerah Al-Hajjah Maryam (Pusat Ehsan) in a private charity auction.
The cause was supporting the organisation's mission to provide training, assistance, and care for individuals with special needs to allow them to achieve their full potential in society.
The private function held at U.S. Ambassador Caryn McClelland's home was graced by Her Royal Highness Princess Fadzilah Lubabul Bolkiah as the guest of honor, Yang Amat Mulia Pengiran Suami Abdullah Nabil Mahmoud Al-Hashimi, and the Patron of Pusat Ehsan, Datin Paduka Seri Hajah Mariam Haji Abdul Aziz.
The auction showcased paintings by Pusat Ehsan students, canvas portraits signed by His Majesty the Sultan and Yang Di-Pertuan of Bruneian, His Royal Highness Prince Haji Ah-Muhtadee Billah, the Crown Prince, and His Royal Highness Prince 'Abdul Mateen.
Attendees also bid on a limited-edition box set of the documentary film "Prince Azim: Son of the Arts," a polo cap signed by His Majesty the Sultan, and a special mosaic art piece of the Eiffel Tower made of micro beads.
Guests at the event included prominent business leaders, government officials, dignitaries, and local philanthropists.
In her welcoming speech, Ambassador McClelland affirmed the United States' commitment to advancing empowerment, dignity, and equal rights for people with disabilities.
She noted the success of the Americans with Disabilities Act (ADA) signed in 1990, which continues to protect the rights of people with disabilities from discrimination.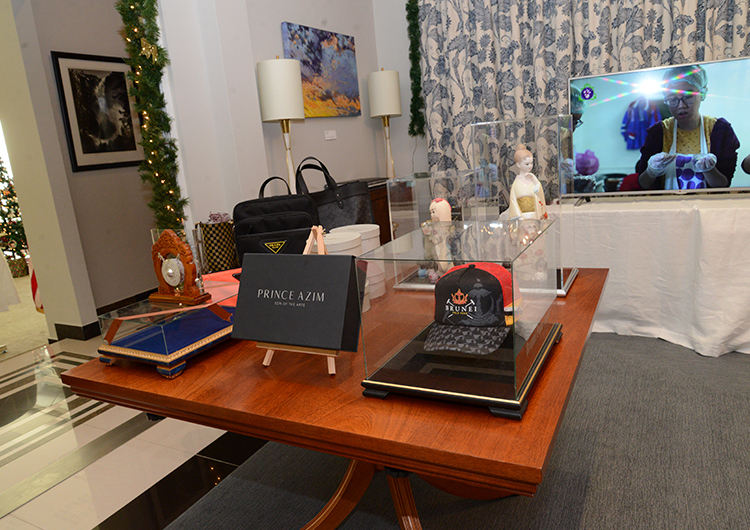 "We believe that all people deserve full and equal access to all society's opportunities," she said.
The charity auction was organized just before the United Nations' Day of People with Disabilities and just after the U.S. holiday of Thanksgiving.
Ambassador McClelland noted the holiday, saying, "Today, in particular, I am thankful for the people of Brunei Darussalam who are such generous hosts and partners."
The event was organised jointly by the U.S. Embassy and Pusat Ehsan, and much of the money raised will be used to help construct a new school for special needs students.
"As fundraising activities for building the school are ongoing, this charity auction has proven to be a very successful collaboration," said Audrey Choo, a board member of Pusat Ehsan.
"We are pleased that all funds raised will be used for building a great educational facility for our students with different abilities," she said.
THE BRUNEIAN | BANDAR SERI BEGAWAN