Progresif was delighted to participate in the recent National Youth Day celebration with the theme 'Belia Siaga Masa Depan' (Future-Ready Youth).
During the event, the company had the chance to present a plaque as a memento to His Majesty the Sultan and Yang Di-Pertuan of Brunei Darussalam, affirming Progresif's unwavering commitment to driving Brunei's progress as a digital nation.
The symbolic gesture underscored Progresif's dedication to a progressive and digitally empowered Brunei, said the organisation in a statement.
The celebration placed a significant emphasis on Youth Aspirations and their preparedness for the future, providing the perfect opportunity for Progresif to share its pioneering efforts in digital innovation, youth empowerment, and contributions to Brunei's creative economy.
Progresif's Chief Executive Officer Hajah Nurul Haniah Haji Jafaar in a statement said that Progresif is honoured to stand alongside the nation's youth and contribute to a progressive Brunei.
"Our commitment to innovation, empowering the youth, and fostering a thriving creative economy aligns perfectly with the vision of 'Belia Siaga Masa Depan'," she said.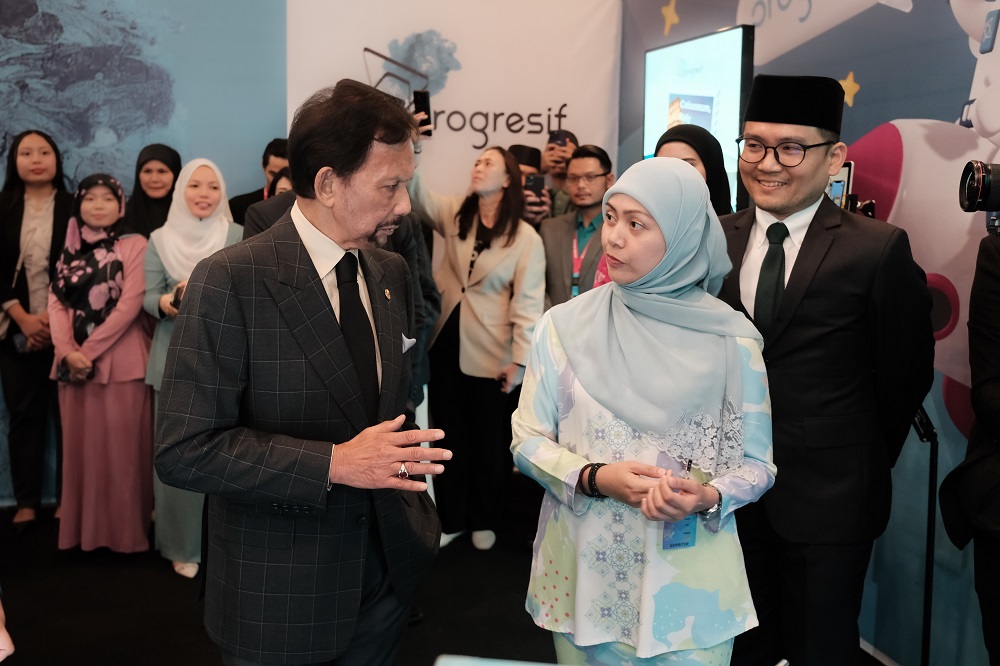 She added: "We extend our heartfelt thanks to His Majesty the Sultan for his unwavering support, and we pledge to continue driving Brunei's progress as a digitally empowered nation."
Over the past year, Progresif has consistently demonstrated its dedication to digital innovation.
From the revolutionary Augmented Reality (AR) campaign during the Scavenger Hunt and Hari Raya festivities to the recent nationwide 5G launch, Progresif remains steadfast in providing innovative technology and affordable connectivity plans, equipping the youth for a digital future.
Aligned with the essence of Progresif, the company continues to foster entrepreneurship among Brunei's youth and community with its groundbreaking initiative, 'RECHARGE.' Embedded in the Progresif CARE+ app, this electronic top-up system offers a platform for Brunei's youth to become entrepreneurs.
Progresif encourages financial independence by enabling young minds to sell top-up cards to other Progresif Prepaid users, nurturing a culture of entrepreneurship.
Through the Refer a Friend campaign, as part of its rewards for loyal customers for introducing their friends and family to Progresif's innovative services.
This initiative aims to create a network of empowered individuals, reinforcing Progresif's commitment to the youth and community.
Progresif's commitment to the creative economy is evident through its continuous progress in upgrading innovative products, such as Progresif Media and Progresif CARE+.
These initiatives not only empower local talent but also significantly contribute to Brunei's cultural landscape.
Progresif Media serves as a thriving platform for Brunei's content creators, amplifying their vision and creative expressions.
As part of the National Youth Day celebrations, Progresif Media hosted a Fireside Chat titled "Centrestage."
The sessions provide an informal public platform where invited Bruneian creators take the stage to share their work, stories, and experiences from their creative journeys.
Through personal anecdotes and insights, these creators leave the audience with "golden nuggets" or words of wisdom to take away from their respective stories.
The objective is to expose local filmmakers from various backgrounds and give the audience insight into the different creative journeys and styles of our local creators.
Visit Progresif Instagram, Facebook, or website for more details and information about events, games, rewards, and products and services. Get instant updates on the event by following @thatsProgresif and @ProgresifMedia on Instagram.
THE BRUNEIAN | BANDAR SERI BEGAWAN