The luxurious Alphard 3.5 Executive lounge has finally touched down on local shores as NBT Brunei showcases an exclusive public appearance of the MPV at their Gadong Toyota showroom.
The new Toyota Alphard is now available for viewing for the members of the public and will be in the showroom for a limited amount of time which is from 16 July until 22 July before moving on to the next destination.
Up close and personal, everyone is welcome to see the executive MPV and observe the extravagance that comes with it.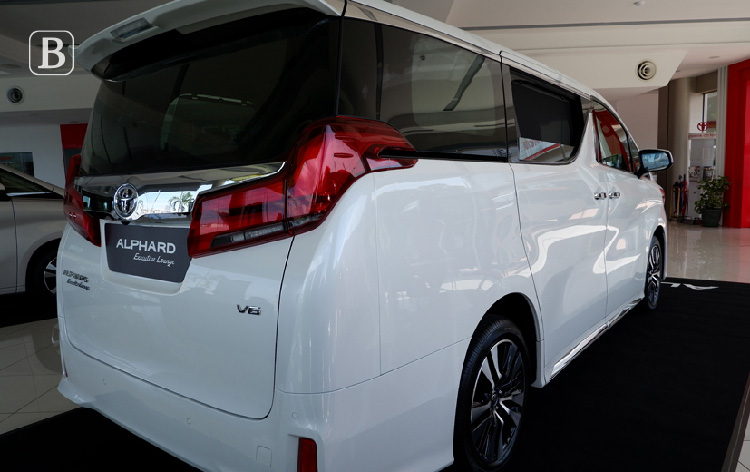 Through the public display, it hopes to satisfy the audience's interest and curiosity as they will be able to get their hands on the vehicle for the first time.
The car has several amazing new features, ensuring that every journey is inspired with a touch of elegance.
The elegantly designed 7-seater MPV, which is powered by a 3.5-litre V6 engine, delivers a flawless performance, allowing passengers to cruise in comfort – in line with the car's tagline "First Class Travel".
The cabin is equipped with spacious captain and ottoman seats which allow not only the driver but also the passengers to be indulged in first-class comfort. 
The second-row seats come with seat panel controls that give passengers the freedom to control the seats into any position they want. 
For extra comfort, the captain seats in the middle row come with table trays and cup holders as well as a phone holder on the side.
Furthermore, the glamorous car is surrounded by JBL Premium Speakers, which are designed to deliver cleaner, crisper, and more dynamic sound inside the cabin, enhancing the passengers' entertainment.
It is also equipped with a 13.3-inch rear monitor display that displays high-definition images, providing an intense entertainment experience.
With these features, not only passengers are able to travel first-class on flight but also on land, thanks to the Executive Lounge.
The Alphard 3.5 is only available for pre-order and currently, the only unit available at NBT Brunei is the one that is showcased. 
Be sure to catch a glimpse of the luxury MPV at the NBT showrooms on the listed dates.
The next destination for the showcase of the first-class vehicle will be at Belait Toyota showroom from 23 July until 30 July and the last stop is at the Bunut Toyota Showroom from 31 July until 7 August.
For more information, follow their Facebook and Instagram @toyotabrunei.
This article was first published on 17 July 2021 in our Weekly E-Paper issue 150
THE BRUNEIAN | BANDAR SERI BEGAWAN