Local filmmaker Akmal Marhain wants to usher in a new genre for local films with the debut of his feature-length film Intiqam, an Islamic action thriller that centres on the theme of vengeance.
"Intiqam is an Arabic word which literally translates as "Vengeance". It is a word specifically mentioned many times in the Holy Quran and also loosely mentioned in one of the hadeeth of Prophet Muhammad SAW," explained Akmal.
The local director wrote the screenplay based on his interest for religion, philosophy and psychology which heavily features the "eye for an eye" principle, reflecting the protagonist's journey throughout the movie.
He shared that he had referred to the Holy Quran and Saheeh Bukhari as his primary resources, adding that the idea of combining genres was inspired by the Malaysian film director, Syamsul Yussof who succeeded in combining the balance between horror and religious elements in the two box office successes, Munafik and Munafik 2.
"I try to balance both action thrillers and Islamic elements through Intiqam. It is still very new in the local film industry," he explained.
"My only wish is for the community to understand that we can still have entertainment in our country without sacrificing Islamic values," he added.
In creating the thriller and action-packed element of the movie, from the running sequence to the camera angles, Akmal drew inspiration from legendary film directors such as David Fincher, Lee Jeong Beom and Gareth Evans.
"However, in terms of conveying the natural Bruneian dialect through the dialogue, I was mostly inspired by Aaron Sorkin, a screenwriter and film director who is known for his natural and fast paced dialogue," he said.
Akmal Marhain founded Marhain Entertainment in 2019, a film production house that aims to produce homegrown content that portrays religious elements in the contemporary action-thriller genre.
Equipped with a point-and-shoot Canon digital camera, the local filmmaker has produced and directed more than 20 short films, including 'Fursa Thaniya', 'Syahr El-Ghafran', 'Eudimoniya', 'Khatima' and more.
"It was in 2019, I decided to get more serious with filmmaking, focusing on stories that touched more on serious issues, such as mental health and social problems," he shared.
In 2020, The filmmaker won the Islamic Short Film Category at the Brunei Film Blitz in 2020, which further kick-started the idea to move from short films to the longer format feature film.
With all the crew, equipment, logistics involved in film management, Akmal shared that looking for the right location was one of the most challenging parts of the filmmaking process.
"Finding locations in Brunei could be hard as some of the locations I had in my imagination are too ambitious to achieve so I had to go practical and shoot mostly on location. I had to be creative and use a lot of different locations while also making it look like one great set up," he shared, adding that getting location permits was difficult.
Another challenge came in the production planning and scheduling.
"Especially when it rains, we sometimes had to postpone our shooting which pushed back most of our already tight schedule. Scheduling was quite tough for us, because most of us were  still college students, so the majority of the filming was done during the weekends," he said.
The local filmmaker added however that the close-knit crew had motivated him to continue with film production. They managed to complete the movie in about one and half years.
The first premiere of 'Intiqam', was held at The Grandstand Cinema in Seria but due to the second wave of COVID-19 hitting the nation and with movie theaters closing, they had to delay the public release of the movie.
When asked about the future, Akmal said that he plans to continue his film career and explore more with different concepts and genres of film. He also hopes to make a sequel for Intiqam.
"Filmmaking is a learning process — I am always learning new things along the way," he said,"The skills that I have gained throughout the journey could help me make improvements in my next film. Insha'Allah," he added.
Ultimately, the filmmaker is also hoping to bring his experience to the table to help aspiring local filmmakers and youths.
Intiqam has runtime of 83 minutes and stars local youths, Akmal Marhain, Natayah Rahim, Jamaliuddin Abu, Muhammad Arif, Siti Norhaleeza and many more.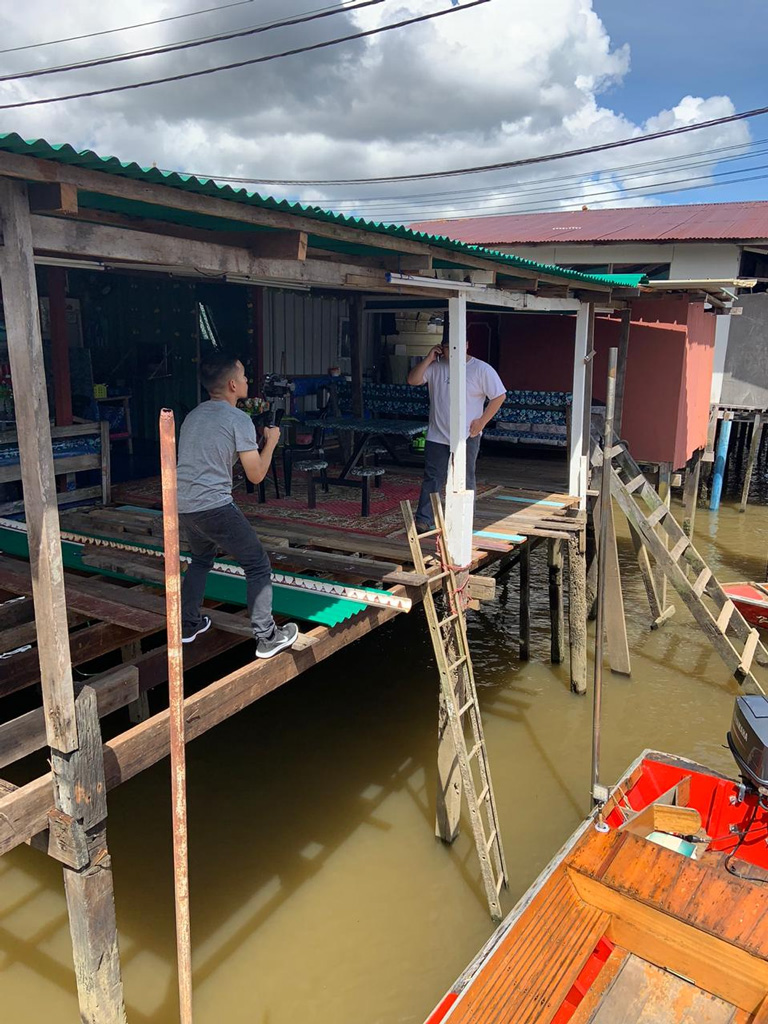 This article was first published on 21 August 2021 in our Weekly E-Paper issue 155
THE BRUNEIAN | BANDAR SERI BEGAWAN