Universiti Teknologi Brunei (UTB) and four other prestigious universities in Borneo recently signed an agreement for the establishment of Konsortium Komputeran dan Informatik Borneo (KKIB).
The KKIB University members which initiated the partnership in March this year include Universiti Malaysia Sabah (UMS) and Universiti Malaysia Sarawak (UNIMAS) from Malaysia, Universitas Mulia and Universitas Mulawarman from Indonesia as well as Universiti Teknologi Brunei (UTB).
The establishment of the consortium which aimed at achieving three main areas – research, academic and postgraduate, will provide an international platform for university members to promote and boost academic cooperation, as well as implement postgraduate exchange programmes in the field of computer science and information technology.
All five consortium members have also virtually discussed the KKIB initiatives and deliverables during a joint university retreat held on 27 July 2020.
The idea of the consortium was initiated by UMS that intended to enhance collaboration and establish academic exchanges between universities in Borneo.
 Hosted by UMS, the virtual event began with remarks by the Vice-Chancellors and Rectors from university members followed by a video presentation of KKIB's establishment before the signing.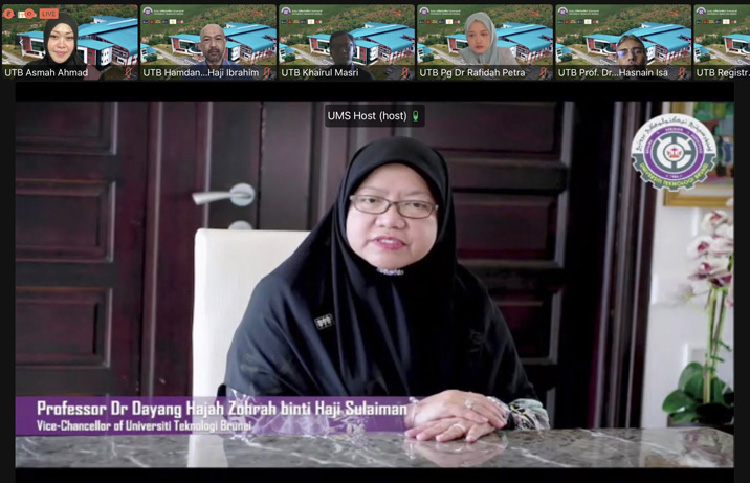 Vice-Chancellor of UTB Professor Dr Dayang Hajah Zohrah in a press statement said that the tertiary education institution which is led by the university's School of Computing & Informatics (SCI) is grateful and honoured to be selected as a member of the Consortium.
"Through this collaboration with KKIB, UTB and SCI would greatly benefit from the joint courses, seminars, and workshops, as well participation in conferences organised by KKIB," she said.
According to the vice-chancellor, UTB always welcomes collaborations in areas of common interests as university collaborations have evolved tremendously where the university is not just focusing on longstanding commitment to serve the public good but also help attract the resources, relationships, and recognition necessary for these institutions to be competitive in an environment.
"Collaborations and partnerships are becoming more essential for the institution to adapt and thrive amid economic volatility, demographic shifts, and technological developments," she added.
Signing the MoU for UTB was its vice-chancellor, UMS was represented by Professor Datuk Dr Taufiq Yap Yun Hin, for UNIMAS was Professor Datuk Dr. Mohamad Kadim Suaidi, from Universitas Mulia by Dr Agung Sakti Pribadi while Professor Dr. Haji Masjaya, on behalf of Universitas Mulawarman. – Nurhana Diah
This article was first published on 30 October 2021 in our Weekly E-Paper issue 165 | More stories here
THE BRUNEIAN | BANDAR SERI BEGAWAN