Armed only with a profound interest in music and streetwear culture, Chief Executive Officer and Creative Director Tarmizi Bahrin (Mizi) started the local lifestyle label Super Thirteen as a passion project to design T-shirts.
Now, offering a wide range of products from glow-in-the-dark hoodies to trucker hats, the homegrown brand has since released 13 of its collection since its inception in 2017.
To mark its four-year milestone, the local lifestyle brand has recently released its "Growing Up: 4th Anniversary Capsule" collection to commemorate its anniversary.
According to Mizi, Super Thirteen is more than a lifestyle and streetwear clothing brand.
"Since the establishment of Super Thirteen, our objective has always been to support and associate our brand with the youth," he shared.
After four years in the business, they hope to inspire other youths to dream bigger. 
The local brand has been supporting the local youth culture and community from extreme sports, music, arts and also empowering small businesses.
"We wanted to show that our youth are capable of the same level as youths in other countries," he said. "We personally believe that our youth just need that support or a push to reach their potential and break free."
Moreover, for Mizi, the music industry has always been synonymous with fashion.
During his high school years, he had a passion for collecting merchandise T-shirts especially from his favourite bands and musicians, this would serve as the impetus for Mizi's interest in independent brands which gave birth to his own distinct fashion style and aesthetic.
Mizi recalled on his trip to the Tempatan Fest in Johor, Malaysia with his friend in 2016, the youthpreneur was introduced to the impressive range of streetwear and independent brands.
"Tempatan Fest was one of the biggest clothing brands festivals in South East Asia where Malaysian local brands come together to celebrate independent fashion brands. The visit inspired me to create my own brand and that's how Super Thirteen was founded," he continued.
Mizi also noted that the streetwear culture is growing in Brunei. However, there is still a lack of local brands.
"There was a rise in streetwear brands with more than 30 streetwear labels in the past six to seven years, but now, sustaining a clothing business comes with its own set challenges. There are only a few of us left," he explained.
Super Thirteen is distinguished by its distinctive neon coloured graffiti-style characters.
From the Mad Rhino to the Golden Yeti, the homegrown streetwear label creates graphics and illustrations with a mission to spread awareness and stories.
"The design and inspiration come from many places. The Mad Rhino was a piece that I came up with back in 2019. The idea was to spread awareness for the endangered Sumatran Rhinos and the Kalimantan Wildfire during that year. Part of the sales was also donated to the Rhino Conversation group," he shared.
Spreading kindness is the guiding principle and philosophy behind everything Super Thirteen does. The local brand is always looking for ways to give back to the community.
Super Thirteen recently came up with a campaign dubbed the "Barber Shops Blueprint", a collaboration with local barbershops whose businesses were heavily impacted during the pandemic
"We started the initiative to help ease their financial burden during these trying times. Every week, we would release new designs for the barbershop and the proceeds from the sales would go directly to them," he shared.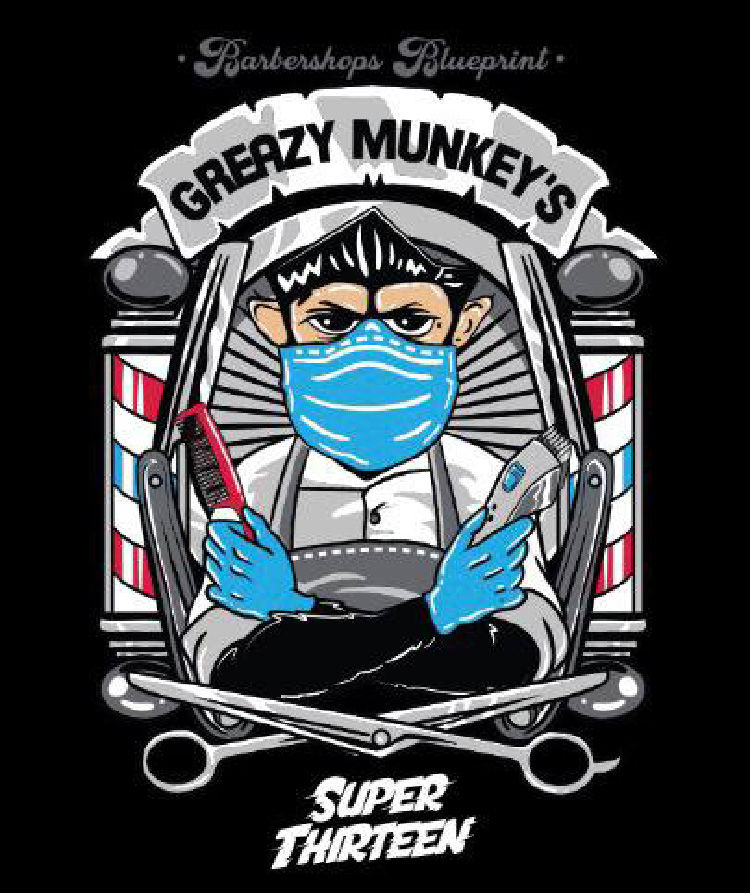 "Alhamdulillah, we have successfully completed the campaign with three local barbershops and accumulated an average of around $6000 sales altogether," he added.
Like many businesses, there are always challenges and Super Thirteen has been a great learning experience for the young entrepreneur.
It also takes trust and teamwork to overcome the obstacles, he shared.
Along with Mizi, the team behind Super Thirteen comprises Operation and Public Relation, Faisal Fauzi, Sales and Project Coordinator, Iqbal Fikri and Creative Designer, Dally Yusof.
Adding to that, the COVID-19 restrictions have forced businesses to change their strategy.
The challenges of the pandemic taught Mizi that patience and adaptability are key, adding that it took determination to overcome the obstacles and that every day is a new lesson for the business.
He added that looking back on the Super Thirteen four-year journey, the moment that helped the business move forward involved a lot of perseverance and support from their loyal customers.
"All our teams and everyone who has taken part in the business's journey has provided us support and feedback which allowed the company to continuously improve," he said.
In addition, when asked about future plans for the local lifestyle brand, Mizi shared that they are eyeing to open a brick-and-mortar store in Kuala Belait and also collaborating with more local artists.
He added that the main objective of the collaboration is to provide an opportunity for artists in Brunei not only to design but as a platform to promote their work.
This article was first published on 27 November 2021 in our Weekly E-Paper issue 169 | More stories here
THE BRUNEIAN | BANDAR SERI BEGAWAN