The comforting aroma of freshly brewed coffee hits the spot even before you place an order at Ngupi, the latest addition to the growing independent coffee scene in Brunei.
Founder Mohd Zulfadzli Noraminuddin Awg Zulmajdi always had a passion for people, coffee and pizza and this year, he took a big step by opening a small kiosk at Impiana Jaya shopping complex in Kiulap.
You can find the 26-year-old spending most of his days behind the kiosk in his favourite batik t-shirt, either loading the espresso machine with freshly ground beans or talking to customers about their day.
Zul came up with the inspiration of Ngupi after being impressed by the local growing coffee scene and culture.
"Alhamdulillah the coffee culture in Brunei is evidently rising. As more and more people are now also starting their own business from home, especially during the pandemic," he said.
As the name indicates, Ngupi comes from the Malay word meaning "Drinking Coffee" but with a Bruneian twist to it.
Although new to the food and beverage business, he has grown with the business over the months, learning and trying out new things along the way.
Zul, who graduated with a Geology degree from Universiti Brunei Darussalam, worked as a barista during his university years and decided to combine his newfound skills with his longtime passion for coffee.
"To be honest, I'm not saying I'm a coffee person. I can skip drinking coffee for a day or more. But I enjoy making them," said the youthpreneur.
Zul began his coffee career at The Collective Wildflower Café where he learned how to roast and brew coffee for two years.
During his days as a barista, he would always wonder whether he could open his own coffee shop.
Working behind the counter has helped him gain more knowledge about the food and beverage industry, and honed his skills.
The idea of brewing up a business only started when his father suggested that he run his own cafe. "That's when I made the decision to start small first," he shared.
The kiosk is located on the ground floor of the Impiana Jaya, just in front of the entrance near Connex- it is hard to miss.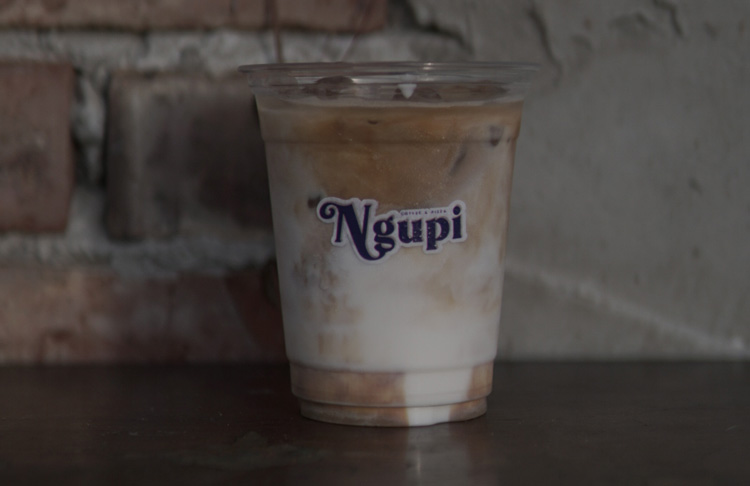 According to Zul, the decision to have the kiosk at the building is also owing to its strategic location near a populated and highly dynamic residential and business area.
"Kiulap is near to the capital. As my target customers are mostly from working sectors such as banks and colleges as well as the youngsters," he said.
On an average day, Zul shared that Ngupi would receive around 30 cups of orders per day.
Despite the hopeful beginning, however, the initial journey was anything but smooth sailing. Opening up a business in a pandemic was not easy for the 26-year-old.
In August, when the second wave of COVID-19 hit the country, the kiosk experienced a few hiccups, that is when Zul started serving coffee and pizza from home instead.
Now, since the number of cases is decreasing and businesses are slowly going back to normal, Ngupi is currently back operating at the Kiosk from 10am to 7pm.
According to the founder, another challenge for the business was the growing competition.
"There is a growing number of coffee businesses (both storefront and home-based) nowadays in Brunei that sells similar beverages. My plan is to create a signature drink which would attract customers," he explained.
"Actually, dealing with other coffee vendors is not a problem, it is a healthy competition," he added.
Ngupi's menu features traditional coffee shop favorites like latte, cappuccino, flat white, Americano and Mocha.
For Zul, his personal favourite would be the iced mocha and hot long black, which he drinks every morning before he starts his day.
Not only that, but pizza is a big element of Ngupi's menu, following Zul's newfound passion for making pizza dough and combining topping flavours, he decided to introduce a slice of Italy into the menu.
Ngupi offers different pizza flavours to choose from namely, Pepperoni, BBQ Chicken, Ultimate Cheese, Honey Garlic Chicken and more.
However, although initially, Ngupi served both pizza and coffee from their home-based cafe during the second wave pandemic, for now, the kiosk will only be serving coffee, he shared.
The young entrepreneur also hopes to collaborate with other local businesses in the future and provide baked goods in addition to their coffee.
When asked about future plans for the Ngupi, Zul said that he is eyeing to add more items to their menu, giving customers more options and hinted at the possibility of opening a proper cafe and expanding both regionally and internationally.
This article was first published on 11 December 2021 in our Weekly E-Paper issue 171 | More stories here
THE BRUNEIAN | BANDAR SERI BEGAWAN