From a 10-year friendship to starting a business together, Amanda T and Winnie W brewed their own business fresh off University selling flavoured Kombuchas offering their very own version of a healthy 'soda' through Kindly Cultured.
Kindly Cultured is an online business that started in the middle of June 2021 and the two part-time entrepreneurs were inspired to build their own kombucha business during the first wave of the COVID-19 pandemic and fell in love with the drink when they first tasted it.
The 22-year-olds then began their kombucha journey as they set off experimenting with various combinations of fruits and spices, handcrafting the drink to share their love for kombuchas with their family and friends.
"Our main initiative was to help others switch to a healthier lifestyle whilst enjoying some guilt-free fizz in life!," said the youth entrepreneurs.
With the two different personalities of the co-owners, it allows the brand to bring in different things to the table, Amanda does the financing and product development for the business, Winnie deals with the sales and marketing.
Together, the fresh graduates work on the production of the kombuchas at their homes with separate brewing stations.
Kombuchas according to two the two entrepreneurs can be thought of as a healthier version of a 'soda' but with more benefits such as being a rich source of probiotics, high in antioxidants, immunity-boosting and most importantly, a bottle has approximately 8 times less sugar compared to a can of coke but still can be as bubbly.
Currently, their flavour ranges from the classic flavour tea-based kombuchas, passionfruit, pineapple mint, dragon fruit mint and the green tea-based, passionfruit, pandan serai, mixed berries, cranberry to their premium flavour, strawberry.
For the pricing, their classic flavour prices at $7 for 500ml and $14 for 1L and their premium flavour, $8 for 500ml and $16 for 1 litre.
Their fan-favourite home-brewed kombuchas are the passionfruit and pineapple and their passion fruit is described as like summer in a bottle and pineapple mint as sweet, tangy and refreshing, like biting into a fresh, juicy piece of pineapple.
A unique thing about Kindly Cultured is that they are offering the 'return bottle initiative' which is to recycle and reuse glass bottles and this has enormous environmental benefits including reducing carbon emission, raw material consumption, energy use and waste.
"At Kindly Cultured, we are doing our part by offering 2 return offers; Return 8 empty 500ml bottles, to redeem a new 500ml kombucha for free! For each empty 1L bottle returned, enjoy your next 1-litre kombucha," said the 22-year-old.
Kindly Cultured also do their part in supporting local farmers by buying their ingredients at local markets and as they look forward to spending their weekends market-hopping and going from stall to stall, one market to another, sourcing for locally grown fresh fruits.
"We are aware that supporting local farmers means supporting local families, as they get full retail price for their fresh produce. The local farmers are also extremely friendly, often engaging us in a time-honoured conversation! It helps build a connection between the grower & eater," said the girls behind Kindly Cultured.
Their main target group for this drink are those who are interested in health and fitness as this is the ideal drink for them.
The drinks are currently physically up in stores for sale at Beanery Cafe in Kuala Belait and Box of Craving in Kiulap and Kindly Culture also offers delivery and curbside pick up services and orders are being accepted through Instagram, WhatsApp and in-store.
Just like any other business, Kindly Cultured does go through some challenges and that is the fluctuation between over and under demand, the process of producing a bottle of flavoured kombucha takes up to three to four weeks, which is why they are highly constrained in meeting demand spikes in a short time span.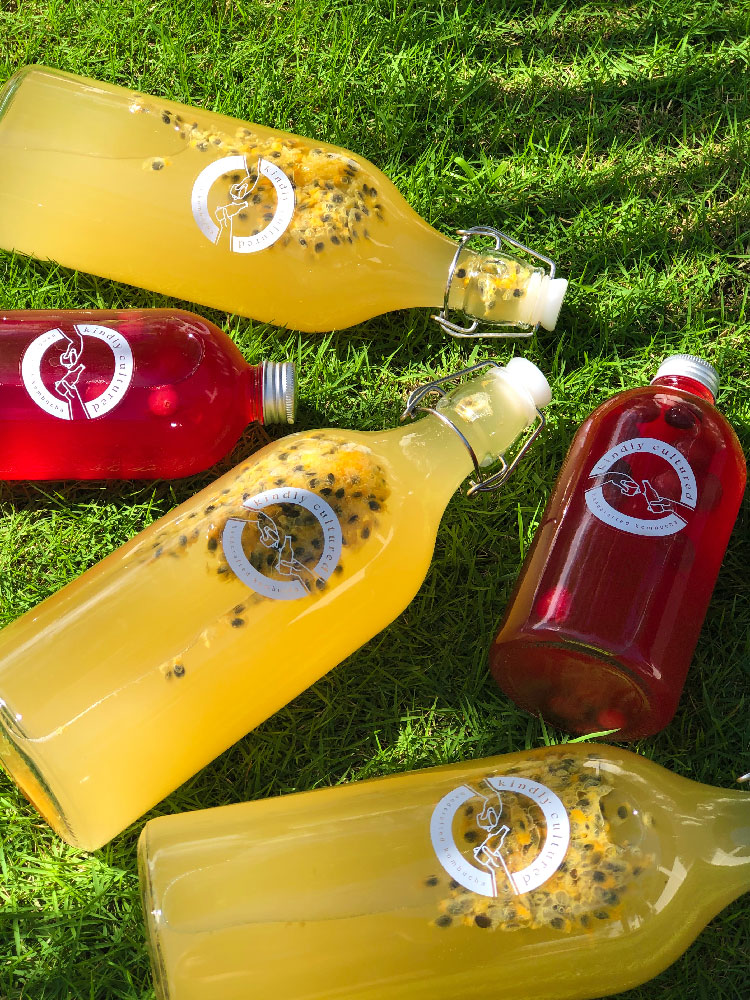 "Maintaining a standardised taste serves as a challenge to us too as the taste of the Kombucha mainly relies on the fruit and how well the SCOBY ferments the tea that week along with changes in weather (temperature) that may affect the fermenting speed too!" said the entrepreneur.
Not only that, but business was also affected by the COVID-19 pandemic but the two entrepreneurs were quick to react on their feet to find solutions to adapt.
"Despite a slight disruption in our business at the beginning of the pandemic, we reacted quickly to the challenges and reassessed our plan, adapting to the situation and restrictions by offering curbside pickup & delivery options," said the fresh graduates.
Kindly Cultured is always on the move to develop new things for the brand and currently, they are working on new flavours to the kombucha that they hope to soon reveal to their customers.
The year 2021 has taught the two girls not to take their health for granted and hopes that in the coming year, they can bring people to focus more on their health and lifestyle and as they say, 'the simplest way to enrich health, it doesn't get much better or easier than enjoying a glass of kombucha.
Head over to Kindly Cultured's Instagram @kindlycultured to see the flavours that the two youth entrepreneurs have put together and try them by ordering the soonest.
This article was first published on 01 January 2022 in our Weekly E-Paper issue 174 | More stories here
THE BRUNEIAN | BANDAR SERI BEGAWAN