Building a business through a final year project, six final year university students gather to provide a digital canvas printing service that allows memories to be printed out into a physical form and be treasured forever.
Local brand Kenang was co-founded by Waaiz Hj Samsudin, Safwan Hj Misli, Faezza Hj Zidi, Amanina Ramlli, Emiey Hj Nordin and Izzah Abd Mutalib from the Faculty of Islamic Economics and Finance at Universiti Islam Sultan Sharif Ali, who debuted the initiative in October 2021.
The idea behind Kenang, which means remember, came from the thought of keeping one's beautiful moments for safekeeping and what better way to do this than to print out and display them at home or gift them to loved ones.
"Memories are important – that is why Kenang takes pride in helping customers to preserve them. Customers can print out their cherished memories and favourite photos that turn into a digital illustration with several customisation options printed on the highest quality canvas made of 100% cotton," said the group leader, Waaiz.
The products are all unique as no two canvases are the same and each has a personal touch to it with its pricing structure remaining affordable for all.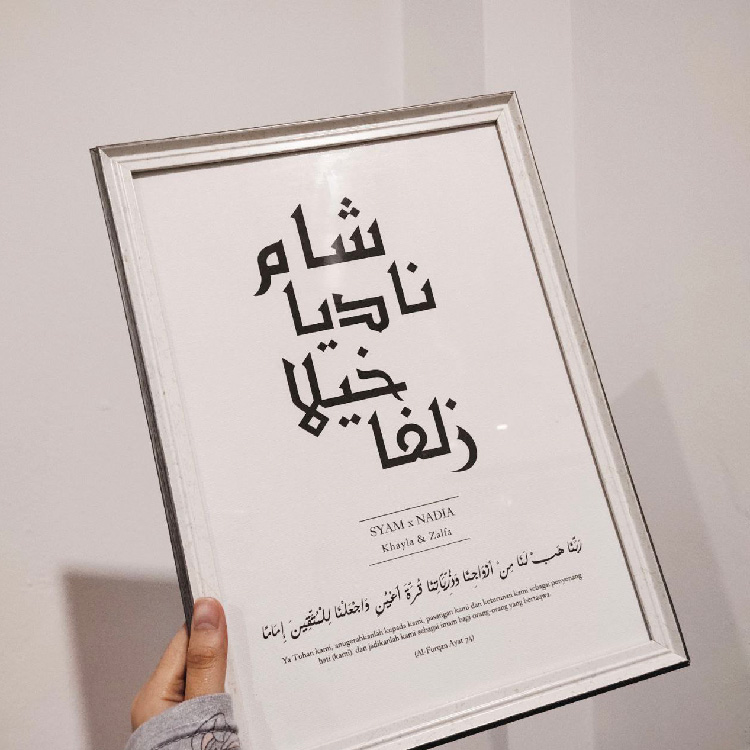 The digital canvas printing is fit for any kind of purpose or occasion which is perfect for home decorations, office decorations or even for gifts to a loved one or presents for a friend on their special days.
"Mainly, the idea of reminiscing meaningful memories that spark nostalgia is what Kenang seeks to pursue," said the entrepreneur.
Kenang's main purpose is to offer customised canvas printing where it is a service to turn an image into a digital illustration added watercolour effects printed from an inkjet printer onto canvas material with different sizes which they offer in two sizes; S (15cm x 20cm) and L (21cm x 29.7cm).
The materials for the products are obtained from various local stores in the country whereas the designs and illustrations are done by the members themselves with their own creativity and experiences in designing and digital art to produce the best quality products.
"The existence of Kenang may assist individuals in obtaining the greatest quality home decoration or gifts for a variety of purposes. Kenang also supports Brunei Darussalam's Digital Economy Masterplan 2025, which aims to make the country a Smart Nation by embracing and leveraging digital technology (Digital Economy Council)," said the student.
Kenang also sets the standard price for any kind or level of design complexity further adding to the amount of time needed to complete each order which takes up less time to complete compared to art painting services and their products utilises eco-friendly materials in product packaging.
The digitally printed canvases are fit for any age and are most popular amongst young adults. The products are mostly purchased for 'lifestyle' purposes, such as gift-giving to a loved one and souvenirs for decoration, among others.
Moreover, the youthpreneur said that their sales were also affected due to the pandemic as they are only able to provide limited slots each week and as a home-based start-up business, they also lack the manpower and face difficulties in accepting large amounts of orders.
"Delegating business and studies can be crucial and challenging. As university students, we must prioritise our studies, but it is not an excuse for us to not give the effort to the business," said Waaiz.
Although there were some difficulties faced by the group in this business, they were able to capture the attention of customers, build their loyal supporters and strive to be the best they can when they started few months ago.
The future for Kenang is still wide as the members behind the brand continue to think of ways to expand the business and this includes adding more sizes to the print, a new line of product such as keychains and special packages with various crafts put together in a box.
"Kenang takes pride in providing solutions to this problem by offering products that seek to create creative and artistic work according to the demand and needs of customers. This is an alternative product that requires a fairly short time to complete compared to the traditional hand painting," said the entrepreneurs.
The student entrepreneurs can strive with their business due to the support from their customers and with the help of social media, they are also able to promote their business, gaining followers in a short amount of time which is more effective as they can communicate and engage with customers easily.
To see the digital printed canvas that Kenang has to offer, visit their Instagram @kenang.bn and order a printed memory for a special someone.
This article was first published on 08 January 2022 in our Weekly E-Paper issue,175 | More stories here
THE BRUNEIAN | BANDAR SERI BEGAWAN