Creating the perfect picnic for all, The Other Picnic Co lends a helping hand to set up the ideal gathering for a celebration or romantic outings, providing an intimate experience for their clients.
The homegrown brand, which is the brainchild of Zan H and his wife, is a new event planning company that specialises in picnic setups as well as mini-event plannings, bearing the motto "To bring people together, for a stunning experience with beautiful decor".
The idea started when the entrepreneur and his wife used to style mini family events and their kids birthday parties. Seeing their amazing execution, many of their friends and family suggested that they could do this as a side business and they were open to that idea.
"We wanted to express our creativity and create a profitable business around our passion. We have seen the market trend in events, and it looks quite promising. With the COVID-19 situation restricting our ability to travel, it is more appealing to pursue and explore something different," said the entrepreneur.
Additionally, another reason why they decided to start this business was when the couple found a need for something exciting to do in Brunei, realising that event plannings are popular in Australia and the US. So they thought that it is fitting to pursue the idea now.
"With the pandemic, we are all inside (the country), and we were scrambling to figure out how do we celebrate cherished moments while also staying safe. Maybe this Picnic idea could be a thing. Plus, we have wonderful beaches and parks here in Brunei. Why not fully utilise them!" said the business owner.
The business officially launched in May 2021 where they delivered their first picnic but had to halt their activities in August of the same year due to the second wave of the COVID-19 pandemic before resuming the business in December 2021.
Working in a team of family, the husband runs the business from the planning side to the execution and delivery of the setup with equal support from the wife as well as helping hands from othern family members.
The Other Picnic Co offers a variety of picnic themes from 'Deluxe Pink', 'Tropical Lush' to 'Boho Style' depending on their client's preferences and event type, bearing the mission "Taking Picnic to Another Level".
"What we really want to bring is that intimate experience to our clients as if they are in a 'mini getaway'. Every three months, we will come out with a new theme and introduce new ways of 'chilling' so it's always refreshing for our clients," said the event planner.
Along with the themes, they offer a two-hour duration for the picnic decor with an option of time extension and a complete set up and pack down with mats, pillows, picnic table or tables, table decor, place settings, plates, cutleries and glassware.
"Customers choose the location, themes, and add-ons like a tent, fairy lights to customise their special event. We do all the setup and the clean-up! Basically, the clients just show up!" said the 31-year-old.
For them, the best part of the job, other than expressing their creativity, is to see customers' reactions when they see the setup; the way their eyes light up and smiles on their faces.
Seeing the reactions makes them feel appreciated and all their hard work of planning and execution worthwhile, further driving them to do more for their next gig.
Customers acquiring their services vary; from couples celebrating their anniversaries, families who want a fun and relaxing day together and even friends that just want to hang out with style.
The fun and exciting event planning business does come with its challenges too and one of them is accomodating growing clients' requests with a small team.
"We do acknowledge limitations in manpower hence, we are working towards expanding our manpower availability, so we are able to cater to more picnics," said the event planner.
Overcoming them with a positive attitude, the owner treats these challenges as minor setbacks and receiving satisfactory feedbacks from clients is what the business owners look forward to at the end of the day.
The owners are looking forward to bringing their business to greater heights, looking for ways to expand and introduce something different than what they are currently offering.
Talking about doing business, the owners shared that if there is passion and the willingness for trial and error, entrepreneurs are able to succeed and strive as long as they embrace and learn from their mistakes.
Visit their Instagram @theotherpicnic.co and try out their services for an ideal gathering with the loved ones and create special memories together with The Other Picnic Co.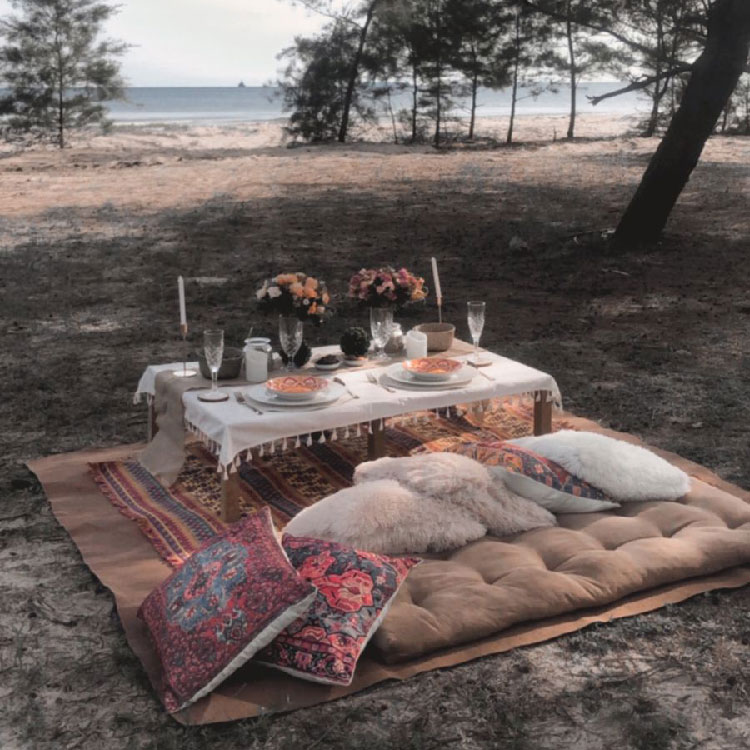 This article was first published on 15 January 2022 in our Weekly E-Paper issue 176 | More stories here
THE BRUNEIAN | BANDAR SERI BEGAWAN