Hasrul Hj Damit was overcome with joy after discovering that he won a brand new Toyota Fortuner at the Takaful Brunei Mobile's One Year Anniversary 2021 Grand Prize campaign.
The final round saw Hasrul and Rosita Idris going head-to-head in a speed challenge to complete the Takaful Brunei Mobile puzzle to claim the first random pick between the Toyota Fortuner and cash prize of $5,000.
Even though Hasrul did not get to pick first, his face lit up the moment he opened his card and saw the grand prize.
The 50-year-old was indeed shocked and ecstatic to claim the grand prize as it was his first to win a lucky draw.
"Alhamdullilah, this was really unexpected but I am grateful for this rezeki," he said in an interview with The Bruneian, adding that he previously bought motor insurance for his car via the Takaful Brunei Mobile app which made him eligible for the campaign.
He also expressed his appreciation to Takaful Brunei, noting that their products and services have been comprehensive for him and his family.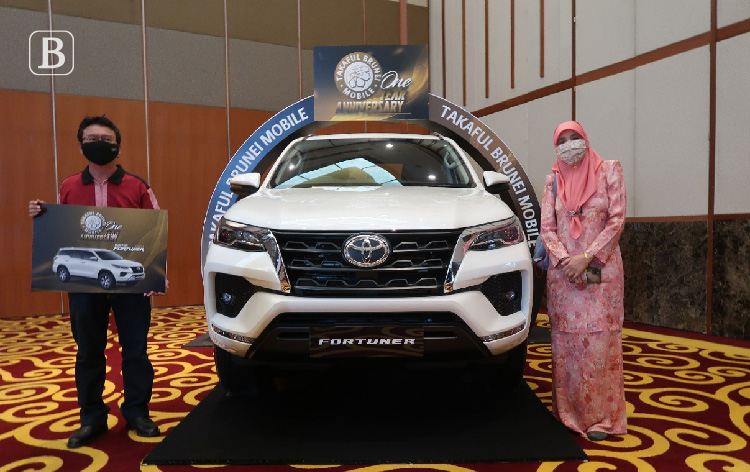 He further added that the Takaful Brunei Mobile app provided him convenient and easy access to their insurance.
He also shared how he was grateful for having been able to take part in the campaign and is looking forward to driving the SUV with his family.
Meanwhile, the first, second and third runner-ups of the Takaful Brunei Mobile prize presentation were Rosita Idris, Yong Pian Huat and Dk Mas Juleana Pg Abd Rahman each taking home $5,000, $2,500 and $1,000, respectively.
The event also saw seven other winners who walked away with $500.
The Takaful Brunei Mobile Grand Prize campaign, which ran from 1 July to 31 December last year was intended to reward and show appreciation to its clients, as well as to promote awareness of the Takaful Brunei Mobile app and its products.
The prizes were presented by Takaful Brunei Darussalam's Managing Director and Chief Executive Officer Hj Shahrildin Pehin Dato Hj Jaya.
The grand draw was held as a private event at the Indera Samudera Hall, Empire Hotel with invited guests comprising of the grand draw finalists, Takaful Brunei senior management and employees.
For more information and updates on any Takaful Brunei Mobile promotions, customers can download and register to Takaful Brunei Mobile available on Google Play and App Store or visit www.takafulbrunei.com.bn
THE BRUNEIAN | BANDAR SERI BEGAWAN