His Majesty the Sultan and Yang Di-Pertuan of Brunei Darussalam has welcomed further discussions on mutual recognition of COVID-19 vaccination certificates and the establishment of the Vaccinated Travel Lane (VTL) to restore cross-border movement with hopes to improve the economies between Brunei and Malaysia.
In a titah during a luncheon with Malaysian Prime Minister Dato' Sri Ismail Sabri Yaakob held at Istana Nurul Iman, the monarch also hoped for the further expansion of BIMP-EAGA cooperation through Sabah and Sarawak, to increase trade connectivity between both countries, boosting confidence in the private sector to move forward in the COVID-19 recovery phase.
His Majesty also expressed satisfaction with the cooperation between Brunei and Malaysia to ensure that the welfare and safety of citizens are continuously secured.
On the Annual Leaders' Consultation between Brunei and Malaysia, held since 1997, the Sultan highlighted that the consultation provides many opportunities to discuss matters of mutual importance.
Despite facing challenges under COVID-19, His Majesty was pleased with robust and steady developments demonstrated by cooperation in all areas including trade, defence, education and health.
In further fostering the spirit of friendship, His Majesty also welcomed the next Consultation, which will be held in Malaysia.
In concluding the titah, His Majesty expressed appreciation for Malaysia's support to Brunei as Chair of ASEAN last year, particularly on efforts to elevate the importance as well as regional and international awareness on mental health.
Aside from that, His Majesty believed that Malaysia, as member of the United Nations Human Rights Council for the 2022- 2024 term, will continue to play an important role in advancing the human rights agenda at the global level.
On his part, Dato' Sri Ismail Sabri Yaakob in his speech expressed appreciation for His Majesty's care and attention as seen through the assistance provided by His Majesty's Government to Malaysia at the start of the COVID-19 pandemic, including medical equipment and test kits that have greatly benefitted hospitals in Sabah, Sarawak and Labuan, as well as assistance in repatriating Malaysian citizens stranded overseas.
The Malaysian premier further said that the official visit has the potential to mutually benefit Malaysia and Brunei through discussions to initiate VTL for both countries.
Aside from this, further discussions on the mutual recognition of vaccination certificates will facilitate the movement of citizens of both countries, especially for frequent cross-border travel.
In addition, the prime minister also welcomed efforts to explore other areas of cooperation with high potential and mutual benefits, in line with the Shared Prosperity Vision 2030 and Wawasan Brunei 2035.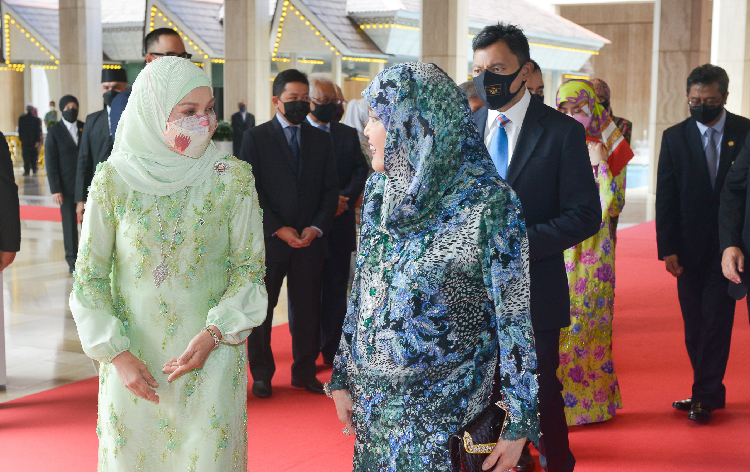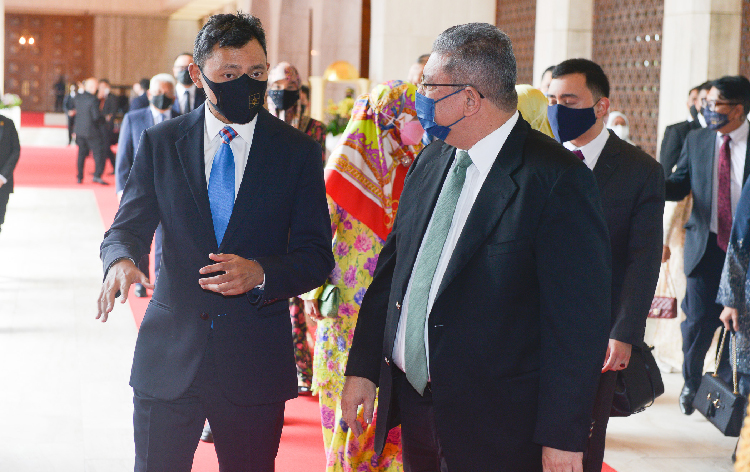 Prior to the luncheon, His Majesty the Sultan and the Malaysian Prime Minister had a four-eye meeting discussing bilateral cooperations to further strengthen relations between Brunei and Malaysia.
In addition, both leaders also exchanged views on issues of mutual importance including post-COVID-19 cooperation, as well as regional developments.
Dato' Sri Ismail Sabri Yaakob and his spouse Datin Sri Muhaini Zainal Abidin as well as the Malaysian entourage left the country yesterday, marking the end of the two-day state visit.
THE BRUNEIAN | BANDAR SERI BEGAWAN