The sixth edition of Brunei Gastronomy Week kicked off recently with the participation of 12 local hotels, restaurants, and food service providers competing to create three dishes out of the main ingredient, pandan leaves.
The two-week event is an initiative by Ministry of Primary Resources and Tourism (MPRT) that will run from 16 February until 3 March in conjunction with the 38th National Day with hopes to spread awareness on Bruneian cuisines.
This year's gastronomy week is divided into three sub-events namely, Brunei Gastronomy Award, Taste of Brunei, and Brunei Gastronomy Workshop.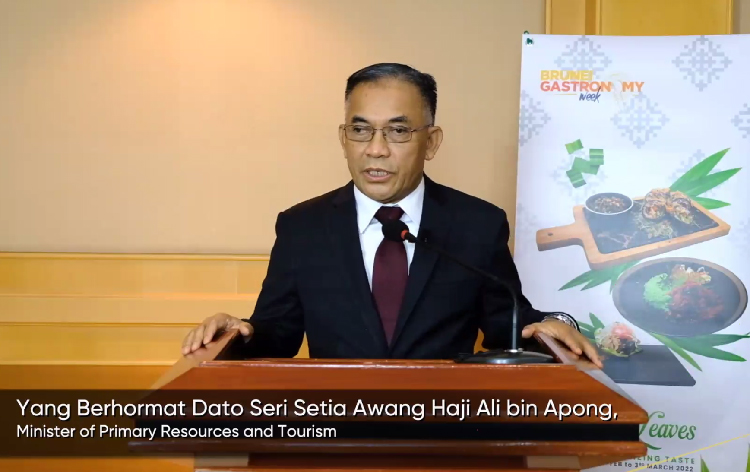 In his welcoming remarks at the virtual event launch, MPRT Minister Yang Berhormat Dato Seri Setia Hj Ali Apong said that the programme is in line with one of the strategic objectives of the Tourism Development Department which are to develop activity-based tourism products at regional and international levels.
These events aim to attract visitors and special interest groups to Brunei and will help to increase tourist arrivals and contribute significantly to the growth of tourism-related economic activities.
"In the years that Brunei Gastronomy Week has been held, apart from the great food being the focus, I would also like to see more of our local youths go out of their comfort zones, pushing their boundaries and pursuing their career in the culinary industry not just locally but also to be well renowned internationally," added the minister.
On her part, Acting Director of Tourism Development Department Salinah Hj Mohd Salleh said that Brunei Gastronomy Week aims to promote Bruneian cuisines by elevating the taste and innovating the presentation as well as encouraging more hotels and restaurants to serve local cuisines on par with international standards.
"By organising this annual event, we aspire to develop talented, experienced as well as young budding chefs to be more innovative and further heightened the level of skilled personnel within the F&B Industry and support Bruneians who are driven and passionate and want to achieve world-class recognition," she said.
Dishes produced by participants of the gastronomy week will be evaluated by professional judges prior to awarding the winners for Best Starter, Best Main Course and Best Dessert.
Participating establishments are Institute of Brunei Technical Education (IBTE) School of Hospitality and Tourism, The Rizqun International Hotel, V Plaza Hotel Brunei, Stoneville Hotel, The Brunei Hotel, Mulia Hotel, Wafa Hotel and Apartment, Anjung Saujana Restaurant, Dynasty Restaurant, Eco Ponies Garden, Nasi Talam Brunei Restaurant and The Melting Pot.
Moreover, the second installment of Taste of Brunei 2022 is a collaboration between the ministry and The Radisson Hotel whereby 10 budding chefs will be showcasing their signature dishes in a private event to be held on 26 and 27 February.
Meanwhile, the inaugural Brunei Gastronomy Workshop is a collaboration with the Institute of Brunei Technical Education (IBTE) and Cloudstreet Restaurant Singapore which will see Michelin-Guide Young Chef Awardee Chef Mark Tai as the instructor, highlighting techniques on how to elevate Brunei's local delicacies with innovative and modern cooking skills.
The Best Starter and Best Main Course won by Rizqun International Hotel with their 'Satay Lilit Dengan Sambal Mentah' and Rizqun 'Gear Box' Soup Istimewa, respectively.
While the Best Dessert was claimed by Goldiana Café and Lounge at Mulia Hotel with their Onde – Onde Churros and Bubur Cacah Mochi.
The 2022 Brunei Gastronomy Week winners will be announced on 3 March 2022.
For more information on the event, please visit bruneitourism.com/bgw2022.
This article was first published on 19 February 2022 in our Weekly E-Paper issue 181 | More stories here
THE BRUNEIAN | BANDAR SERI BEGAWAN