With a strong passion for crochet, local business handmadewithlove specialises in handcrafting each and every crocheted item that are personal and meaningful to their customers.
handmadewithlove is run by Hana Salleh who started turning her hobby as a crocheter into a business in October 2020.
At first, the 26-year-old started selling her products to her close friends and families and as soon as she became more confident and creative in making illustration designs of her crochet products, her business grew and expanded from there.
The entrepreneur's crochet journey began in 2017 and has not stopped since.
The push to start her own business was because of the positive support and encouragement she received from her friends.
"Honestly, I have never thought I'd be opening a crochet business. I started small by just selling them to friends and families and there had been lots of demands from there. That's when I realised that I should open an Instagram account @handmadewithlove.bn," said the youth.
When asked why she chose the name "handmadewithlove", Hana said that she wanted a name that is meaningful and catchy for people to remember.
The first product she has ever made and sold was dolls. As her crocheting business grew, so did the reception for her products.
According to Hana, the on-demand and requested products she received are the handmade crochet coasters which come in a variety of designs from fruit design coasters, animal coasters to their most famous ones, the Studio Ghibli characters coasters.
"I love Ghibli animations and the idea of making the coasters is a fun process too and not a lot of patterns can't be found online. Last Christmas holidays, I also made some Christmas design coasters and was in high demand as well," she said.
Other than the dolls and coasters, Hana also makes her own line of crochet clothing such as adult crochet sweaters and cardigans, baby crochet hats, baby crochet sweaters, diaper covers and also crochet booties.
Not only that, but most of the product of handmadewithlove is by the youthpreneur's own pattern design. She shared that at times, it can be difficult to sell using copyrighted patterns that can be found online.
On the other hand, social media is important to the branding handmadewithlove.
To capture the attention of customers, Hana would use their signature warm tone aesthetic for their Instagram feed where they mostly operate their sales.
The youthpreneur shared that she wants each social media post to be eye-catching and also make the viewers feel invited, calm and have a cozy feel whilst browsing through their page.
Any customers who would like to order a crochet product or even custom ones that they desire, they can order through their messages and to provide ease for their customers, the brand also provides delivery service when the products are done.
"Since the start of COVID-19, there have been a lot of demands and orders. I believe during the pandemic every small business came up with different strategies to keep a business going and with the help of social media, shopping online has increased since then," said the entrepreneur.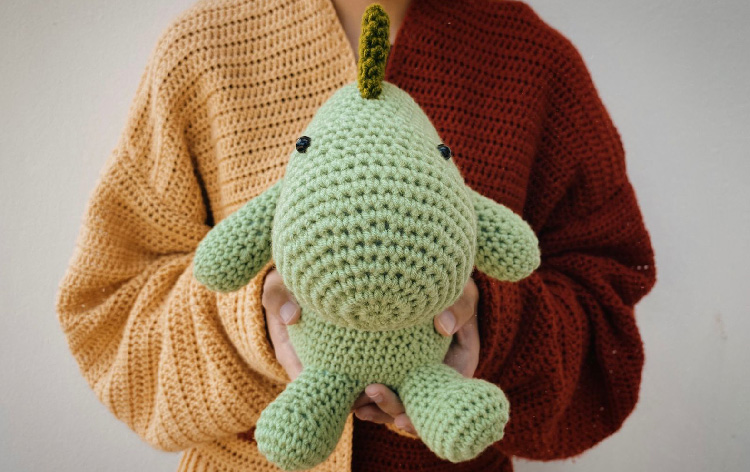 With any business, they often bumped into some challenges and it is no different for this business.
One of them is to get good quality materials in Brunei as the yarns are mostly available from overseas and prior to the pandemic, there were times when th supplies are not available in local stores.
Another difficulty is the amount of time that it takes just to make one crochet product.
Hana only crochets when she has free time and that is mostly during weekends or after working hours where she would also spend the time to design, package and market the items.
No matter how difficult it may seem, for the youth entrepreneur, she manages her time well and would think of it as a positive affirmation.
Besides crochet, Hana also makes graphic logo designs as she loves to design new things every day and designing on-screen for her is no different from crocheting.
"Recently, I've been really interested in miniatures and pottery. One day, I could learn to make them as a hobby and hopefully be able to create more beautiful products in the future," said the crochet maker.
The part-time entrepreneur believes that creating a small business is all depending on skills and abilities on building and how to operate them and it can be overwhelming but one will gradually learn through the ups and downs and not be afraid of a challenge.
See the crochet items that Hana Salleh has made by visiting the Instagram @handmadewithlove.bn and have one customised for a loved one.
This article was first published on 19 February 2022 in our Weekly E-Paper issue 181 | More stories here
THE BRUNEIAN | BANDAR SERI BEGAWAN