Five local businesses recently participated in Japan's leading F&B trade show FOODEX 2022 for the first time to seek market validation and explore potential export opportunities.
Darussalam Enterprise (DARe), the Embassy of Brunei Darussalam in Tokyo, Japan and the ASEAN-Japan Centre (AJC) jointly collaborated for the participation of Brunei businesses as part of a wider, ongoing product development project called Improving Quality of Brunei Products.
This year's FOODEX Japan ran from 8 to 11 March at the Makuhari Messe in Chiba, drawing thousands of participants from over 90 companies.
Local products from Ghanim International Corporation, Volco Venture, Sabli Group of Companies, Taurean Bakeshop & Café, and Syarikat Rizqussalam were shipped to Japan and exhibited at Brunei's booth which was visited by distributors, retailers, and other potential business partners.
The Embassy of Brunei Darussalam and AJC initiated the Improving Quality of Brunei Products project in 2020 in collaboration with DARe to assess and develop existing Bruneian-made products for the Japanese market.
The project engaged product experts from the Japan Association of International Business Advisors (AIBA) to provide consultancy to 10 local manufacturers over-improving different aspects of their products, which includes branding, packaging, and taste.
The inaugural participation of Brunei businesses in FOODEX is also part of DARe's Market Access initiatives, which aims to provide opportunities for local businesses to access new markets locally and abroad through business matching, trade shows, and the provision of direct online and offline sales channels.
The Market Access also offers training and consultancy programmes that will help businesses improve internal competencies and achieve international standards.
Chargé d'affaires at the Embassy of Brunei Darussalam in Japan Pg Mohd Azian Pg Dato Paduka Hj Maidin said Brunei's participation in FOODEX is part of an ongoing and joint effort to help local products enter the Japanese market.
"Japanese customers have always been naturally curious to know more about Bruneian products. Our participation in FOODEX is a valuable opportunity as it showcases what we can offer as well as raise awareness about Brunei as a whole," said Pg Mohd Azian
"With support from DARe, the Embassy will continue to work hard to engage with Japanese distributors and importers to penetrate the market here," he added.
Volco Venture, a home-based producer of hot sauce, said their participation in FOODEX and the Improving Quality of Brunei Products project have brought forward their plans to expand to an industrial location soon.
"We have been producing our hot sauce since 2014, selling mostly through social media and word of mouth. Two years ago, we were able to enter retail stores thanks to DARe's Bruneian Made supermarket shelves, and today, we are now selling at more than 12 outlets across the country," said Mohd Vol Momin, who runs the business with his daughter Nadiatul.
"Now, we want to see what's the potential of our product overseas, and FOODEX is an opportunity to have our product showcased not only to the Japan market but the Asian region as well," he further shared.
For FOODEX, Volco supplied their signature Lanun hot sauce in 255ml bottles in the flavours of Tom-Tom Lemongrass and Pineapple Sunrise. Meanwhile, local bakery Taurean exhibited five flavours of their oatmeal-based cookies, with modified packaging on the advice of AIBA.
On her part, Taurean's owner Tsang Poh Yee said that their participation in FOODEX has helped them gather more feedback on their products for them to be able to continuously improve and make their products more competitive for potential export.
Taurean's cookies, sold locally in jars of 150g to 160g, were modified to have each cookie in the jar individually wrapped for FOODEX, an approach her consultant believes would help appeal to Japan's sanitary-focused market.
"The value of the Japanese consultants has been to help us understand in better detail what the retailers and consumers in that market look for, and in turn, see how we can apply those insights to improve the marketability of our local products," added Poh Yee.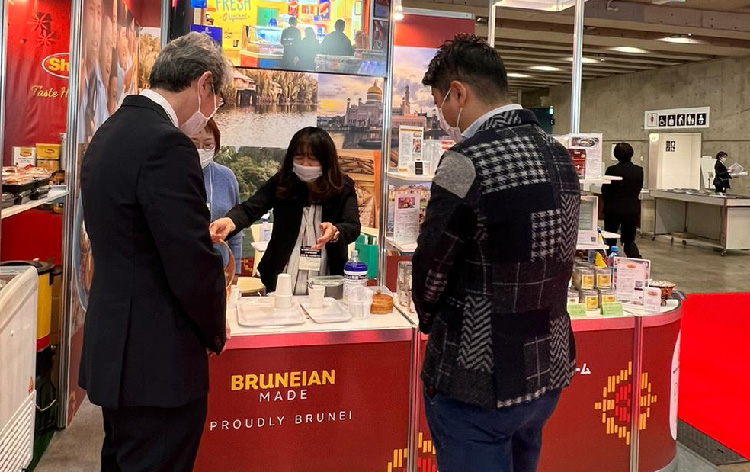 This article was first published on 19 March 2022 in our Weekly Epaper issue 185 | More stories here
THE BRUNEIAN | BANDAR SERI BEGAWAN