NBT Brunei carried out their annual NBT's 'Gift of Smiles' recently as part of the company's corporate social responsibility (CSR) at NBT's Lexus Showroom in Gadong recently.
Some selected orphans for the charity drive were all smiles as they received Ramadhan gifts from the Toyota and Lexus autodealer, comprising ART Kits, Vitamin C, hand sanitiser, sweet treats, green packets and more.
The drive-through charity is a part of the autodealer's effort to bring cheers and joy with their special care packages in the holy month of Ramadhan to the identified orphans, said NBT in a statement.
NBT Managing Director Haji Ahmad Omar Hj Husin said: "Through our annual 'Gift of Smiles' initiative, NBT has great pleasure in bringing some extra meaning and joy to the holy month of Ramadhan by way of our Ramadan Care Packages that we hand out to the orphans".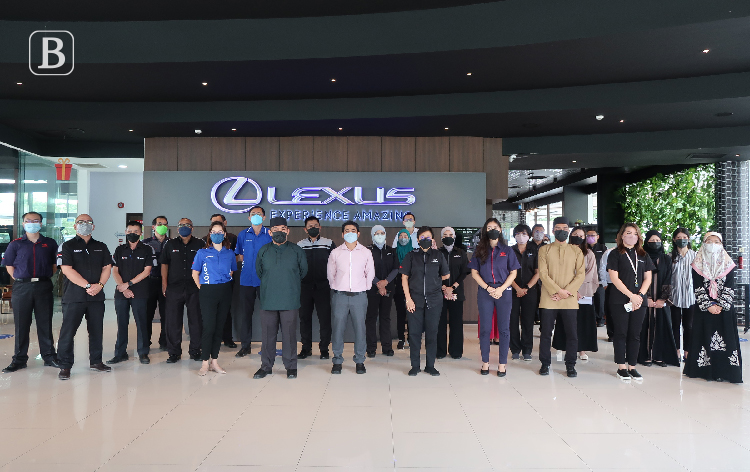 He further expressed his appreciation to their customers for their continuous loyalty and support towards Toyota and Lexus which helped make the event possible.
On hand to present the donations were NBT Management headed by NBT Managing Director, Hj Ahmad Omar Hj Husin
Also present were NBT Senior General Manager of Sales, Leng Cheng Soon, NBT General Manager of After-Sales, NBT Assistant General Manager Muhammad Clovien Abdullah Timpoh, NBT Finance Manager Leong Nyuk Yen, NBT Human Resource Manager Pg Mohd Amirul Asmawiee Pg Hj Sabtu and IT and Property Manager Mak Soon Fatt.
This article was first published on 09 April 2022 in our Weekly Epaper issue 188 | More stories here
THE BRUNEIAN | BANDAR SERI BEGAWAN