Luck was shining on Dato Haji Bahrin Mohd Noor when he won the first-place prize of $15,000 for the second round of Takaful Brunei's bi-monthly draw of the "SANANG MANANG2" campaign
The final round saw Dato Haji Bahrin and Roslinawati Muhd Ariffin go head-to-head in a speed challenge to complete the Takaful Brunei Mobile puzzle to claim the first random pick between the $15,000 and $6,000 cash prize.
Even though Dato Haji Bahrin did not get to pick first, his face lit up the moment he opened his card and saw the grand prize.
The 60-year-old was indeed surprised to claim the first prize as it was his first to winning the lucky draw.
"Alhamdullilah, I am definitely happy to be chosen as the first prize winner and also to be one of the lucky 10 winners of this campaign," he said.
In an interview with The Bruneian, Dato Haji Bahrin shared that he had bought motor insurance for his car and the Workmen's Compensation Package Takaful for Domestic Helper via the Takaful Brunei Mobile app which made him eligible for the campaign.
He also expressed appreciation to Takaful Brunei, noting that he has been a loyal customer of TB for years. He also shared that their products and services have been comprehensive for him.
Dato Haji Bahrin also added that the Takaful Brunei Mobile app provided him with convenient access to his insurance without having to line up to go to the nearest TBA counter.
He added how he was grateful for having been able to take part in the campaign and is looking forward to purchasing more products with Takaful Brunei.
Meanwhile, the first and second runner-ups of the Takaful Brunei Mobile prize presentation were Roslinawati Muhd Ariffin and Hjh Norsinawati Hj Md Yassin each taking home $6,000 and $2,000 respectively.
On her part, second runner-up Roslinawati shared that she had bought the Comprehensive Home Package Takaful which made her eligible for the campaign.
She further expressed her gratitude for having taken part in the campaign and is looking forward to spending the prize with her family as well as donating a portion of her winnings to the less fortunate.
The event also saw seven other winners who walked away with $1,000.
The 10 lucky winners were rewarded for their participation in Takaful Brunei (TBA) and Takaful Brunei Keluarga (TBK) products using the Takaful Brunei Mobile application and for new participation and renewals in TBA's Motor Takaful through the TBA Call Centre from 1 January 2022 to 30 April 2022.
The prizes were presented by Takaful Brunei's Chief Operations Officer, Barudin Haji Kudil.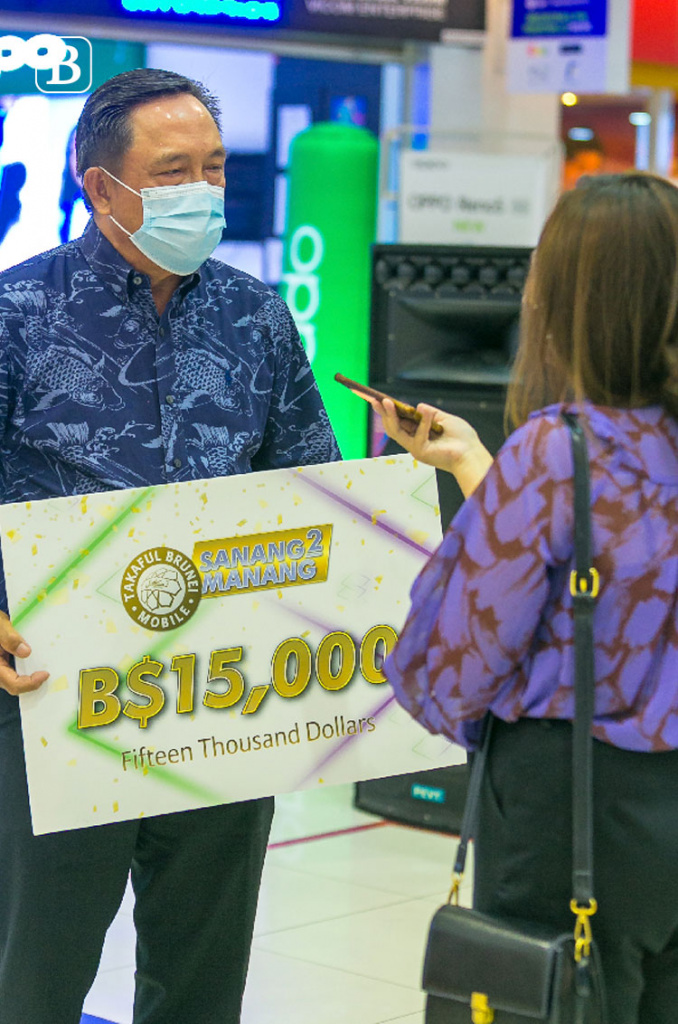 The lucky draw was held as an event at Times Square with invited guests comprising of the finalists, Takaful Brunei senior management and employees.
The Takaful Brunei's "SANANG2 MANANG" campaign is intended to reward and show appreciation to its clients, as well as to promote awareness on the Takaful Brunei Mobile app and its products.
Through the campaign, customers can still stand a chance to win various prizes throughout the year worth over B$250,000.
Customers can also be a part of this promotion simply by participating in any TBA or TBK product via Takaful Brunei Mobile.
The SANANG MANANG2 promotion is also extended to TBA's Motor Takaful participants either new participations or renewals through the TBA Call Centre at 224 4000.
However, Takaful Brunei encourages customers to take advantage of Takaful Brunei Mobile's fully digital transactions for any renewals or new takaful participations. This option is safest for all customers due to the current rise in COVID-19 cases.
Moreover, customers now have the convenience of switching from their current car insurance/takaful provider to TBA's Motor Takaful and enjoy comprehensive coverages with discounts all through the app.
Not only that, but Takaful Brunei Mobile also has their 'Product of The Month' promotion on-going throughout May 2022, where new customers who participate in TBK's Takaful Nur Savings stand a chance to win a cash prize of B$500.
For more information, customers can contact the TBA Call Centre at 224 4000, the TBK Call Centre at 223 1100, or visit www.takafulbrunei.com.bn. Takaful Brunei Mobile is available for download on Google Play and App Store.
THE BRUNEIAN | BANDAR SERI BEGAWAN