His Majesty Sultan Haji Hassanal Bolkiah Mu'izzaddin Waddaulah, Sultan and Yang Di-Pertuan of Brunei Darussalam lauded youths' readiness and devotion towards extending their service to the community.
In a titah at the recent Hari Raya celebration hosted by Yayasan Sultan Haji Hassanal Bolkiah, the monarch said that the people and the country do not ask for anything from youths but their energy and moral contributions.
"In certain situations, youthful involvement is awaited such as during times of unwanted incidents… And therefore, the youths are highly praised with various nicknames like the nation's hope, nation's hero, and light of the nation, among others," said the Sultan.
His Majesty futher said that it is the duty of the youths to truly fulfill the meaning of these monikers as an honour to themselves.
"Youths ought to understand that those names are a recognition for them as the potential drivers and backbones of the country's development. This why they are also our future assets," said His Majesty.
The monarch added that youths must maintain the recognition by portraying noble, visionary, creative and knowledgeable qualities, not stifled by meaningless pleasures.
"I call on the youths and all parties to join forces to develop and advance themselves into responsible and robust citizens," concluded His Majesty.
His Majesty the Sultan and Yang Di-Pertuan of Brunei Darussalam and Her Majesty Duli Raja Isteri Pengiran Anak Hajah Saleha on Thursday graced the colourful Raya celebration held at the International Convention Centre (ICC).
Their Majesties were accompanied by His Royal Highness Prince Haji Al-Muhtadee Billah, the Crown Prince and Senior Minister at the Prime Minister's Office and Her Royal Highness Paduka Seri Pengiran Anak Isteri Pengiran Anak Sarah, His Royal Highness Prince 'Abdul Malik, His Royal Highness Prince 'Abdul Mateen, His Royal Highness Prince Mohamed Bolkiah and His Royal Highness Prince Haji Jefri Bolkiah.
Also joining the royal entourage were Her Royal Highness Princess Fadzilah Lubabul Bolkiah, Her Royal Highness Princess Hajah Masna, Ambassador-at-Large at the Ministry of Foreign Affairs and Her Royal Highness Princess Hajah Amal Umi Kalthum Al-Islam.
On hand to greet Their Majesties and members of the royal family were Chief of Adat Istiadat Negara Yang Amat Mulia Pengiran Indera Setia Diraja Sahibul Karib Pengiran Anak Haji Idris as Deputy Chairman I of the Yayasan Committee of Governors.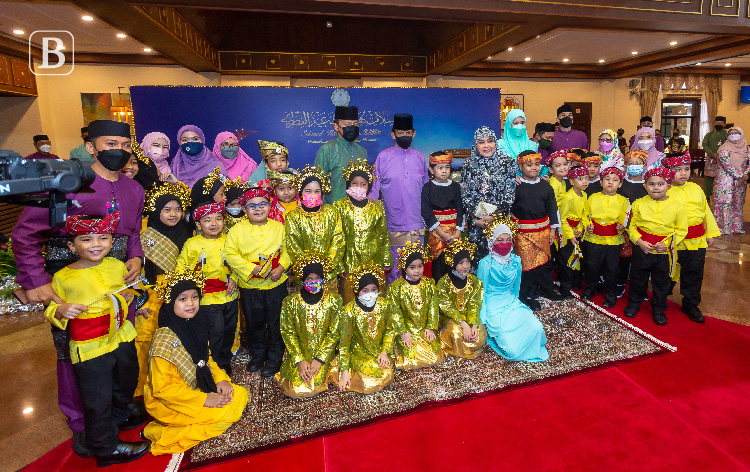 In his welcoming speech, Second Minister of Defence Pehin Datu Lailaraja Major General (Rtd) Dato Paduka Seri Haji Awang Halbi as Chairman of Yayasan Board of Directors said that the celebration gathered youths from various backgrounds who have contributed in areas of religion, community development, entrepreneurship, volunteer works and creative arts.
Some of individuals also comprised of youths and students who have the potential towards socio-economic development and community well-being.
The theme for this year's Yayasan Raya celebration is 'Memperkasa Kecerdasan Belia Mampan' (Empowering Youthful Intelligence), emphasising youth to be empowered in various intellectual aspects and be prepared for future challenges with resilience.
The event also showcased a video footage that displayed the involvement of youths and their achievements in various activities and initiatives from the government, private agencies as well as NGOs.
Their Majesties and the royal family were entertained by stage performances from students of Yayasan Sultan Haji Hassanal Bolkiah School and Bengkurong Primary School and staff from the Arts and Culture Division of the Ministry of Culture, Youth and Sports.
Also demonstrating their skills were the national pencak silat athletes who recently won silver and bronze medals at the 31st Southeast Asian Games in Hanoi, Vietnam.
Prior to leaving the ceremony, Their Majesties had a tour of an exhibition covering three aspects on intelligence – spiritual, intellectual and emotional.
This article was first published on 21 May 2022 in our Weekly Epaper issue 194 | More stories here
THE BRUNEIAN | BANDAR SERI BEGAWAN