Foodboiii has been serving up a golden and wonderfully crispy business venture with their signature fish and chips at the Kontena Park in Anggerek Desa.
Founded in 2020, the inspiration behind the homegrown business started when Basri Jofray and Shannen Lee were simply craving for hand-battered fish and chips.
This prompted the duo to launch a business that tapped into the traditional British dish.
"Before Foodboiii, we were both university students studying in the UK but we came back due to the pandemic and continued our studies online at that time," Shannen said.
According to founders, their adventure of Foodboiii began in the kitchen.
During the first pandemic, co-founder Basri started off by making his own version of fish and chips by researching the best ingredients and began mixing different types of batters.
The 22-year old founder would spend most of his days in the kitchen trying out different cooking methods to ensure the classic battered fish filet was perfectly golden on the outside and soul-warming on the inside.
The foodpreneur would fry up a variety of fish filet and tartar sauce prepared in different ways for his friends and family to perfect his recipes.
After Basri posted photos of his golden-fried fish and chips along with his signature tartar sauce on Instagram, friends and family started coming by to show support.
The Instagram-based business soon expanded to special orders from their family and friends, and before they knew it, they were fulfilling numerous orders from strangers.
"Slowly friends of friends started asking and soon more 'orders' started flooding in and so we thought why not sell them? The task was already almost second nature and soon enough, we were cooking 100 boxes a day," Shannen said
"With the growing number of orders, we even asked our friends to help us and turned the whole ground floor of the house into stations to cater to the number of orders. Our operation started as early as 7am till almost 6pm." she added.
According to the founders, the name "Foodboiii" reflects on the value of their business: to be efficient, innovative and effective.
"It's very simple, light on the tongue and catchy too," the founder explained.
"At the beginning we only saw Foodboiii as a stepping stone to reach other goals. In a way we weren't operational all the time but we were still doing other projects based on the funding we earned from Foodboiii. Some business ventures included baking, aquaponics and others," she shared.
As soon as the founders discovered that their fish and chips were gaining popularity they decided to focus solely on sustaining Foodboiii as a business.
Within less than two years, Foodboiii grew from an online-based business to opening its first physical location at Kontena Park.
For the budding entrepreneur, constant innovation, improvement and customer relationship have been Foodboiii 's recipe for success.
Another strategy the founders used to boost their market was to promote their products on social media.
Their minimalistic aesthetic that features a stick figure and cat character and their pun-loving Instagram caption manages to attract a growing number of followers onto their social media page @foodboiii.
The young entrepreneurs shared that every business presents its own challenges; something that they are currently still learning.
At the beginning of their journey, it was not smooth sailing as they had to endure setbacks in their quest of opening a food business.
From the lack of staff to logistics, starting a business during a pandemic has not been easy for the founders.
"At the beginning it was trying to figure out how to cook for a larger scale and once we had the hang of it, we didn't have enough staff. With that we decided that we would scale down the quantity in order to control the quality which was more important to us," the youthpreneur explained.
According to the founders, another challenge is the lack of experience in the food and beverage industry.
"There was a gap in our knowledge on accounting or bookkeeping, so DARe training programme really helped us with the operational side," she shared.
"As for a more personal side, it was juggling our uni work and also the pressures of finding a more "stable" 9-5 job. However, we dove deep into understanding what it was that we truly wanted and acknowledged that it was to be able to be free to explore and be innovative which is the satisfaction Foodboiii gives us," she shared.
Although new to the F&B business, they have grown with the business over the years, learning and trying out new things along the way.
The homegrown business continues to grow and is continually seeking to upgrade its products and services.
The founders also shared that they feels encouraged by the constant support they have received throughout their two-year business journey,
When asked about future plans for Foodboiii, Hijran said that they want to focus on growing and sustaining the business.
"Our biggest step is to turn our chippy into a self-sustaining one over the years without compromising anything. We would like to be Brunei's go-to fish and chip place. If things turn out well, perhaps we would like to expand it to more districts and across borders," Shannen concluded.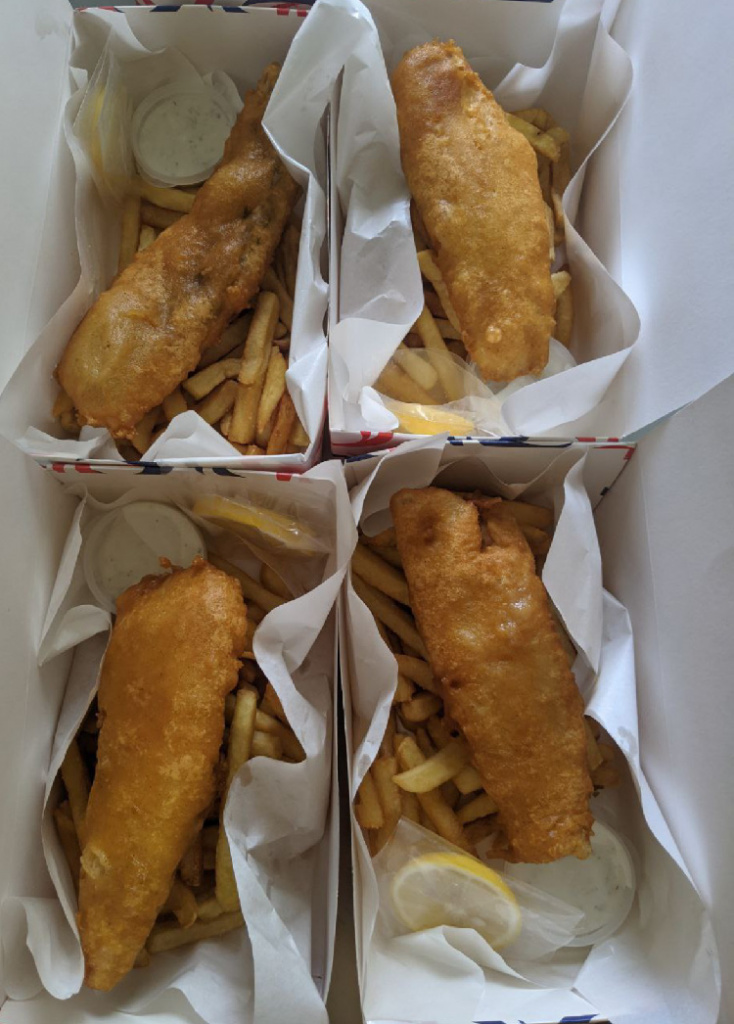 This article was first published on 21 May 2022 in our Weekly Epaper issue 194 | More stories here
THE BRUNEIAN | BANDAR SERI BEGAWAN