Google Developer Group (GDG) Brunei and Women Techmakers (WTM) Brunei with the support of Brunei Shell Petroleum Company (BSP) is set to conduct data-science-themed workshops on 11 June from 9am to 4pm as part of the Brunei MYCE 2022 DigiTech week.
The Data Science workshops will be free for everyone to attend and will be conducted as a hybrid workshop, where participants can choose to attend virtually or attend the in-person sessions at Sepakat Room 4, International Convention Center.
The beginner-friendly workshops will provide a primer to data science and participants will learn how to collect, process and analyse data, said the organisations in a statement.
During the one-day event, participants will also have the opportunity to network and consult with local data science and Artificial Intelligence experts from BSP who are responsible for driving BSP's digital transformation journey.
Tinkering stations, where participants can come, pitch and work on their own projects while getting advice from data science experts, will also be available during the workshop.
BSP Senior Data Scientist Ahmad Musaddiq Mohammad in a statement said that they encourage budding data scientists or those who are simply curious about data science to sign up for the free workshop, talk to them and ask questions.
"Ultimately, we hope that this one-day workshop can support in empowering our youth to upskill and become future-ready while providing an open and enriching space for them to share ideas and learn together. Everyone can register and participate. Students, professionals, entrepreneurs etc," he said.
The DigiTech week, which is part of the Brunei MYCE, will take place from June 8-11, 2022. Brunei MYCE 2022 is a five-week event that will feature thematic exhibitions, conferences, bringing experts and business leaders from Brunei Darussalam and all over the world to address various concerns pertaining to the five fields: Islamic, Digital Technology, Energy, Climate Change and Economy.
The digital revolution alters business and societal landscape, and we must be agile and future-ready in the drive towards preparing Brunei Darussalam as a Smart Nation and maximising its digital economy potential, they said in a statement.
"With rapid changes in technology and consumer expectations, it is important to continuously upgrade our skills aside from gaining knowledge and academic qualifications," they added.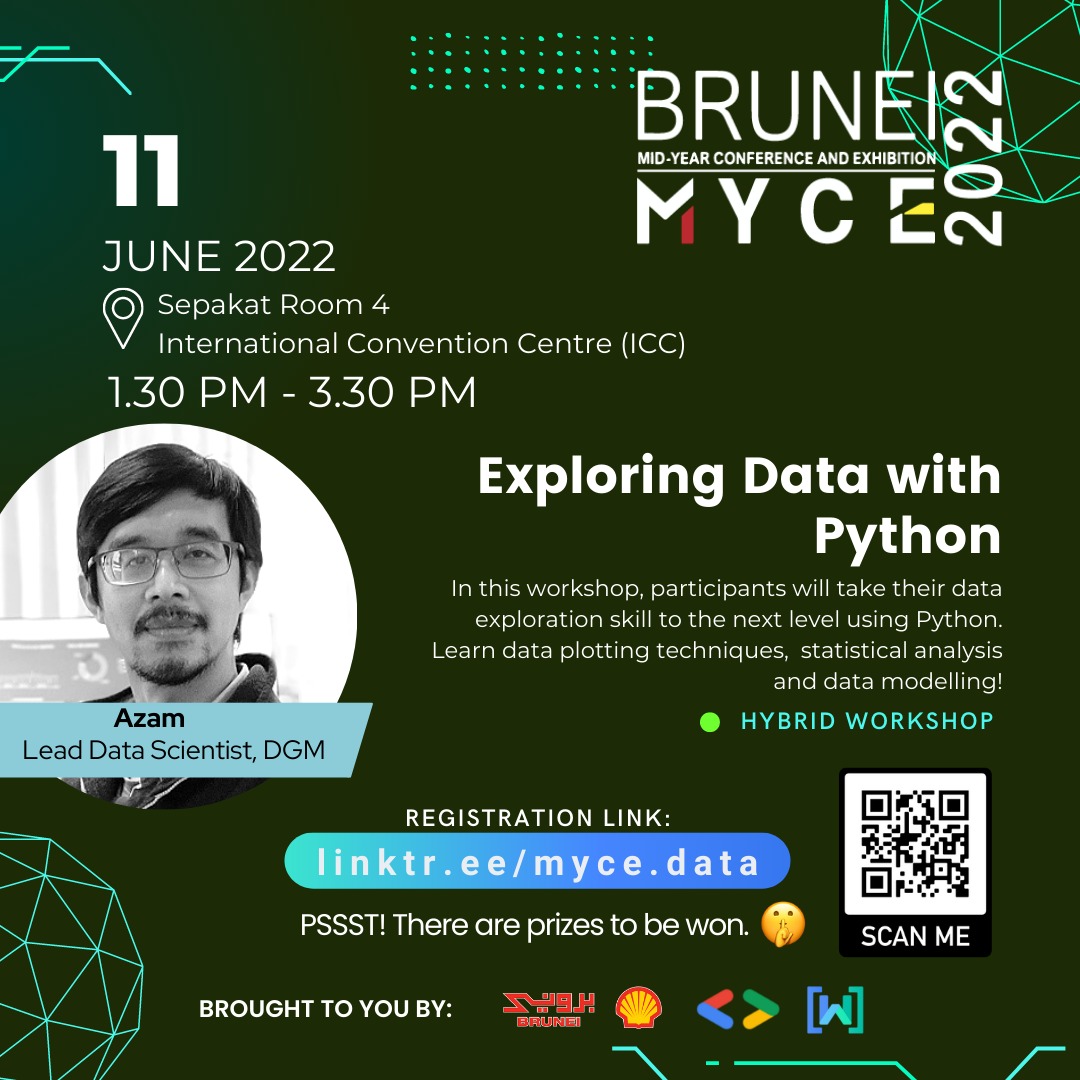 This workshop is a proactive approach to raise more awareness on the benefits of digital innovation and to produce youth that are digital and future-ready to bring Brunei Darussalam towards its goal of becoming a Smart Nation.
"With creativity and innovation on top of their existing skills and knowledge, they can explore new fields and contribute to the nation's development," they concluded.
Places are free but limited at the physical workshop at ICC. Therefore, interested parties are encouraged to register early to secure their place through this link: https://linktr.ee/myce.data For more information on the organisation and event, the public is invited to follow @gdgbrunei and @womentechmakersbrunei on Instagram.
Google Developer Group (GDG) Brunei is a community-run group for anyone interested in exploring technology, mainly but not limited to, Google technologies.
Women Techmakers Brunei is a community-run group that focuses on providing visibility, inclusivity, a sense of community and resources for women in technology in Brunei.
This article was first published on 04 June 2022 in our Weekly Epaper issue 196 | More stories here
THE BRUNEIAN | BANDAR SERI BEGAWAN