Grace Gaucio Fullon was overcome with joy after discovering that she won a brand new Toyota Raize from NBT's 'Gembira Bersama Toyota' campaign that was held recently at the new delivery room at the Toyota showroom in Gadong.
The final round saw Grace and six more participants each holding a box they chose at random. Her face lit up the moment she found out she was holding the winning box.
The winner was then given the opportunity to choose from one of the four grand prizes: a Shopping Voucher worth $22,000, a Toyota Vios, a Toyota Wigo, or the Gembira Box. That's when she chose the Gembira Box.
" I am very happy as this is my first time winning a lucky draw," she shared.
When asked why she chose the "Gembira Box", Grace said that she just loves surprises.
A month ago, the former music teacher was looking for a big car for her family. That is when she recently bought the Toyota Rush during the promotional period which entitled her to the campaign.
According to Grace, her first choice of car was actually the Toyota Raize but then her family decided to go for the Rush instead since it was a much bigger car.
"To me, Toyota is a very excellent car brand. It is very sustainable to maintain and it is easy to find car parts," she said.
The 41-year-old added how she was thankful; for having been able to take part in the campaign and is looking forward to sharing the SUV with her family.
Meanwhile, 10 winners also took home prizes which consisted of shopping vouchers worth $1000 and $2000 respectively.
The 'Gembira Bersama Toyota' campaign, which ran from 16 April to 31 May 2022 was intended to continuously deliver a rewarding experience to customers with exciting and valuable prizes, as well as to promote awareness of their products and services.
The prizes were presented by NBT Managing Director Haji Ahmad Omar Hj Husin and NBT Senior General Manager of Sales, Leng Cheng Soon.
For more details on the latest promotion and campaign, follow Toyota Brunei on Facebook and Instagram or visit your nearest Toyota showroom.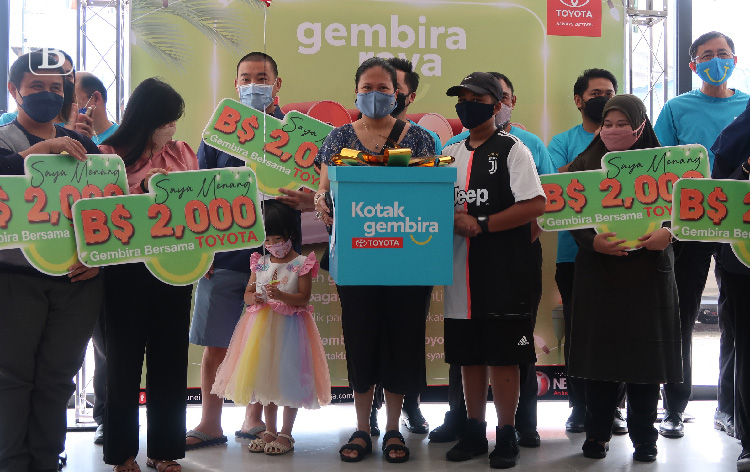 This article was first published on 11 June 2022 in our Weekly Epaper issue 197 | More stories here
THE BRUNEIAN | BANDAR SERI BEGAWAN