Minister of Transport and Infocommunications Yang Berhormat Pengiran Shamhary Pengiran Dato Paduka Haji Mustapha recently attended the 19th ASEAN Ministerial Meeting on Science, Technology and Innovation (AMMSTI-19) via a video conference.
This year, the AMMSTI-19 Meeting was chaired by Vietnam's Minister of Science and Technology Huynh Thanh Dat.
Among the results of the meeting were the discussion and agreement on report of the 81st Committee on Science, Technology and Innovation (COSTI-81) meeting on the following items:
I. The status of the implementation of the activities under the ASEAN COSTI Annual Priorities 2022
II. The proposed ASEAN COSTI Annual Priorities 2023
III. The proposal to facilitate and improve access to available funding sources, including the ASEAN Dialogue Partner Fund.
IV. The recommendation to further increase the involvement of the private sector through the Public-Private-Partnership
The Meeting also exchanged views on leveraging science, technology and innovation toward achieving the Sustainable Development Goals (SDGs) and driving the transition to a low-carbon economy through the Fourth Industrial Revolution (4IR) technology.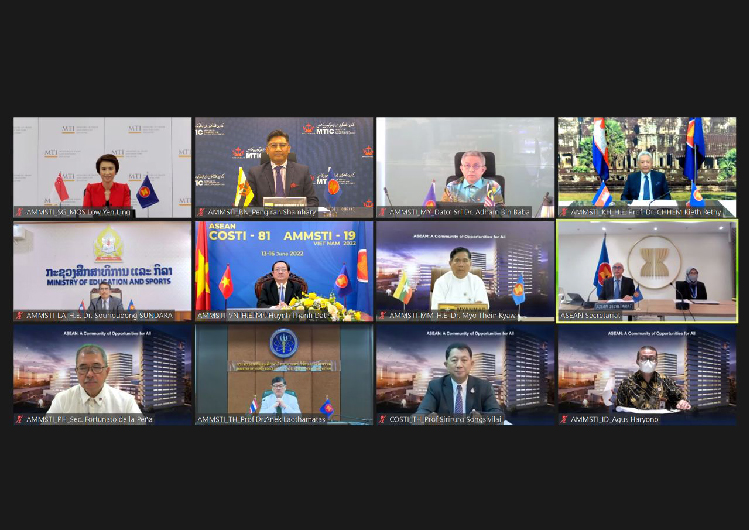 YB Pg Shamhary shared the development and commitment of Brunei Darussalam towards achieving the SDGs through several initiatives including the establishment of the Electric Vehicles Joint Task Force (EJTVF) and the launch of the Green Protocol in support of Brunei Darussalam's National Climate Change Policy (BNCCP).
In his speech, Yang Berhormat also opined that the AMMSTI platform has the potential to help build a resilient infrastructure, which promotes inclusive and sustainable socio-economic development by taking the opportunity of the close ties shared among the ASEAN Member States to enhance cooperation in research and development, including the deployment and adoption of technologies.
Also present during the meeting were Permanent Secretary at the Ministry of Transport and Infocommunications (MTIC) Haji Mohammad Nazri Haji Mohammad Yusof, Deputy Permanent Secretary (Infocommunications) at MTIC Haji Hairul Mohd Daud Haji Abdul Karim, Chair Board of Advisors to COSTI (BAC), Sub-Committees to COSTI and accompanied by senior officials at MTIC.
Also convened before the AMMSTI-19 Meeting was the 81st ASEAN Committee on Science, Technology and Innovation (ASEAN COSTI-81) Meeting from 13 to 14 June 2022 which was attended by Permanent Secretary (Infocommunications) of MTIC as the National Chairman of Brunei Darussalam for ASEAN COSTI.
This year's COSTI-81 meeting was chaired by Vietnam's Permanent Secretary, Deputy Minister, Ministry of Science and Technology Bui The Duy.
This article was first published on 18 June 2022 in our Weekly Epaper issue 198 | More stories here
THE BRUNEIAN | BANDAR SERI BEGAWAN