Get your ninja warrior on!
Jerudong Park Country Club (JPCC) is taking inflatable fun to another level with its newest attraction dubbed the "Big Red Warrior, Jerudong Park Obstacle Course".
The first of its kind in the Sultanate, the Big Red Warrior is 200m long with 25 unique obstacles to overcome as you make your way from the starting point to the grand final slide.
Thrill-seekers will bounce, swing and climb their way through a wide range of fun and exciting challenges designed for those with a competitive side and also test your strength and stamina
Inside the big red inflatable walls, there are a number of obstacles to explore and conquer including the Double Helix, Foxtrot, Half Moon, Bar Swing, Pyramid Climb, Spike Log, Donut Rings; Block Wall and many more.
Not only that, but if you are looking to challenge your colleagues to a bouncy obstacle course or celebrate your birthday ninja warrior-style, the Big Red Warrior also offers corporate and birthday packages.
Acting General Manager of Jerudong Park Hjh Siti Norzalena Pehin Orang Kaya Lela Raja Dato Seri Laila Jasa Hj Awang Abdul Rahman said in her welcoming speech during the launch that the new attraction will be a test of an individual's stamina and perseverance, as the 200-meter run will have 25 distinct obstacles to overcome.
She also added that JPCC will work strategically to enhance and provide unique, viable and cost-effective products with the support from the clients.
"JPCC will strive to serve the nation, where the fun never ends," she concluded.
During the official launch, invited guests had a chance to do a warm-up session led by Dj Nadzri and also test out their agility and speed through the thrilling obstacle course.
One of the contestants said that the Big Red Warrior was challenging at first but she and her friends had a lot of fun finishing it together.
Present as the guest of honor to launch the "Big Red Warrior" was Minister of Primary Resources and Tourism, Yang Berhormat Dato Seri Paduka Dr Awang Haji Abdul Manaf Haji Metussin,and also Chairman of Board of Directors of JPCC.
The Big Red Warrior is suitable for both adults and youth aged 12 and over.
General admission to the Big Red Warrior is priced at $8 (resident) $10 (non-resident) for adults and $5 (resident) $7 (non-resident) for youths.
Moreover, visitors can also enjoy a combo deal of Rides and Waterpark plus two sessions of the Big Red Warrior for only $25 (resident) $30 (non-resident) for adults and $20 (resident) $25 (non-resident) for youths.
For more information on the Big Red Warrior, contact them at 7259222 or email sbd.marketing@jpcc.com.bn or follow their Instagram and Facebook @jerudongpark for more updates.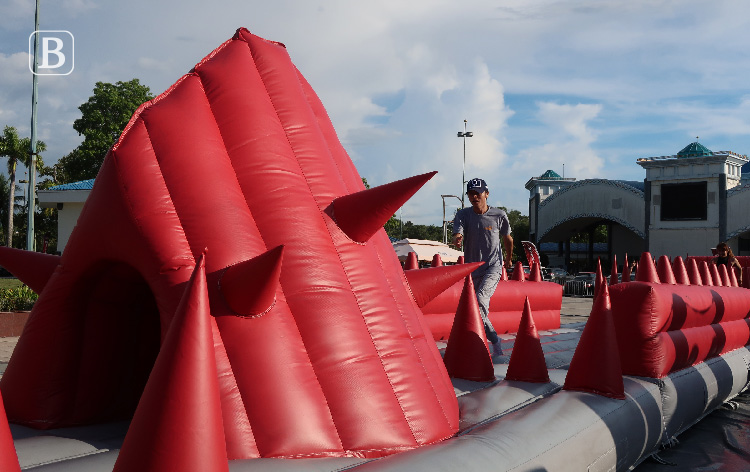 This article was first published on 18 June 2022 in our Weekly Epaper issue 198 | More stories here
THE BRUNEIAN | BANDAR SERI BEGAWAN