After noticing that most cakoi (deep-fried dough) businesses do not have many topping choices other than butter and kaya, Azri Ikram was inspired to take his favourite snack to a whole new level with Cakoi New York.
The name "Cakoi New York" was inspired by the popular saying "New York is a city that never sleeps and it is where dreams are made".
The 25-year-old shared that the name fits well with his business goals and dreams.
Before becoming a full-time business owner, the 25-year-old graduated from IBTE in NTec Apprenticeship in Professional Cookery and Services course.
The entrepreneur had always wanted to open his own business when he graduated to make good use of his culinary skills and ideas.
"I really want to sell something that is easy to make and most people would love to eat. After I noticed the limited choices of toppings for cakoi, I immediately did my research on how to make cakoi dough," said the entrepreneur.
By doing the trials and errors several times, the youthpreneur finally found the right recipe to make it taste perfect so that cakoi lovers can now satisfy their cravings with a variety of toppings.
The full-time entrepreneur started by thinking of different types of toppings that he could offer and make them more interesting to the people so that they have more to choose from.
The youthpreneur then took a chance with Cakoi New York and began selling his creation at the Gerai Ramadhan Stadium this year.
To his surprise, Cakoi New York was a hit and it caught the attention of people for being different and they began sharing it on social media and more people became interested in it.
Cakoi New York is currently selling at a stall located in Jalan 17, Lambak, operating from 1pm to 5pm.
There are a total of 19 flavours to choose from – sweet, savoury, cheese editions and all combined.
The toppings include Nutella, Biscoff, Chocolate, Milo, Chicken Floss, Tuna Mayo, Oreo, Strawberry, Ovomaltine, Peanut Butter, Cheese, Chocolate Cheese, Cinnamon, Pandan Kaya, Chocolate Cheese, Oreo Cheese, Milo Cheese, Nutella Cheese and Biscoff Cheese.
The best-selling flavours are the Tuna Mayo, Chicken Floss and the classic Pandan Kaya.
"Customers often ask if the Tuna Mayo and Chicken Floss taste good as we always recommended it to them, and as expected, customers tend to like it more as it tastes different, tasty and savoury once they have had their first bite," said Azri.
The price range of the Cakoi is between $1.20 to $1.50 per piece and for a box of their Cakoi New York is $7 for 6 pieces of Cakoi.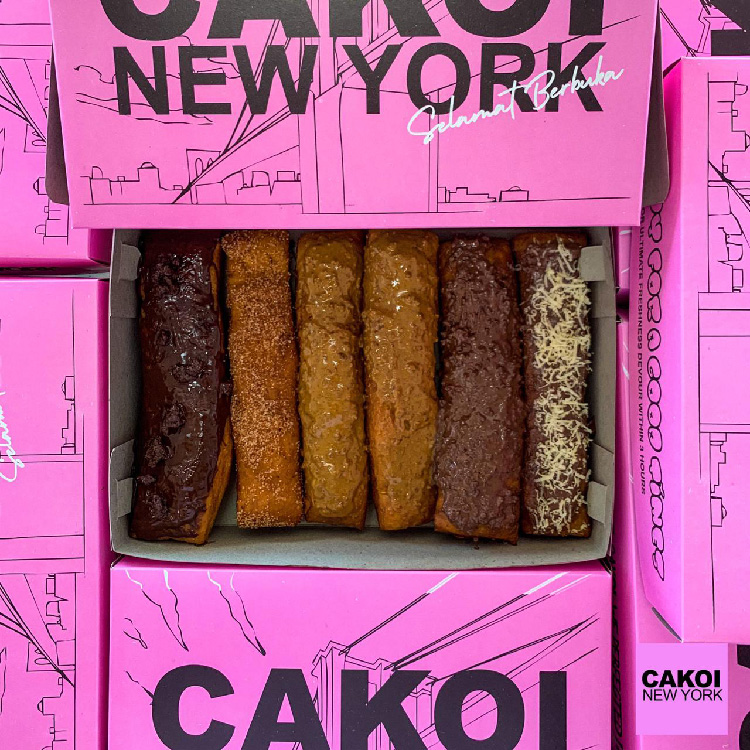 Cakoi New York accepts walk-in orders as well as online orders, which can be done through WhatsApp or direct message them on their Instagram @cakoiny.
"What's unique about Cakoi New York is that we just give customers the whole cakoi and put the topping on top of it, as the existing similar businesses tend to cut it in the middle of the cakoi before putting the toppings in," said the 25-year-old.
Although this business is still quite new, Azri has shared that being an entrepreneur means that the income that he makes out of the business is not fixed and it is part of the journey of becoming an entrepreneur along with other challenges that may come at him.
These challenges, however, do not stop him from trying to survive and strive in this industry.
"For me, the journey to becoming an entrepreneur was not as difficult as I anticipated because I grew up in a business family and was surrounded by business-minded people since I was a kid," said the 25-year-old.
The youthpreneur himself was gradually taught by his family how to start a business and to be prepared for the future hardships that he would have to go through in the long run.
Being an entrepreneur has taught Azri so many things and he would like to see the local business community grow.
A piece of advice he would like to share with others is to plan out the business little by little and start small.
The entrepreneur believes that in order to start a business, one has to start somewhere to make their dreams come true and don't be afraid to take chances and create mistakes as it can be a lesson to learn from and do better as nothing is ever easy.
This small business owner is happy that he was able to create something of his own and make it grow each day with all the support he receives from customers and supporters.
Come and support this local business by heading over to his stall in Lambak or visit their Instagram @cakoiny to place your orders.
This article was first published on 18 June 2022 in our Weekly Epaper issue 198 | More stories here
THE BRUNEIAN | BANDAR SERI BEGAWAN