The Alliance Française de Brunei Darussalam (AFBD) recently celebrated its 35th Anniversary with an evening of French classical music.
Some 20 talented musicians from all walks of life took centerstage in a classical musical performance at the Indera Samudera Grand Hall, the Empire Hotel and Country Club.
The event also coincides with the "La Fête de la Musique", an annual celebration of music that takes place on 21 June every year. It was created by former French Minister of Culture, Jack Lang and composer Maurice Fleuret in 1982 and now, in its 40th year, it is celebrated in numerous countries.
Throughout the night, audience enjoyed 15 varieties of music thematically tied to 19th-and 20th-Century French composers – Camille Saint-Saëns, Francis Poulenc and Gabriel Fauré.
The opening piece was a performance of "La décadanse" by Le grand orchestre de Paul Mauriat delivered by Marieta Del Mar on piano collaborating with the talented string ensemble from The Golden Strings.
The event also saw Zoe Chan and Aaralyn Tan taking the stage to deliver a captivating operatic performance of "The Flower Duet", from Léo Delibes' opera Lakmé and young cellist Felix Fang performing Saint-Saëns' classical piece, "The Swan" (from The Carnival of the Animals).
The night then ended with a fitting and iconic piece by composer Hubert Giraud from the French film, "Sous le ciel de Paris" (Under the Sky of Paris) performed by The Golden Strings accompanied by pianist Marieta Del Mar.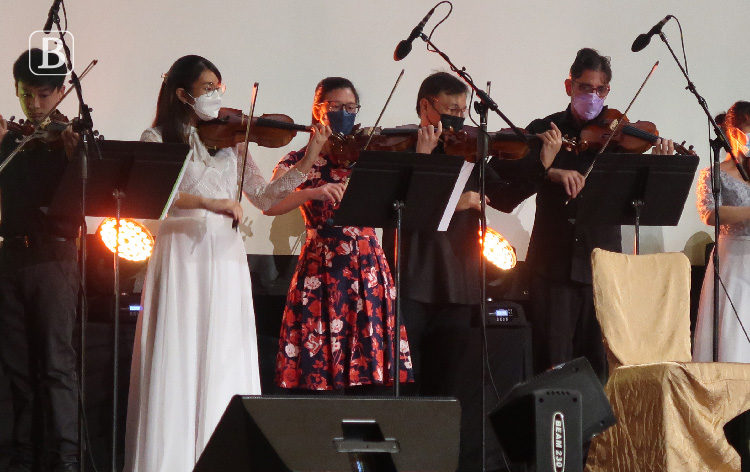 Other musicians who showcased their impressive skills on the evening include Shannen Tsen, Chiam Zi, Lim Yee Shean, Hafidza Mraharovic, John Liew, Rebecca Chin, Jordan Batemen, Gabriel O'Flaherty, Flora Ngu, among others.
"Music is an important part of French culture and France has played an instrumental role in the development of classical music. It makes sense that music was the art displayed on the occasion of the anniversary," said president of AFBD, Pehin Orang Kaya Pekerma Laila Diraja Dato Seri Setia Haji Hazair Haji Abdullah.
As a former musician herself, Executive Director of AFBD, Elodie Simon-Hicks said that classical music has always been dear to her.
She added that the event aims to celebrate the universal language of music and introduce classical French music and culture.
"Some of the music pieces the audiences might find familiar include 'Je veux vivre' from Roméo et Juliette opera or "Meditation" from Jules Massenet," she said.
On her part, Chairperson of Brunei Music Society, Jaya Punjabi said that Music has a power to connect to people.
"The performance of French Classical Composers for an international crowd by performers of varied backgrounds residing in Brunei is an absolute depiction of an art form with human interaction at its centre," she said.
The Classical Music performance is in collaboration with the Brunei Music Society (BMS) and supported by the French Embassy in Brunei, TotalEnergies and Baiduri Bank.
Present was Permanent Secretary for Administration, Finance and Estate at the Ministry of Culture, Youth and Sports, Hj Mohammad Amirrizal Pg Hj Mahmud.
Also present was Ambassador Extraordinary and Plenipotentiary of the Republic of France to Brunei Darussalam, His Excellency Bernard Regnauld-Fabre.
For the past 35 years, the Alliance française of Brunei Darussalam was established to foster the French language and culture, as well as, to strengthen the French-Bruneian cultural exchanges.
Under the presidency of Pehin Orang Kaya Pekerma Laila Diraja Dato Seri Setia Haji Hazair, AFBD provides classes to the public, schools and corporates, and offers official translations.
The establishment is the only French exam centre recognised by the French Ministry of Education in Borneo. It also holds multiple cultural events such as conferences, cooking classes as well as two major annual events – Francophonie and French Film Festival.
This article was first published on 25 June 2022 in our Weekly Epaper issue 199 | More stories here
THE BRUNEIAN | BANDAR SERI BEGAWAN