Saadah Asnawi has a genuine love for candles, fragrances and experimenting with new things so she decided to create her own scented candle business with Kandle Method.
For the young entrepreneur, Kandle Method is not merely just any candle, it is a candle that captures scents that triggers special moments in life or a fond memory that invokes certain emotions and feelings.
"I want to do that, capturing all these into a jar of candles and I know it is a difficult task but I want to at least try and help people find what they want," said the entrepreneur.
The idea of Kandle Method came when the 31-year-old noticed that she had a collection of candles that could sustain her up to a year so she thought that it would be ridiculous of herself to keep this habit of hers.
The consultant began browsing through the internet and bought a candle-making kit and some fragrance oils for her to start with.
"I am also a creature of habit, I don't get bored easily with scents or blends, so I made candles repeatedly with the same blends for a long time," said Saadah.
From then on, the candle maker started experimenting with different blends, waxes, wicks and more.
However, turning her love of candle-making into a business didn't pass her mind until a year later.
For now, Kandle Method is selling hand-poured candles made out of 100% soy wax and all the fragrances used are phthalates free that come in two sizes; 3.5oz which has a 20 to 25-hour burn time and 7.4oz which can burn for up to 40 to 45 hours.
Currently, in the collection, there are a total of five blends in the main collection such as "..I Just Want To Relax", "The Sound of Rain" and "P.S. I Love You".
At times, other blends are also available but they are either seasonal or one-offs.
"I don't think I have a best seller, all seem to perform equally well but if I have to choose, it would be "The sound of rain". I would describe it as masculine, fresh and well balanced. Personally, I like to burn this one when I feel overwhelmed and just need to press the pause button on life," said the 31-year-old.
The way that this entrepreneur comes up with the scents of her candles is by buying samples of fragrance oils from different sources, and occasionally do make blends out of them.
The only way to decide the scents is to make it into a candle and do a complete burn test.
"I used to judge fragrances straight from the bottle but I stopped doing that because there are chances that fragrance oil can smell different once it is made into a candle. So, I usually decide to keep or scrap once I complete the burn test," said the candle maker.
The entrepreneur has her own personal preferences when it comes to fragrances and in a way, it hinders her from exploring scents that she usually does not choose and she believes this to be a poor judgment and missed opportunity.
Saadahv shared that choosing scents is tricky, even for the main collection, it took her months to decide on what to sell.
A unique point for this candle-making business is that they have an initiative where customers can return their candle jars and have them refilled instead of buying a new jar and they can get $2 off.
Additionally, customers can choose the scents they want to refill it with, so it is a great way for them to try out other candles from the collection without having to buy them at full price.
"The jars do not have to be exclusively from Kandle Method, but I accept other amber glass jars from other candle sellers too. As a candle enthusiast myself, I obviously have a lot of empty candle jars at home and just ran out of ideas on how to repurpose them, so why not have them refilled instead? I guess that's how the idea came about," said the consultant.
The entrepreneur loves this initiative as it taps into being sustainable and customers can save a little of their money for something they enjoy.
The prices of the candles are between $20 to $30 whereas the candle refills are priced between $18 to $28.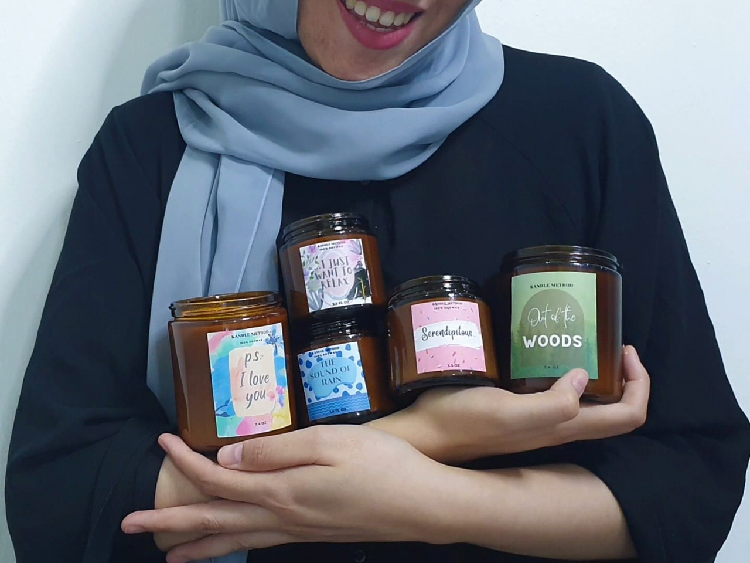 Kandle Method is currently selling both physically and also online. For customers who would like to purchase them online, they can check out their Instagram @kandlemethod and their website kandlemethod.cococart.co.
As of now, their candles can be found physically at the Box of Cravings, Kiulap branch and they also occasionally join pop-ups, just here and there, depending on the stock availability if she has enough to join one.
In the near future, Kandle Method is looking into expanding her existing collection and will be releasing two new blends on 11 July.
Not only that, they will also continue to expand and Kandle Method aims to provide their customers with a variety of selections, ranging from sweet and florals to fresh and more earthy blends, basically planning to cover all the bases.
There is also an upcoming collaboration in the month of August, so Kandle Method is urging their customers to keep a lookout for the first-ever collab as well as a few other things but will still remain a secret for now.
Follow Kandle Method on Instagram @kandlemethod for the latest updates and join Saadah in her journey of candle-making.
Kandle Method will also be at the upcoming LEPAK! Pop up hosted by The Boxr on the 23 to 24 July and they are looking forward to meeting fellow candle enthusiasts.
This article was first published on 09 July 2022 in our Weekly Epaper issue 201 | More stories here
THE BRUNEIAN | BANDAR SERI BEGAWAN