The Asia Pacific Economic Cooperation (APEC) Business Advisory Council (ABAC) recently hosted a workshop on education and training to enhance sustainable practices for MSMEs.
The aim of the workshop was to identify concrete recommendations that can be provided to APEC Leaders on how to support MSMEs in their sustainability journey through education and training.
Over 300 people from across the Asia Pacific registered to the workshop which also marked the launch of the Brunei Economy Programme that seeks to connect APEC and ASEAN issues with stakeholders of the Brunei economy.
Minister in the Prime Minister's Office and Second Minister of Finance and Economy Yang Berhormat Dato Seri Setia Dr Hj Mohd Amin Liew Abdullah in his keynote address at the launch of the Brunei Economy Programme said that he is confident that the programme can be a platform that brings the private and public sectors together towards achieving Wawasan 2035.
"This programme will also support the Brunei Government's focus on 'Recovery, Sustainability and Digitalisation' by engaging the local and international business community – in line with the Brunei Darussalam Economic Blueprint that aims to achieve a dynamic and sustainable economy by 2035," he said.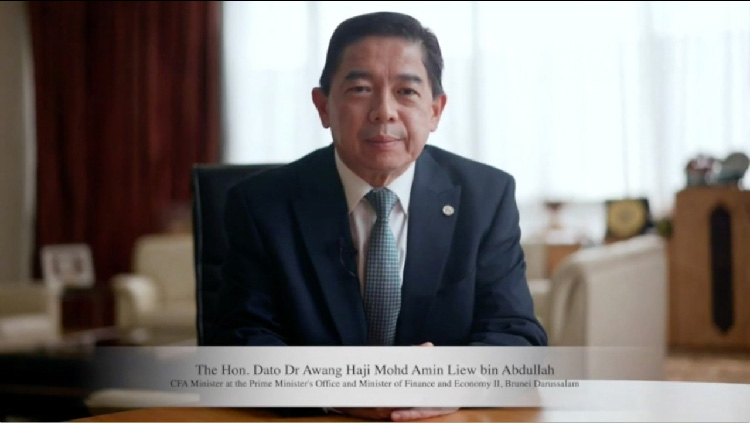 Yang Berhormat Dato Dr Hj Mohd Amin further said that the importance of MSMEs cannot be underestimated.
"In the APEC region, MSMEs make up over 97 per cent of all businesses, employ over half the workforce across APEC economies and play a critical role in driving diversification of economic activities," he added.
His views were echoed by, Executive Director of LVK Group of Companies Nik Hafimi Abdul Haadii, a member of ABAC Brunei and Co-Chair of APEC BAC MSME and Inclusiveness Working Group.
She said: "The outcome of the workshop will contribute towards the APEC Business Advisory Council report for Leaders. We hope it will also provide recommendations to the public and private sector to help our MSMEs to be more sustainable and inclusive, for the well-being of the business community."
In her welcoming remarks, Chairman, Partner and Founder of RM Capital Partners Dato Rohana Mahmood who is also ABAC Malaysia Member and Chair of ABAC MSME and Inclusiveness Working Group, said that MSMEs have always been acknowledged as the driver for economic growth and development within
the APEC region.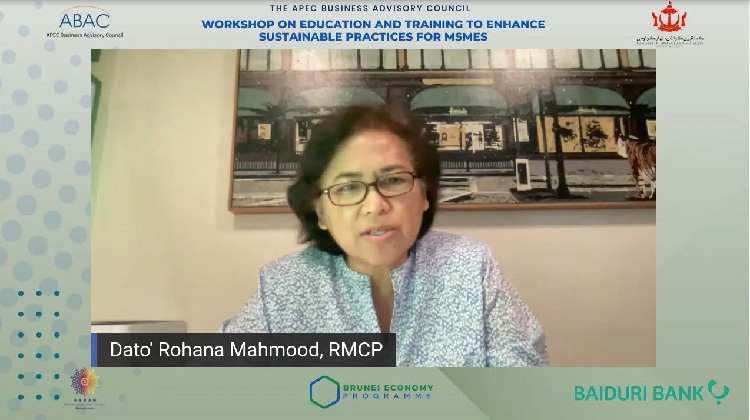 "However, everything has changed with COVID-19. The disruptions it has brought upon the broad business landscapes have greatly highlighted vulnerability of MSMEs to severe economic shocks. As economies begin to enter the endemic phase it is critical that APEC leaders, ministers and policymakers look to leverage on the transitionary period as an opportunity to reset buttons, and to revitalise and regrow their economies," she said.
The workshop featured two panel discussions that explored the importance of 'Education and Training' and 'Skills for a Digital Age' and featured speakers from the ABAC Business Advisory Council and senior international figures from Google, LINE, SGTech, UPS, Darussalam Enterprise and Baiduri Bank as well the Asian Development Bank and UNESCAP. The participants also heard how B20 Indonesia is helping MSMEs.
It was agreed that given the MSME footprint across APEC, they play an essential role in being climate-friendly and achieving the Sustainable Development Goal principle of 'Leave No One Behind'.
By equipping MSMEs with the right education and training, they can make an impact on employment, poverty reduction and inclusive and sustainable growth.
Digitalisation has played an essential role in helping MSMEs survive the pandemic. It has also helped to reduce business and consumer impact on the environment.
The 'new normal has created opportunities to reach new customers, lower costs, and access financial services. However, challenges have also been created in the form of cyber security, data security and digital fraud which can hinder digital adoption among MSMEs.
When asked how can MSMEs be greener? Darren Thayre, Head of innovation, Global Strategic Initiatives at Google summed up the discussions well and said that it takes a village and partnerships are key.
The Brunei Economy Programme is hosted by the ASEAN and APEC Business Advisory Councils of Brunei in collaboration with the Ministry of Finance and Economy and partnered by Baiduri Bank,
adio Television Brunei and Brunei Press.
This article was first published on 09 July 2022 in our Weekly Epaper issue 201 | More stories here
THE BRUNEIAN | BANDAR SERI BEGAWAN