Realising her talent since the age of four, local youth Atikah Thane has been singing her heart out for the country and made some memories along the way.
The natural-born singer started when she was just in kindergarten, and it was during her primary school days when a teacher spotted her melodious talent.
Thanks to her teacher who saw her potential and assured her to join singing classes; she never looked back since then. She took up vocal lessons for years and took part in competitions at her school and outside of the institution from the age of seven.
In an interview with The Bruneian, the 21-year-old youth said that singing gives her the excitement and thrill that drive her passion to pursue music even more.
With the support and encouragement from her family, especially her parents, she knew she could do it.
She took part in a singing competition organised by state broadcast RTB Bintang Kecil from 2009 to 2012, Naindung Mekar in 2009, Malaysian-broadcast RTM's Bintang Kecil in Kuching in 2010, Giant Kid's Idol in 2011 and ASEAN Summit and Annual Dinner Brunei in 2013.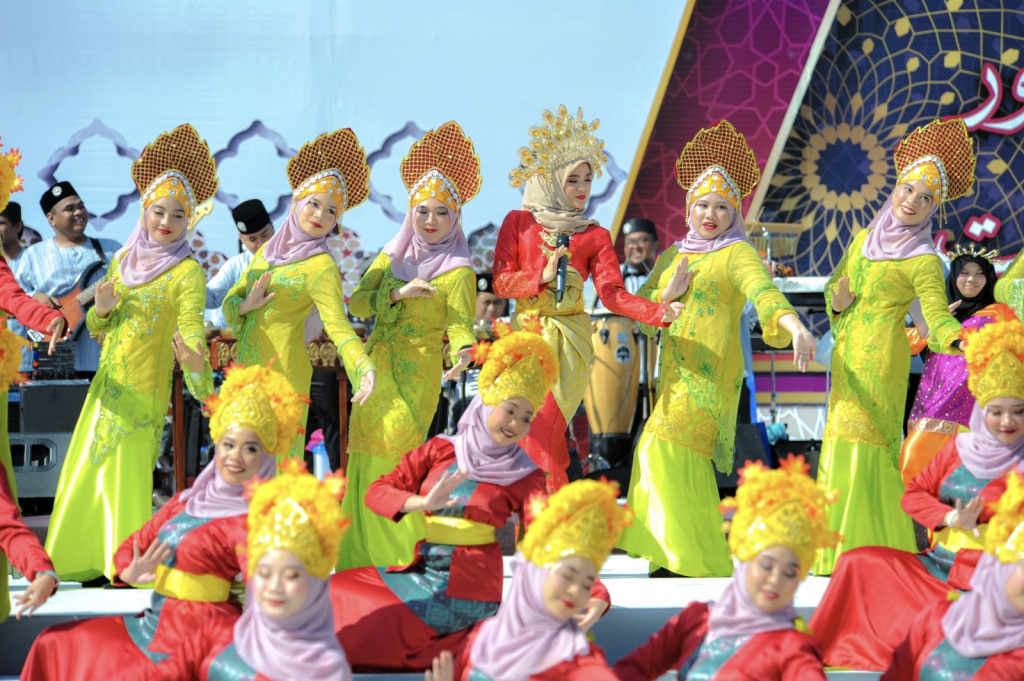 Atikah was also invited to perform outside of Brunei to represent the country at The Expo 2012 Yeosu in South Korea and Oman in 2014.
Not only that, but she also sang at local festivities The 21-year-old has also joined in on the festive local events hosted by RTB for TV and Radio channels, a royal get-together and stage performance Pentarama for His Majesty's birthday celebration in 2021 across all districts, Hari Raya celebration for Yayasan as well as local award ceremonies Pelangi Awards and Express E-Hits Awards.
Growing up singing, there are good times but also bad times for the songstress. One of the challenges for the songstress, up to this day, is coping with expectations from others while at the same time meeting her own.
"Because I was so young, so whenever I joined singing competitions, I always wanted to win because I always had high expectations of myself and it was hard for me to accept the reality that I didn't get what I wanted," said Atikah.
Even as she grew older, the singer at times finds it difficult to not think of what people expected of her to bring to the table and if she met those expectations.
However, doing this for almost her whole life, Atikah continues to learn and focus on herself; making sure how far she could do things vocally and physically while keeping her health and well-being in check.
"I always remind myself that if I lose then I lose. It is not about winning but enjoying the moment. If it is taking too much of my time, then I have to manage it well so I could focus on other things like my study. And it is all about getting out there, giving my best all the time, enjoying and enlivening the show for everyone, especially myself," said the 21-year-old.
Atikah feels proud and blessed that she was able to represent Brunei in not just singing but also dancing to traditional songs at a very young age in two different foreign countries – South Korea and Oman.
The singing bird recently completed her studies at De Montfort University in Leicester and currently waiting for her university results before she can attend her graduation in the United Kingdom.
Apart from singing, the 21-year-old has an interest in politics, a reason for her to take up Politics and International Relations for her bachelor's degree.
After graduating, the singer hopes to do more singing projects but also dreamed to further her studies as she believes that there are still many things that she could do and achieve.
At the moment, Atikah is having her rehearsals for the upcoming royal get-together event for His Majesty's birthday celebration as well as other gigs with RTB.
Seeing the opportunities to pursue what she loves from a young age, she hopes that other youths would also have the chance to do what they love and take that chance when given to them.
"It is always so nice and heartwarming to see youths being more involved and it makes me proud to see that they are not afraid to take the challenge and pursue their passion. This will make Bruneian youth to be more active and productive," continued Atikah.
Brunei's artist community is also on the rise as more and more youths are venturing out to music and exploring its possibilities.
The talented youth also had the chance to work with some local artists for her singing and acting roles at several events.
Not just singing, but she also released her own traditional songs produced by local content creators.
This year she collaborated with another local artist, Aznniel Yunus for a song called 'Trauma' which caught the attention of many when the song was aired on the radio across the country.
It is such a great sight to see more talents being recognised and appreciated in Brunei. The youth sees that the art scene and the support for creatives in Brunei is blooming.
"I am sure that there are still many artistically talented people out there so it is nice to have the platform, especially for youth to gain more experience, knowledge, skills and opportunities," said Atikah.
Not only with music, but she noted that the youth community in Brunei is evolving for the better as the younger generation nowadays likes to explore and go outside of their comfort zone, discovering their skills and talents.
Even with the entrepreneurship community, anything can be turned into a business opportunity, and it can also be with music.
More and more of today's businesses are being started and run by youths as they are becoming more involved, and they have now been given the space to develop those ideas into a reality.
"It is great to see the current youth community growing as well, especially in the creative area. I feel like we have been given quite the freedom to express ourselves in terms of arts," said Atikah.
Youths are now able to create their own music, arts, dance and other forms of arts and they are being celebrated and appreciated more in the country.
Atikah hopes that the youths in Brunei are continuously given more opportunities and support by the government of His Majesty the Sultan, further encouraging youth leadership and development.
Young people, with the right guidance and ample opportunity given, can be the next youth leader and they can pass on that knowledge and skills to the next generation of youths.
For her, she hopes that Bruneian youths would take the courage to pursue their passion whether it be music, entrepreneurship, or any field.
This article was first published on 16 July 2022 in our Weekly Epaper issue 202 | More stories here
THE BRUNEIAN | BANDAR SERI BEGAWAN