When Abdul Muqsith Hj Yahya was laid off from his oil and gas job in the second half of 2019, he was at a loss.
He never thought that he would have to return to the sultanate so soon, especially after spending more than two years as a field engineer in the United States.
Although it was an opportunity to make a fresh start, the news of the sacking came at one of the most inopportune times; just months before COVID-19 hit the globe.
"When I got back home, I tried applying to different companies for different job positions, but unfortunately none of them worked out, so I kept waiting and waiting until I couldn't, so I decided to venture into starting a business," said the 29-year-old.
Muqsith is the founder of Nook Plants (IG: nookplants.bn), an online shop that specialises in selling exotic plants and gardening supplies, which has recently launched its own website www.nookplants.com.
Green awakening
Despite having amassed what can now be considered a small jungle of exotic plants, Muqsith had no experience or prior knowledge in the field of plant care.
"I never had any interest in plants before this. My only reference point when it came to gardening or plants is that I remember the plants that used to decorate our home when I was young, but again, I was never interested," he said.
He was eventually bitten by the plant craze in June 2020, when Brunei experienced its first wave of COVID-19.
"I had a new house when I returned here (to Brunei), so initially, this all started as a way to decorate our new home. I remember that my first plant was a Calathea 'White Star', and everything just started to snowball from there," he explained.
Muqsith described the experience afterward as being a whirlwind.
With the pandemic giving birth to a multitude of new plant parents, it created soaring demand for ornamental and exotic plants in Brunei, fostering a resurgence in the local houseplant community that was feverish with the desire for new and exciting plants.
This excitement of course was most apparent through social media platforms such as Instagram and Facebook; where fellow local plant enthusiasts could find one another and marvel at each other's plant collections through hashtags such as #bruneiplantclub.
"It was a really fun time because everyone was just excited about plants. I had relatives who shared the same hobby so sometimes, we had sleepless nights especially during the weekends because we were anticipating the flower market in Gadong," he said.
"We would wake up around 5am just so we could go there early and scout the different plants that were available. We were all still new, so there were always varieties that we wanted to add to our collection," he added.
Fortunately for Muqsith, he had enough money saved from his previous job, to accommodate this houseplant spree and as his collection grew, so did his curiosity.
During this point in time, the former field engineer would painstakingly do research; on plant care, plant propagation and the different species of plants that were not just available in Brunei, but also outside.
"I would watch videos, read articles and even some research papers… I would also watch these plant influencers on Youtube, who would make videos about highly sought after and rare plants," he said.
"So when I started to collect certain plant species, I had a reference list of what plants to search for next in order to complete my collection," he added.
Branching Out and Growing Pains
The pace at which Muqsith was procuring plants was quick, he admitted, and through his active involvement in the local plant community, he recognised the vast market potential of dealing in ornamental and exotic plants.
He noted how there were fewer local exotic plant sellers at the time. Those that were known, would organise sales through their Instagram feeds or other social media platforms, with plants being booked or sold out within mere seconds.
"By October of that same year, I started selling. I acquired a lot of plants at that point and through propagation and breeding, it became more, it became too many, so that's why I started becoming a seller, I've yet to find a job at that point and I have a family to feed," he explained.
As a result, Nook Plants was born.
Muqsith's journey into the houseplant business began by being a reseller, which meant selling propagations of plants that he had acquired locally.
In time, his collection would include many plants that were already available in the country, and due to this, he set his sights on plants that were available outside of Brunei add into his collection.
"At that early stage, the goal was growing my social media presence (as Nook Plants) and also to diversify my plant stock. So I kept selling and selling until eventually, I had enough money to start importing plants," he added.
When it came to the local houseplant demand at the time, common and popular houseplants were foliage plants like Caladiums or flowering plants like Bouganvilleas, Orchids and Roses, however, with many new plant parents being internet savvy youths, that demand grew to include exotic genera of plants, ones that were fairly uncommon locally.
However, with no prior experience with importing plants and plant products in Brunei, Muqsith found the learning process to be difficult, having to make visits to and fro to the relevant government agencies for inquiries and in order to acquire the necessary import permits.
He managed eventually, however with one hurdle being crossed, a few more emerged in the form of finding reliable suppliers and dealing with new regulatory measures for imports and exports due to the COVID-19 pandemic.
"You can easily find any (exotic plants) supplier from Instagram or Facebook, however trusting them is difficult, it's always a fifty-fifty chance whether a supplier will be reliable or not," he said.
"First, they can take your money and never ship your plants. Second, you have to make sure that the plants being sold are as pictured in the catalogues and third, how well does the supplier package their plants," he continued.
"With the whole pandemic, there were times when I wasn't sure when my plants would arrive, there were delays that were happening as governments tried to ensure import and export shipments were sterilised," he went on to say.
Labour of Leaves
Even with all the complications that suppliers and shipment processes may bring, the real work actually begins when the plants have arrived.
"Because demand is high, I usually order plants in bulk, say 100 or 200 plants per shipment. Since I work alone, days, when plant shipments arrive, are the toughest because once you receive your plants, you have to be quick," he said.
"Once you open the box, the plants will go through shock, because they will be experiencing a vastly different environment, and they will most probably go through stress," Muqsith explained.
Plants that are imported have to be acclimated before being sold, they need to be accustomed to the new climate they are in. Examining the roots, providing humidity, water, and vitamins and repotting them in a suitable medium is essential during this stage.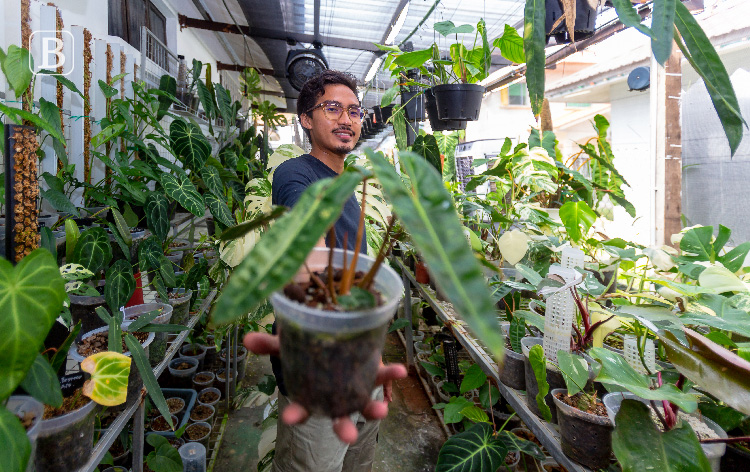 "You have to wait for the plants to be stable and rooted, however long that will take before they can be sold. That's why a supplier with good quality plants will actually help because it speeds up this process," added the 29-year-old.
From October 2021 until June this year, Nook Plants has sold over 3,700 exotic plants and gardening supplies, with plant prices that range from low single digits to low quadruple digits.
Nook Plants has been a lucrative venture for Muqsith since it was established two years ago, however, even he could not escape the pressure of finding a conventional job, for practicality's sake.
The full-time exotic plant seller expressed some concern about recent houseplant market trends, noting that there have been significant price drops in exotic plants since the country went into the endemic phase.
"Like any commodity, there are ebbs and flows, prices will vary from time to time whether it is seasonal or not, it really depends on the demand and supply," he said.
The Variegated Philodendron Billitiae 'Billy' for instance, a small-sized 'Billy' was priced at about $4,000 during his early days. Now, however, a decent-sized 'Billy' can be purchased at half the price.
Although his business has been doing well, the security that a 'conventional' job may provide can be enticing, he confessed, however, given the choice Muqsith would like to continue growing Nook Plants.
"Just like any other business, especially for an MSME like me, there will always be ups and downs but I would like to continue to grow and maybe reach the likes of Rimba Garden Central someday," he said.
For now, aside from launching the Nook Plants website, Muqsith is looking into constructing a boutique greenhouse, just at the front of his home where customers will be able to visit.
"Essentially, I'll be content even if Nook Plants just becomes a small plant business that people actually support. I'll just keep growing because I'm both a collector or a seller, I still believe that I have a lot of exotic plants that people might fall in love with, but growing will take time," he added.
This article was first published on 16 July 2022 in our Weekly Epaper issue 202 | More stories here
THE BRUNEIAN | BANDAR SERI BEGAWAN