Happy cheers and colourful musical performances filled the Municipal Field in Kuala Belait welcoming His Majesty Sultan Haji Hassanal Bolkiah Mu'izzaddin Waddaulah, Sultan and Yang di-Pertuan of Brunei Darussalam for the benevolent ruler's 76th birthday celebration.
Belait was the second district for the royal meet and greet this year, carrying the theme "Raja Disanjung, Rakyat Menjunjung".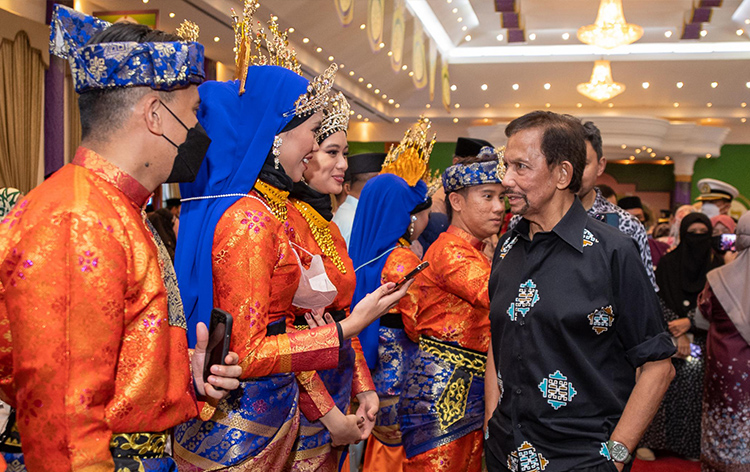 His Majesty was accompanied by His Royal Highness Prince Haji Al-Muhtadee Billah, the Crown Prince and Senior Minister at the Prime Minister's Office, His Royal Highness Prince 'Abdul Malik, His Royal Highness Prince 'Abdul Mateen, His Royal Highness Prince Mohamed Bolkiah and His Royal Highness Prince Haji Sufri Bolkiah.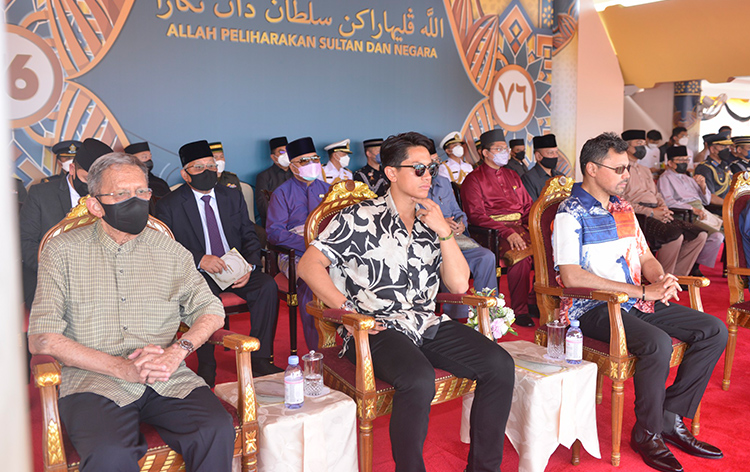 The arrival of the monarch was greeted with flag waving by primary and secondary school students who were lining up by the roadside leading to the field.
Some 489 participants were involved in the field performances bearing the concept of contemporary dance formation depicting the sovereignty of His Majesty's leadership realised by the people for the country's development.
The 15-minute show involving youths, students from primary and secondary schools as well as higher educational institutions was a combination of traditional, contemporary, and modern dances, songs and gestures with the inclusion of the characteristics of the Melayu Islam Beraja philosophy.
The performance was done in three segments; the first being 'Mendaulatkan dan Menjunjung Raja', followed by 'Keceriaan rakyat' and finally 'Raja Berdaulat Disyukuri Rakyat' with the theme song 'Raja Disanjung, Rakyat Menjunjung'.
The first performance showcased the people's gratitude for all the blessings that Allah has given, including the gift of a Sultan who is just and wise, creating continuous peace and prosperity.
Meanwhile, the second number was comprised of vigorous and energetic movements expressing the achievements of the country's development that represent the outpouring of feelings reflecting the joy and pride of people from multiple nationalities meeting the king.
Lastly, the final performance represented His Majesty the Sultan who is always in the hearts and souls of the people.
A glorious and colourful grand performance concluded the event that was present in front of the monarch and members of the royal family prior to the meet and greet with the public.
There were about 44 tents comprising communities from all mukims in Belait District, public and private sectors, educational institutions, non-profit organisations as well as COVID-19 frontliners.
The public had the opportunity to interact and take photos with His Majesty the Sultan and other members of the royal family throughout the meet and greet.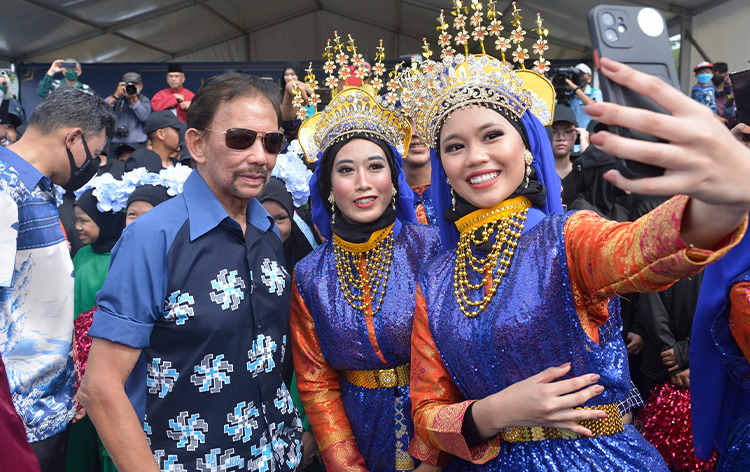 Some of the participating agencies include ABDB and British Garrison, Brunei Shell Petroleum, Brunei LNG, Brunei Gas Carrier, Brunei Methanol Company and Brunei Fertiliser Industries.
The meet and greet concluded with a brief performance from Battalion 3 Serunai and Tambur band led by the battalion's acting commanding officer Major Daud Etim.
The next meet and greet is set to be held in Brunei-Muara District at Taman Haji Sir Omar 'Ali Saifuddien located in the capital.
THE BRUNEIAN | BELAIT