Driven by a passion for fashion, local youthpreneur Nordiyana Suryana Noorhalim realised her dream to be a designer after starting her bespoke tailoring business in 2018.
Deana Designs was made possible when the 28-year-old started working as a part-time sewing tutor and receiving clients' orders which gave her the avenue to earn a side income.
However, in 2019, while on a job hunt and waiting to graduate with her master's degree, she decided to create an Instagram profile for the business and produced several ready-made pieces such as blouses and jubah instead.
At the time, the entrepreneur shared that she was also still accepting bespoke tailoring orders and decided to create her brand 'Deana Designs'.
The brand name was derived from the entrepreneur's own name, a representation of herself and her passion for designing.
"Of course, job seeking is challenging, the business started as a part-time or side gig, but as the business became more profitable and gained more customers, I decided to make Deana Designs my main focus in 2020," she said.
The women's apparel business is currently being run solely by Nordiyana working from her small sewing home studio with occasional help from part-timers.
Up until this moment, there are a variety of women's apparel by Deana Design ranging from blouses, jubah, dresses, baju kurung and set wear to scrunchies, tote bags and even face masks.
The brand also caters to products depending on customers' requests as well as following current trends.
For instance, during the early COVID-19 pandemic phase, there were many demands for face masks, so when the customers wanted them, Deana Designs would cater them.
Deana Designs also started producing clothing sets in late 2020 which they named the products based on different fabrics used such as the Basic Casual Set, Basic Comfy Set and Cotton Comfy Set.
"The Cotton Comfy Sets remained as our best seller to date, which we are still producing today," said the young designer.
The demand for the sets, she added, is quite high whereby some customers get disappointed for not being able to secure a set everytime the brand released a new collection.
Moreover, to give better service and cater to customers' demands, in 2021, Deana Designs started to have a pre-order system where everyone can easily place their bookings.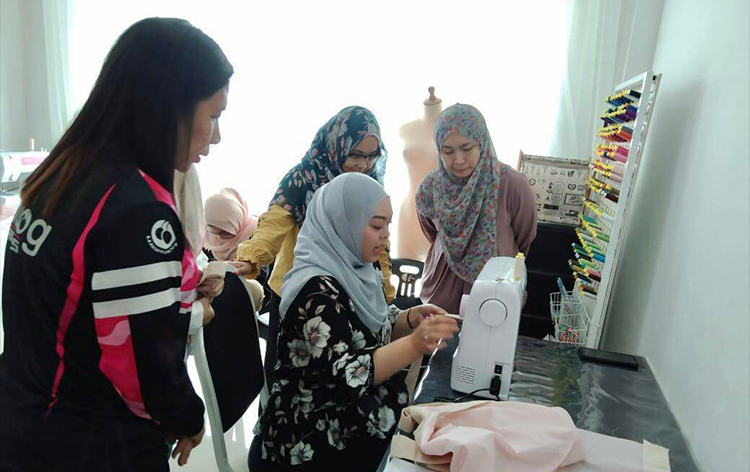 As for the sewing workshop, the entrepreneur conducted a tote bag sewing workshop from time to time, teaching participants how to make their own bags.
"By looking at the current trends, I would get ideas on what designs to make and what fabric or material to use for each design," said the entrepreneur, adding that the unique selling point of Deana Designs is their sizing and materials used.
She added that patterns and sizing for their products are formulated by herself, to fit the local market body types.
The fabric that they use is also different from the mass-produced apparel that is sold elsewhere.
"Not only our products are made and designed locally, but we also source all of our materials locally, which differ from the many businesses that I know, where they usually outsource their materials and products from the neighbouring countries," said the business owner.
The pricing for the products is quite affordable with good quality ranging between $25 and $45 depending on the designs.
For now, the products are only sold through Instagram @deana.designs.
Furthermore, the brand's current focus is to produce more ready-made sets and blouses but the plan is to add more dresses into their product line and also generate ideas to produce affordable bridal wear in the near future.
Nordiyana also eyes to host more sewing workshops and collaborate with other local creative talents.
At the beginning of her business, getting an audience was the most challenging for her, especially during the early phase of her business.
Gaining customers' trust and loyalty is not easy but as time goes by, the business started to receive positive reviews from customers.
"Of course, there are ups and downs in every business, but you have to stay focused and disciplined at all times, especially when you run the business on your own," said the business owner.
Nordiyana shared that she was always told that entrepreneurship is a risky path to venture into and she admits that it is, but it is also a fun path for her. It gives her the freedom to be creative and run things according to her preferences.
Support this local business and the designs made by Nordiyana by keeping a lookout for her latest releases on the brand's Instagram @deana.designs.
THE BRUNEIAN | BANDAR SERI BEGAWAN