Having a knack for crafts from a young age, Izzah Amirah Ariffin is living her best life creating and selling macrame whilst waiting for job opportunities to meet her.
Macrame is a form of art by knotting or 'ikat' which is done entirely by bare hands without the use of tools, unlike weaving or knitting.
The engineering graduate from University of New South Wales who just completed her Master's with Universiti Brunei Darussalam believes strongly in the power of women taking the lead and being their own boss.
The 26-year-old also has a love for do-it-yourself (DIY) crafts and recycling which is why she reuses some parts of her old bags such as chains and straps to match the macrame.
With her passion and hobby combined, the young entrepreneur is able to create her own space dubbed 'Hooked by Izzah' to market her products.
When she was 17, she used to make and sell dreamcatchers; it was a fun and exciting moment for her while earning some side income.
"Finding a job was difficult for me after graduation so while waiting, I wanted to start making money. I wanted to make something new, cute and wearable every day for everyone," said Izzah, adding that she used to attempt crocheting but it did not last long.
Making crafts with her own hands gives her satisfaction as she did it all by herself without the help of tools, and that is when she fell in love with macrame.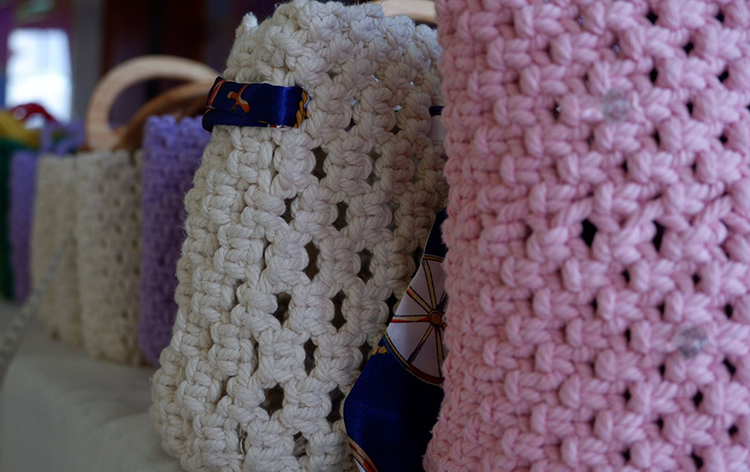 Izzah's macrame is mostly designed in adorable motifs and mini-sized that are suitable to wear for casual and formal events such as weddings.
Macrame cords are most of the time very strong. Hence, her products are sturdy and durable yet soft and comfortable for frequent use.
"I sell because I believe it is still a trend of owning a mini bag, shoulder bag, net bag or a bag that looks like a basket," added the youth.
For her, macrame-making can take up to a few hours or one day for just one bag, depending on size.
One thing that she loves about her bags and designs is that she has the chance to name them anything such as using classic Malay names like Dian, Maya, Seri, Dayang, Anggun, Dewi and Bintang.
The products that receive the most love from buyers according to the crafter are the Dian, a cute and eye-catching bag for wedding events or special occasions as well as the Maya bag, suitable for daily wear.
To make her products even more special, occasionally, the 26-year-old releases a limited-edited collection in which bags are meant to be unique and owned by one only.
The bags are priced between $20 and $90 depending on the size of the bag, the knots and the number of cotton rolls used as well as the type of materials.
Moreover, Izzah mainly uses Instagram @hookedbyizzah where customers can just send direct messages to place their orders and inquiries.
She would also join pop-up events when she has the spare time to make bags that would require two weeks to complete.
However, making macrame has its own challenges, especially on health and energy.
"You need to have the extra strength to do the knotting as it will make your fingers sore and skin rough…Taking a long break would help recover (the sore) but it sacrifices my income as it is a slow-making product," said the 26-year-old.
Another challenge she faced was when dealing with those who do not share her sentiment about running a business but wanted her to get a high-paying full-time job instead.
Nevertheless, Izzah loves what she is doing now. Her business journey has been so encouraging and uplifting as she was able to build connections with people who inspired her to strive in the business.
"They have helped this business continue to grow from endless purchasing, spreading the word, and supporting via Instagram. I would have not gotten here without their love and kind support," said the youthpreneur.
Other than bags, which are her core products, the knotter also takes in personal orders for things other than bags such as wall hangings and coasters, among others.
In the future, she hopes to expand her line of products and that includes making bigger bags such as totes.
Being an entrepreneur, Izzah would love to see more youths pursue their business ideas as the community is growing, and she is happy to be a part of it.
"I know this is cliche but if you have a business idea, just do it, just get into it, just try it. You will never know until you try it. And if you don't like it, then it's okay to find something else that will sustain you. Life is full of endless possibilities," said the knotter.
The most important thing according to Izzah is to be surrounded by a good support system through ups and downs.
The entrepreneur is grateful for all the love and support received from her buyers, their love for the products and words of encouragement are the drivers for her to do more and be better.
See the amazing knots that Izzah has created by heading over to her Instagram @hookedbyizzah and give the home-based business some support.
THE BRUNEIAN | BANDAR SERI BEGAWAN