Everyone has their childhood dream, for Mohammad Ateeq Hishan Zainal Abidin, he had always imagined himself being a professional football player.
From getting his first pair of boots to winning trophies, football has always been at the centre of the 16-year-old's life.
Ateeq's passion for the sport began early around the young age of eight. His family and his love for Liverpool FC was also a big factor in his decision to pursue a career in football.
"I have always had an interest in football since I was a kid. I remember vague memories of me and my dad watching my brothers' games whenever they played at school. I come from an athletic and sporty family, where everyone has a liking towards the sport," Ateeq said.
"However, my passion and love for football began only when I was around 8 years old, when my dad decided to have me join a football academy here in Brunei called Projek Ikan Pusu (PIP)," he shared.
Ateeq, who spent nine years in Brunei, has always been marked by his talent on the field. He played mostly as a midfielder and impressed his coaches with his ability to control the ball with speed and precision.
"From there, with the guidance of my coaches, I started developing my skills and knowledge about the game and really took it seriously, winning trophies and awards with the team along the way," he added.
Standing at 5 ft (152cm), despite his short height, the young footballer has always displayed technical proficiency and excellent footwork on the field.
Being a gifted player, during his time with the grassroots development programme, he was also awarded the Tournament's best player. He also mentioned that it was one his first achievements in football.
After his years with the PIP in 2017, the young midfielder continued his football journey with DPMM FC under-16 and has scored and assisted multiple goals during his season with the team.
"We had a strong, solid team that I was fortunate to be a part of, having finished the season off not losing a single game in the whole campaign. I was very proud of myself and how much I grew as a player, but more importantly the team and what we achieved that year," he shared.
In 2018, Ateeq was selected for the under-12 Years international football training programme at the world-renowned Barcelona FC Football Academy in Spain. The young talent was among the 32 players from Southeast Asian countries who were chosen by Barcelona FC Football Academy for its 2-weeks training camp.
During his training at the camp, he practiced all kinds of different skills from tackling to moving with the ball while keeping it in position to the tactical concept of the game.
"At the FC Barcelona training camp, a lot of emphasis was put on the tactical aspects of the game as opposed to the technical side. Before I joined the programme, I felt like I just played football, but didn't quite understand the depth of the sport," he shared.
According to Ateeq, a big part of being good tactically is by understanding the game and knowing your role on the field.
"During my two weeks in Spain, we were also taught to really understand a style of football that I really enjoyed," Ateeq said when asked about his favourite memory during the training camp.
"There were many different world class academy coaches at the club teaching us what is demanded of each position and how each position should operate which really helped me expand on my knowledge being a midfielder," he added.
"Our training sessions were intense and very physically demanding to replicate real game situations. Furthermore, after our training sessions during the week, we had friendlies with the FC Barcelona youth team and a local team as well on the weekend," he shared
"It really showed me an idea of how football is like outside of Asia and it really gave me a sense of where my level was as a footballer at the time. Besides learning the tactical aspect of football, we also went through media training which I think was very important," the young player shared.
In 2020, when Ateeq turned 14, he became the first player from a local academy to be awarded the prestigious British International School Phuket (BISP) Cruizeiro Football Academy scholarship in Phuket, Thailand.
Thanks to the academy, the young player was able to improve upon his game to the point that he was able to play football while also getting an education.
Currently playing for Cruzeiro EC, Ateeq was part of the youth team that won third place in the Samui FAN Football Youth Tournament in 2020 along with other promising young talents.
"This year, I moved up to the senior squad where my latest achievement is finishing as winners of the IBER Cup in Merbella, Spain last summer (July 2022)," he added.
"We were among tough Spanish and Portuguese teams but we managed to clinch the trophy in the final after a penalty shootout. This tournament will always stick with me and is probably the favorite one so far, as it's the first tournament I've experienced in Europe, and winning it was a lovely bonus," he shared.
With a debut year with multiple achievements and the feeling that European and Brazilian football style is very much suited for the young talent, Ateeq credits his coaches and mentors at the academy for helping him reach this point.
Ateeq also shared that, within the academy, he is also fortunate to have played with team-mates of different backgrounds and skills and who already know the pressure of playing at the highest level.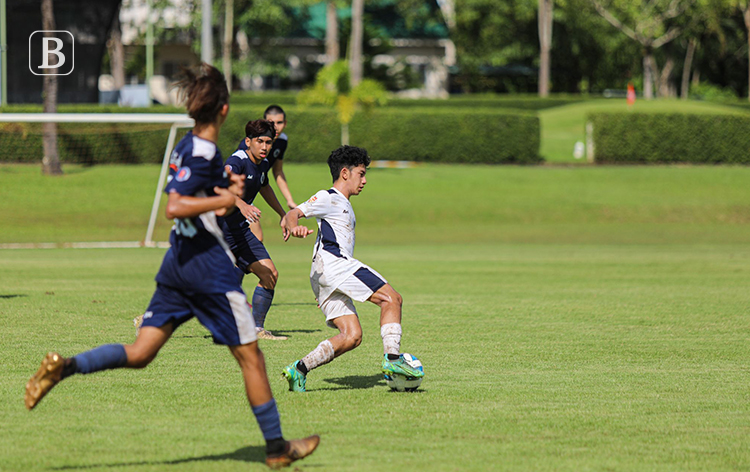 Off the field, the young talent enjoys spending time with his friends, listening to music, watching movies and even playing some golf on the weekends.
Making it as a professional footballer in any capacity also comes with a lot of setbacks and challenges. For Ateeq, it was his height.
"I have always been the smallest in every team I play for, and so consequently I have always struggled with facing players who are way bigger and stronger than me," he shared.
However, because of his size, Ateeq could easily maneuver his way easily on the field boosted by technical skills and an ability to react more quickly, accelerate better.
"Throughout my time being involved in many different teams, with the guidance of my coaches, I have learned to capitalize on my strengths that most bigger, more stronger players are weak in," he added.
Speed, agility and a winning mindset are among the young player's best attributes. One area of his game, Ateeq is working to improve on is to score more goals.
Although scoring goals as a midfielder can be difficult, Ateeq aims to improve on his shooting skills and gameplay.
A young player with a long-term goal in his sights, Ateeq is constantly learning and trying out new skills and football style, which is something he thinks is very important for those who inspire to become a professional football player.
His family, and especially his father, Zainal Abidin, has always been a strong supporter throughout Ateeq's football journey.
"I am very grateful and fortunate to have such involved parents who support me. My dad has always been there for me, he's always been supporting my football journey since I was young," Ateeq said.
From day one, his father would be there at every training session or game Ateeq played. According to Zainal, the support and encouragement of a parent is an important contributing factor in the development of young athletes.
Now at 16-years-old, it is only up from here for the teenager as he continues to move forward to pursue a future in the world of professional football at an international level.
"Personally, I would love to play for a big European team one day. It has always been a dream to represent myself and my family at the highest level of football. I still have a long way to go, but to one day play for Liverpool, it would be a dream come true," he said.
Adding to that, when asked if he had the opportunity to pick any players to play alongside, Ateeq chose Kevin De Bruyne, Lionel Messi, Thiago Alcantara, Frenkie De Jong and Phil Foden.
THE BRUNEIAN | BANDAR SERI BEGAWAN