Some 381 students from Universiti Teknologi Brunei Darussalam (UTB) recently graduated with flying colours, marking the completion of their undergraduate and postgraduate programmes at the university.
The 10th Convocation Ceremony was graced by His Majesty Sultan Haji Hassanal Bolkiah Mu'izzaddin Waddaulah, Sultan and Yang Di-Pertuan of Brunei Darussalam, the Chancellor of UTB.
The monarch was accompanied by His Royal Highness Prince (Dr.) Haji Al-Muhtadee Billah, the Crown Prince and Senior Minister at the Prime Minister's Office, the pro-chancellor of UTB.
The ceremony that was held at the International Convention Centre in Berakas celebrated students graduating with Doctor of Philosophy, Master's and Bachelor's Degrees.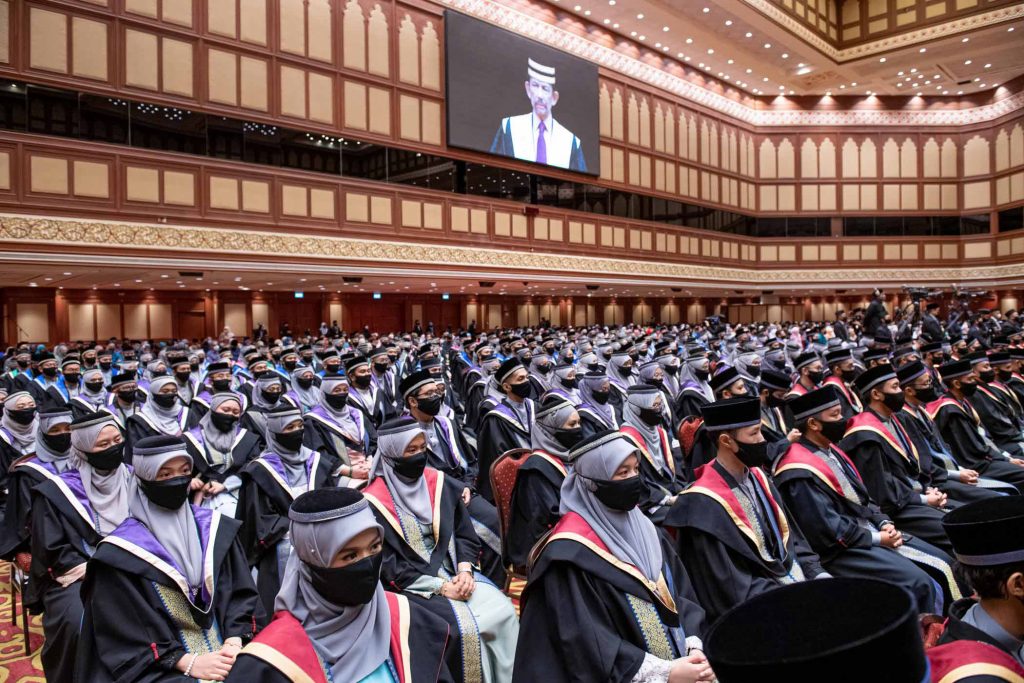 A student with a Bachelor of Business in Applied Economics and Finance who graduated with first-class honours expressed her heartfelt gratitude for having to complete her studies despite missing most of her campus life due to the pandemic.
"I am overjoyed, the feeling of my hard work in these 4 years had finally paid off and receiving my certificate during this convocation is like getting a positive affirmation for my achievements and I am happy to be able to celebrate this with fellow friends and classmates," said Renee Goh Suk Cheng.
The graduate further said that she chose to pursue her programme due to her growing interest in economics after completing her A-Levels, leaving her wanting to learn more about Brunei's economic system.
For Bachelor of Science in Computer and Information Security graduate Suhrawardiy Sha'adon, choosing the programme was due to his keen interest to understand the field of hacking.
The first-class honours student said that he enjoyed doing hands-on sessions where it allowed him to implement theory into practice.
"For example, when we were tasked to conduct penetration testing where we performed 'hacking in a controlled manner' using computers and tools. Here, we fuse our theoretical knowledge with all sorts of technicality, and I think this is the best learning experience that I had throughout," he added.
He further expressed his appreciation towards his alma matter for gearing them with the right, knowledge, skills and experience.

Another first-class graduate Justene Lim @ Lim Yu Shuo shared that he enjoyed performing engineering experiments by operating and controlling the equipment laboratory.
The 23-year-old chemical engineering student decided to pursue the programme due to the potential work opportunities in the future.
"I will have the opportunity to work in a wide range of job roles, in a variety of industries, including waste management, food, and beverage production, chemicals, safety and environment, and petrochemicals. The list never seems to end," said Lim.
The 23-year-old shared that taking chemical engineering as his degree was a challenging, tough and exhilarating experience filled with endless projects, assignments and exams but it all paid off in the end when he received his first-class certification.
"For the four years, I am truly thankful to UTB. I made a lot of wonderful memories, gained countless knowledge, met amazing lecturers, and made many new friends," he added.
Programmes offered by UTB have opened doors of opportunities for its students to pursue their interests and expand their knowledge.
UTB has produced over 5,141 students in BDTVEC HND; 295 HND Level 5; 2513 undergraduates; 432 Master's and 10 PhD postgraduates from Faculty of Engineering, School of Business, School of Computing and Informatics; School of Applied Science & Mathematics and School of Design.
THE BRUNEIAN | BANDAR SERI BEGAWAN