Cuckoo Brunei recently celebrated its 6th Anniversary with an evening of Glitz and Glam at the Grand Cesar Hall, Mulia Hotel in Kg Anggerek Desa.
Cuckoo Brunei is responsible for the healthy living of 36,000 households, said its Managing Director, Wong Kim Guan, during the company's anniversary dinner last night.
"According to the Department of Economic Planning and Statistics, there are a total of 75000 households in Brunei. That means that in every two households, one of them will have a Cuckoo Appliance. This is made possible by all of you here tonight and I think we all deserve a round of applause," he shared.
He added that with the combined efforts of everyone in Cuckoo Brunei, they were able to achieve 97 per cent customer satisfaction which was accomplished by a workforce that is made up of 95 per cent Bruneians and they will continue to empower Cuckoo Employees to grow with them and be the best version of themselves.
"I have never attributed any part of our success to being lucky. If I did, I would be undermining the efforts and hard work of every single one of you. But If ever I were to admit that we are lucky, then I will say this, I am very lucky to have every single one of you walk this journey with Cuckoo Brunei," he added.
Founded in 2016, according to Guan, the company initially began by improving the quality of living through its Beyond Standards initiative, but over time has evolved from expanding and diversifying the product portfolios to advancing its mission towards being a Healthy Home Creator in Brunei.
Looking to the future, Cuckoo Brunei shared that they will be bringing more innovative products and attractive plans along with top-level after-sales service that will meet customers' satisfaction.
Cuckoo Brunei went on to celebrate the achievements of its staff where over 15 awards were handed out in recognition of the managerial promotions and outstanding performances for the year by the Cuckoo sales team.
Also in attendance was Charge D'Affaires at the Embassy of the Republic of Korea Cho Hye.
Cuckoo Brunei introduces three new products
At the soiree, Cuckoo Brunei also launched three new products to join the ever-growing Cuckoo product family.
The first product launched was a new variant of the three-temperature Cuckoo XCEL Water Purifier which is now available in Jet Black. This is followed by the launch of Cuckoo Titan and Cuckoo Warrior Top which further expands Cuckoo line of state-of-the-art water purifiers.
Cuckoo Titan Water Purifier – The Most Powerful Water Purifier in Heating
Cuckoo Brunei also expanded its line of water purifiers during the event with the launch of the Cuckoo Titan Water Purifier.
The slim, compact, and tankless water purifier can instantly heat up and dispense water up to 100°C, making it the smallest yet most powerful water purifier in heating.
The Titan is fitted with cutting-edge technologies to keep your drinking water clean, while still maintaining a minimalistic and modern design, making it the perfect water purifier for your home or office.
At a touch of a button, Cuckoo Titan is also able to remove pesticides from fruits and vegetables and eliminate up to 99.9% of germs with its "Sterilisation Water" function.
It is also equipped with Cuckoo "In & Out" Auto-Electrolysis Sterilisation technology that cleans its pipes and faucets on a regular basis.
The Titan also features smart functions such as a voice navigation system in English and Malay language, energy saving mode, lighting mode and hidden touch safety features and many more.
Starting 27th October 2022, the Cuckoo Titan will hit the Cuckoo Brandstore shelves at an outright price of $1,900.
Cuckoo XCEL in Jet Black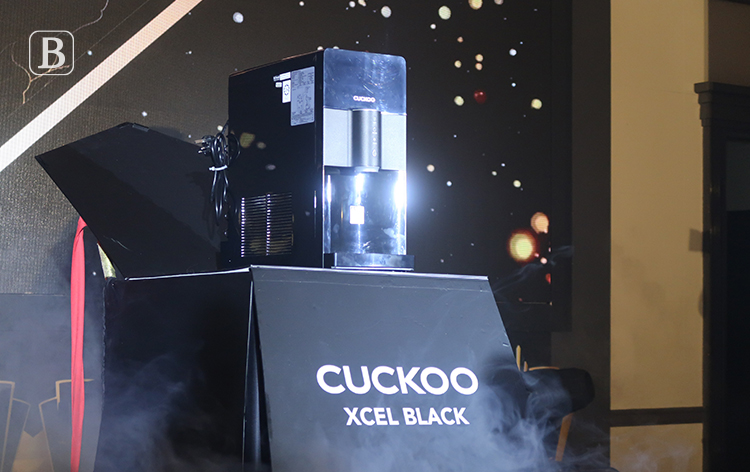 Cuckoo Brunei began the exciting launches by introducing a brand-new look for the Cuckoo XCEL Water Purifier. The three-in-one temperature water purifier is now available in Aqua Mint, Moon White and the new and sleek Jet Black.
The XCEL is a state-of-the-art water purifier that has been fitted with various technologies that aim to provide conveniences, such as the operation status indicator, manual and auto water dispensing function, and the one-touch direct control buttons.
With its clean, elegant, and minimalistic design, the Cuckoo XCEL Water Purifier is a perfect blend for the users' kitchen.
On top of that, the XCEL will now be available at a lowered price. Starting 27th October 2022, you can get the Cuckoo XCEL at an outright price of BND 1,300.00.
**A New Warrior in Town – The Cuckoo Warrior Top**
Lastly, Cuckoo Brunei introduced a new warrior in town with the launch of the Cuckoo Warrior Top Water Purifier, the first mechanical water purifier with a faucet sterilization function to help remove any impurities and prevent bacterial growth.
Cuckoo Warrior Top has a large 5.2 litres high-capacity antibacterial stainless steel water tank, making it the perfect 3-in-1 temperature mild alkaline water purifier for families and offices.
The brand-new water purifier was also designed carefully to help improve its users' convenience, such as having a tall outlet space of 21cm to allow larger bottles and mugs to fit perfectly when dispensing.
The Cuckoo Warrior Top will now be available at the nearest Cuckoo Brandstores with a Rent-to-Own Plan where you can make the Warrior Top yours for only BND 39 per month for 7 years with Natural Care Services included.
Cuckoo Brunei Partnership with Avansse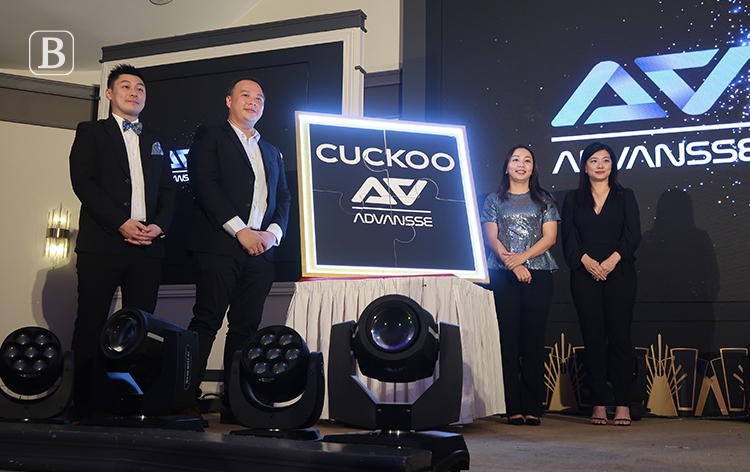 In conjunction with the special occasion, Cuckoo Brunei also officiated a joint collaboration with local electronics distribution company – Advansse.
Advansse aims to enhance customers' shopping experience in the electrical appliance industry. With this partnership, Cuckoo Brunei takes a step further to complete the homes of Bruneians by opening new product categories, going towards the mission which is to be a complete fully-fledged healthy home creator.
"The last two years, we have seen people spending more time at home and adjusting to different daily routines due to the Covid-19 pandemic. Home has become more than just a place to live, work and rest," the company shared in a statement.
This partnership between Cuckoo Brunei and Advansse is aimed to ease people's lives at home with each company's expertise in the development of multiple electrical appliances.
Advansse is a distribution company that delivers top-quality, innovative and affordable electrical appliances for your home. With the mission to enhance customers' shopping experience in the electrical appliance industry, the company aims to offer great client experiences before and after the sale with flexible and affordable payment choices for each of its products.
Recently, Advansse brought an exciting brand Hisense into Brunei and is the sole distributor of Hisense televisions in the country. Hisense televisions are rated to be one of the best televisions you can get at the moment featuring a functional design, affordable, environmentally friendly, energy-saving and immersive products for consumers worldwide.
Other than that, Advansse will be bringing an innovative new brand called NIIO into the electrical appliance market. NIIO appliances will offer beautifully designed and sustainable products that range from kitchen appliances, washing machines to entertainment systems such as speakers and soundbars.
Previously, Cuckoo Brunei focused on going Beyond Standards in all things they do, now the company is moving forward and positioning itself as the Number 1 Healthy Home Creator in the country by providing quality appliances and after-sales services that are unrivaled in the country.
Cuckoo Brunei hopes that the partnership with Advansse, will complete the homes of Bruneians by introducing new products to its ever-growing categories.
For more information, visit www.cuckoobrunei.com or contact 2333330. For daily updates, follow them on Instagram @cuckoobn.
THE BRUNEIAN | BANDAR SERI BEGAWAN