Small businesses and local communities play an important role in reviving and strengthening tourism, one of the economic sectors hit hard by the COVID-19 pandemic.
The G20 released last month guidelines for putting communities and micro, small, and medium-sized enterprises (MSMEs) at the center of a resilient and sustainable tourism recovery.
The United Nations World Tourism Organization (UNWTO), the G20 Indonesian Presidency, and the G20 Tourism Working Group collaborated over the past year to deliver the guidelines at the G20 Tourism Ministers Meeting in Bali on 26 September for the ministers' endorsement.
Countries that comprise the G20 represent more than 80% of world GDP, 75% of international trade, and 60% of the world population. The tourism working group includes guest countries, International Labour Organization (ILO), World Travel and Tourism Council (WTTC), Asian Development Bank (ADB), and Organisation for Economic Cooperation and Development (OECD).
A people-centered recovery
MSMEs make up an estimated 80% of tourism businesses in the world. The pandemic exposed the vulnerability of these small enterprises and local communities that depend on tourism for livelihood.
According to the UNWTO, international tourist arrivals fell 71% in 2020 because of travel restrictions, which brought "international tourism back to the level of 30 years ago." Tourism has yet to fully recover from the pandemic.
The G20 Bali Guidelines for Strengthening Communities and MSMEs as Tourism Transformation Agents—A People-Centered Recovery notes that "tourism is an important pillar of livelihoods, inclusion, as well as a driver for the conservation of natural and cultural resources."
There is a growing movement toward inclusive and sustainable tourism, which favors ecotourism and community-based tourism over mass tourism. Community-based tourism puts greater emphasis on the development and involvement of people in developing and managing their own tourism destination and products. In BIMP-EAGA, for example, the Sabah Tourism Board is working with rural communities to develop destinations and travel experiences that would appeal to tourists who want to go off the beaten path.
Tourism and the SDGs
"Our sector has now recovered almost 60% of pre-pandemic levels. However, we are falling behind in our efforts to reach the climate action goals of the Paris Agreement. We are also behind in progress toward the Sustainable Development Goals," said UNWTO Secretary-General Zurab Pololikashvili in Bali. "Tourism can help us get back on track. But we need to speed up. And we need to scale up. MSMEs and communities, the backbone of our sector, need strong support to be agents of a people-centered transformation."
The guidelines are steered by the theme of the Indonesian G20 Presidency "Recover Together, Recover Stronger."
"I am truly delighted that the G20 Tourism Working Group is able to adopt the G20 Bali Guidelines," said Indonesia's Minister of Tourism and Creative Economy Sandiaga Uno. "The guidelines embody a number of policy best practices in the five main lines of actions. These lines of actions are essential to put the holistic wellbeing of our people at the heart of tourism recovery. We do not wish for tourism to just simply rebound, we need it to be better in serving the needs of our communities by creating good jobs, empowering the marginalized, and safeguarding our planet."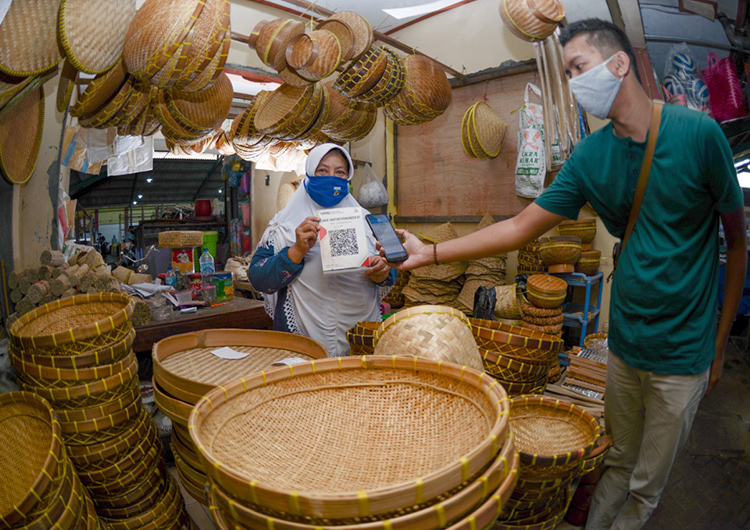 Five pillars
The guidelines provide guidance for key policies that can create resilient and sustainable MSMEs and communities spanning five key pillars:
Human Capital
Innovation, digitalization, and the creative economy
Women and youth empowerment
Climate action, biodiversity conservation, and circularity
Policy, governance, and investment
Research developed for the guidelines shows the need to address small enterprises' lack of access to finance and market intelligence, market uncertainty, the volatility of the workforce, changing consumer trends, and business needs and low levels of innovation.
For communities, challenges also include the uncertainty of the market and changing consumer trends as well as revenue leakages or income generated by tourism in the community that does not stay in the community, lack of education and skills, lack of adequate infrastructure and governance, and excessive dependence on tourism.
The guidelines focus among others on:
developing targeted policies based on social dialogue and multi-stakeholder collaboration to promote vocational education and training, skills development, and lifelong learning of the tourism workforce by engaging industry and technology partners;
stimulating entrepreneurship, including through tourism business incubation and promoting the creation of decent jobs in tourism;
strengthening linkages between the tourism sector and local communities by encouraging partnership with local suppliers;
bridging the innovation gap and promoting responsible innovation;
developing guidance for MSMEs to enable them to tap into digitalization, improve their products and boost their productivity through the creative economy;
ensuring equality and nondiscrimination, with particular attention to young people in vulnerable situations, promoting the application of gender-equality and equal opportunity principles for all youth in tourism, including equal remuneration for work of equal value, equal participation and equal treatment;
implementing, within respective national policy, more sustainable and environmentally friendly practices; and
improving tourism data, including the use of big data, the implementation of international statistical standards and the development of adequate methodology for Measuring the Sustainability of Tourism as evidence-based policy-making as well as facilitating data sharing, including through public–private partnerships.
THE BRUNEIAN