Kris Karmila Kreations and Krispy Krunchiez recently hosted the 20th installment of the company's charity project, "Jiwaku Ikhlas".
This year's charity project involved a channel of assistance for 20 single mothers and their families.
Recipients received items worth $300 such as fragrant rice, sugar, mineral water daily sustenance items and facemasks, cash shopping vouchers
The contributions were made by the Kris Karmila Kreations Co., Krispy Krunchiez, UBD Corporation Sdn Bhd, Krispy Krunchiez, Al-Huffaz Leader, Maju Motor and Ad Adwa.
"My sincerest gratitude goes out to all of you, for those who graciously contributed donations, for those who kindly spent time & energy, to help those in need of a helping hand, and making sure Jiwaku Ikhlas goes smoothly," said the founder of Kris Karmila Kreations, Hjh Karmila Hj Sapar in her opening speech.
Hjh Karmila hopes that this meaningful project can continue with the support and help of all parties.
As of today, Hjh Karmila indicated that the charity project has successfully provided assistance to more than 3,000 local communities in need comprising underprivileged families and foreign workers affected by unemployment.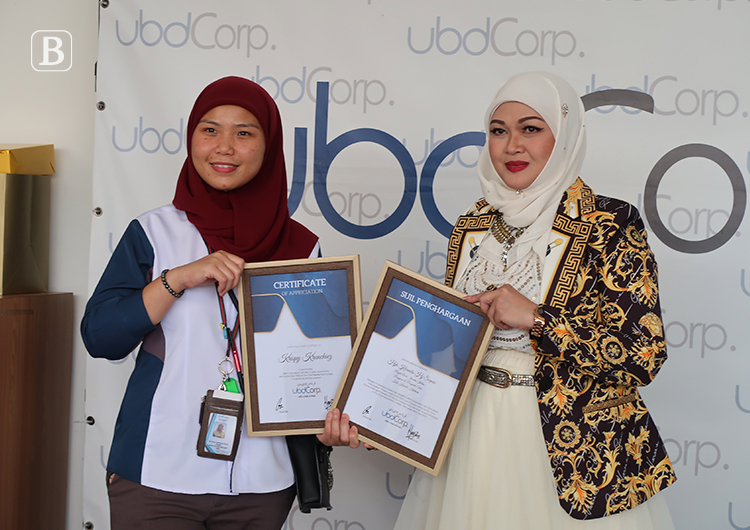 The charity project has helped people with different abilities, single mothers, special needs children, orphans, victims of house fires and other groups, including distributing donations to frontliners, she added.
The handover ceremony was held at UBD Core and witnessed by Vice President Research at Universiti Brunei Darussalam (UBD), Prof Dr Abby Tan Chee Hong, General Manager of UBD Corporation Md Iswandy Maaruf, Acting General Manager of UBD Corporation Dk Izyan Pg Tajuddin, Marketing and Events Manager of UBD Corporation Hazrin Hassan and President of the Single Mothers Movement Association (PGIT) Norliha Haji Besar.
THE BRUNEIAN | BANDAR SERI BEGAWAN