Nara Agrofarm began simply as a pastime while waiting for enrolment into the next stage of education and is now turning into a full-fledged business with a clear vision of growth and expansion.
"I needed to do something at the time and thought of running my own broiler chicken farm as I have adequate knowledge of how to do it from my time at school," said Mohd Noraiman Rusyaidi Roslan, founder of Nara Agrofarm.
"Nara Agrofarm was set up to fill up my free time after I completed my 'O' levels education in December 2020. I set up my poultry housing and equipment in early 2021 before starting my course at The Institute of Brunei Technical Education (IBTE) in July 2021," said the 18-year-old who studied Crop and Livestock Production at IBTE.
Among the challenges he faced in the early stage of his business journey were lack of capital and manpower, meeting customer demands as well as time management issue as he had to juggle between his studies and running the poultry farm.
The farm, located in Kampong Sungai Radang, Temburong, started with a modest production of 300 chickens per week and is now producing around 500 chickens per week and currently houses over 3000 chickens at a given time.
"During my time at IBTE, I was gaining more knowledge on how to properly bread, rear and slaughter the chickens and this has helped me a lot in terms boosting productivity and efficiency," said Mohd Noraiman.
Nara Agrofarm was officially established in September 2022 and has begun supplying to local shops in October this year.
Good demands for his produce encouraged Mohd Noraiman to begin considering turning the business into a large-scale commercial enterprise in the future.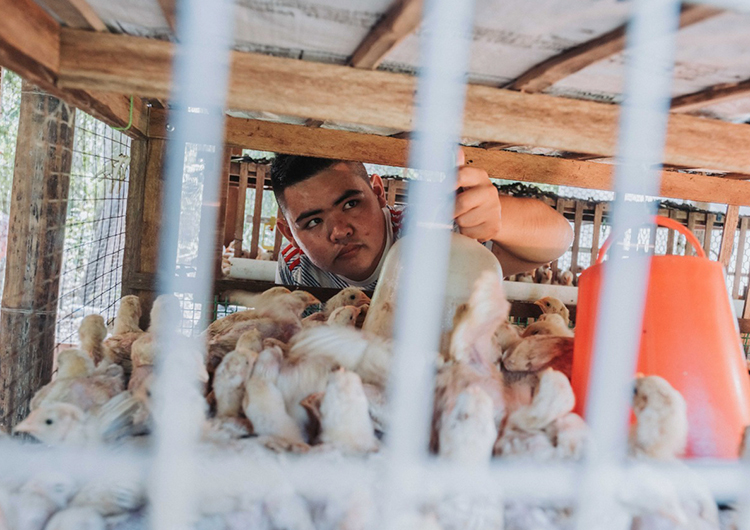 "Our immediate goal is to grow the production of our chickens and expand the size of the poultry house so we can fully cater to customer demands as well as grow as a business to help our country's economic diversification and help the nation achieve its food security goal," he said.
Nara Agrofarm is just one of many up and rising young entreneurs that receives guidance and mentoring from the BIBD SME360 which focuses on providing holistic and comprehensive assistance to small businesses through an experienced and dedicated relationship management team that acts as a trusted partner in their growth – improving access to finance and resources, providing relevant advice and guidance in digitising their business.
"So far, BIBD has helped me a lot on how to manage our operations including cash flow management, which I never knew and understood before. BIBD also shares business tips and ideas as well as provide us with guidance on how to expand our business," said Mohd Noraiman.
BIBD's Business Development Manager (Marketing) at the Corporate Banking Group, Amir Anwar Rahman, said choosing the right mentors is key insuring the survival and growth of businesses.
"The right mentors can provide valuable business insights, advice, moral support, and the encouragement you might need in order to succeed as an entrepreneur," he said.
"At BIBD SME360, we take pride in our ability and commitment to guide young entrepreneurs and start ups from the early days of their business journeys to the day when they have become established businesses," he added.
"We hope SME360 will benefit businesses and provide all the advice and assistance towards the growth of a more vibrant, dynamic, and sustainable entrepreneurial environment in Brunei – consistent with the Bank's role as the Partner in Progress in helping the nation address food security and self-sufficiency as well as commitment to support the UN Sustainability Development Goal of encouraging entrepreneurship and job creation."
Through the SME 360, BIBD offers to deliver comprehensive solutions that make banking more efficient, cost-effective and readily accessible to SME clients as well as creating long-term support and sustainable change through education, community and development of local entrepreneurs.
Products such as BIBD BizNet, the MSME Current Account and BIBD QuickyPay have helped fill gaps and improve the operations of MSMEs, in line with the bank's objectives to serve the needs of all types of MSMEs.
In relation to that, BIBD would like to invite those who are interested to start up a business through the BIBD SME360 to get in touch with the team and seek their guidance on how to begin your entrepreneurial journey, digitise their businesses and let BIBD be your 'Partner in Progress' throughout that journey.
THE BRUNEIAN | BANDAR SERI BEGAWAN