Some eleven lucky Baiduri cardholders received their prizes for the 'Your must-haves in one place' promotion held in collaboration with First Emporium & Supermarket (Branch), Batu Satu.
Between 24 March and 21 April 2023, shoppers who spent a minimum of BND50 in a single receipt at the branch or online at www.1stemporium.com were automatically entered into the lucky draw to win shopping vouchers.
The top three winners in the promotion were Pg Hj Mohamad Zahruddin bin Pg DP Hj Idriss, Muhammad Aeizlan Boey Abdullah and Nang Nway Nway Lone who won $2,000, $1,000 and $800, respectively.
Eight other lucky Baiduri cardholders each received shopping vouchers valued at $200.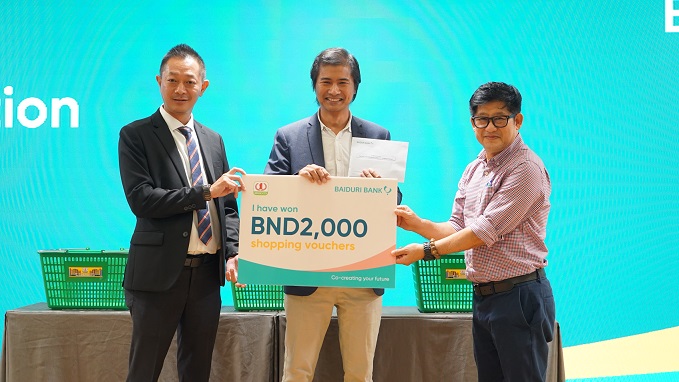 Presenting the prizes to the winners were Davern Lim, Head of Card Business at Baiduri Bank and Lim Kian Seng, General Manager of First Emporium and Supermarket (Branch).
Speaking during the prize presentation, Ng Yick Wei, Head of Group Strategic Marketing and Communications at Baiduri Bank said, "I would like to extend my heartiest congratulations to all our winners who are walking away with their shopping vouchers. We are delighted to have been able to carry out this promotion with our partner, 1st Emporium and Supermarket, during the recent month of Ramadhan and we hope to continue providing our customers with more rewarding experiences like these in the future."
For more information on Baiduri Bank's promotions, customers may contact the 24-hour Baiduri Bank Customer Hotline at 2449666 or follow Baiduri Bank on social media platforms.
THE BRUNEIAN | BANDAR SERI BEGAWAN