The Royal Thai Embassy of Brunei Darussalam organised a blood donation drive for the Thai community and "Friends of Thailand" on Thursday.
Held at the Raja Isteri Pengiran Anak Saleha (RIPAS)'s Blood Donation Centre, the event was held from 8am to 11.30am and 1.30pm to 3.30pm and saw the collection of 36 pints from 36 donors.
Speaking to The Bruneian, Thai Ambassador to Brunei, Her Excellency Boosara Kanchanalai said the event was held in conjunction with a celebration of the birthday anniversary of Her Majesty Queen Suthida Bajrasudhabimalalakshana.
"This marks an important event as we are thinking of her as a person of love, is giving and caring and so we believe a blood donation drive was the most appropriate thing to organise as part of the Thai community."
"Simultaneously its aim is to support the Blood Donation Centre for reliable blood supply during emergency situations."
Ambassador Kanchanalai shared that it was her third time donating and expressed that she was grateful for the support and encourages everyone to donate as it is a fulfilling cause.
"It is something that you can do as long as you are in good health – to give blood and to help a life or even lives."
"We also have Brunei's top donor participating in the event with us – Haji Abdullah Haji Munchit who has donated for the 201st time today."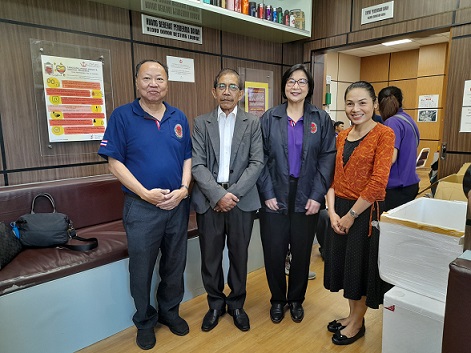 Speaking to the media, Haji Abdullah Haji Munchit said that he started donating blood at the young age of 17.
"I started donating because there was a call for it and since then I just have not stopped and that is because it has felt good for my body."
"When you donate, it benefits your body more than you think from reducing stress to improving your emotional well-being and benefiting physical health."
Haji Abdullah is currently 69 years old and is in great health.
"I donate six times a year and hope everyone can also donate as regularly as they can."
"Be in good health, get enough sleep, eat well and donate to save lives," he advised.
Officers together with staff from the Royal Thai Embassy and Team Thailand also participated and donated to the noble cause.
THE BRUNEIAN | BANDAR SERI BEGAWAN