Lucky Mitsubishi customer Fatin Nadzirah Asan was overcome with joy after discovering that she won the grand prize of $5,000 cash prize for GHK Motors' "GHK Raya Rewards 2023" campaign.
Fatin was indeed surprised when her number was announced as the grand winner as it was her first time ever winning a lucky draw.
"This was really unexpected! Before this, I asked my mother to pray for us. I am still speechless, I was not expecting anything but I'm truly happy and grateful for the win," she said.
According to the grand prize winner, a few months ago, she was looking for another car for her daily use, that was when she decided to buy the Mitsubishi Pajero Sport during the promotion period which entitled her for the campaign.
She also added that her first car was also a Mitsubishi model. "My first car was a Mitsubishi ASX. To me, the Mitsubishi brand is sustainable to maintain and it is easy to find spare parts," she said.
The winner also added how she was thankful for having been able to take part in the campaign and is looking forward to saving her winnings for Umrah.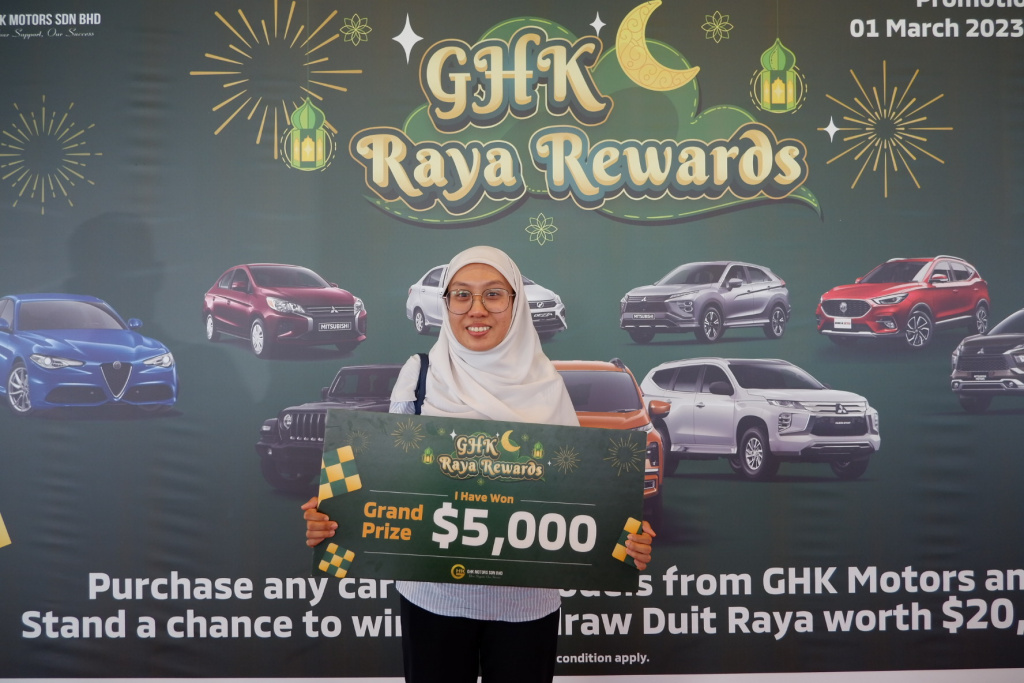 Fatin also expressed appreciation towards GHK Motors, noting that their services has been good and positive.
Meanwhile, two other contestants Hjh Rosaida Abidin and Hjh Noraziah Hj Yusof also brought home cash prizes $3,000 and $2,000, respectively.
The event also saw some 10 winners taking home consolation prizes worth $1,000 each.
GHK Motors ran the campaign from 1st March 2023 until 31 May 2023, a promotion that offers consumers the opportunity to purchase vehicles from different brands distributed by the auto dealer such as Mitsubishi, Perodua, Daihatsu, MG, Maxus, Chevrolet, Chrysler, Jeep, Alfa Romeo and Changan.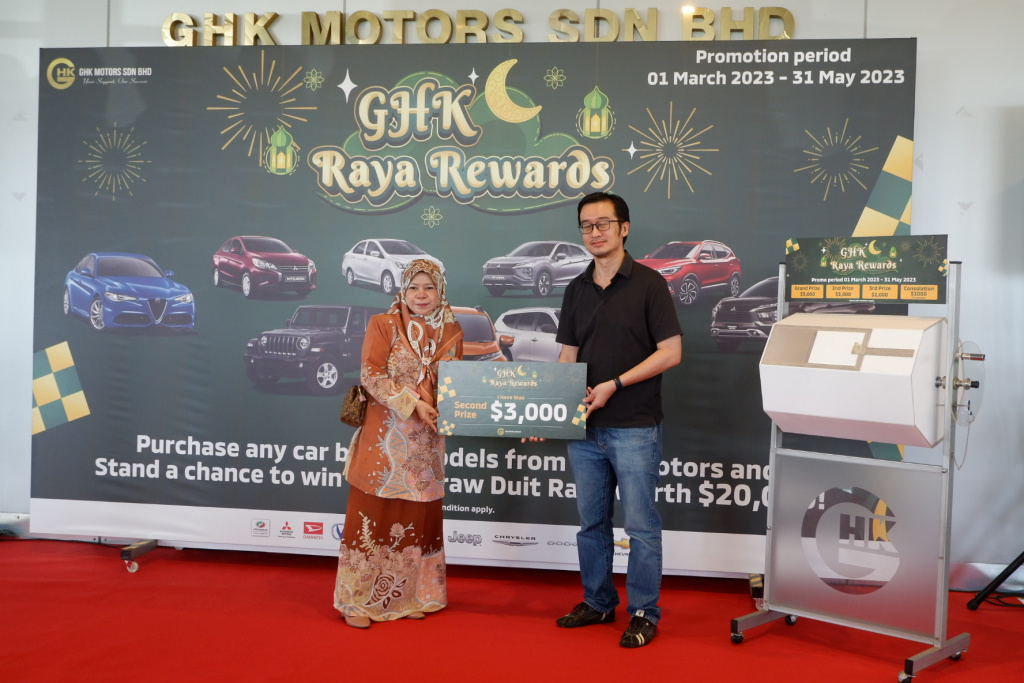 The campaign is also aimed to reward and show appreciation to their clients while promoting awareness on their car brands and services and also as part of Hari Raya celebration.
Present to witness the grand draw were invited guests Sales and Marketing Baiduri Finance Berhad Suwardi, Head of Marketing & Public Relations BIBD At-Tamwil Berhad Asharul Bin Norshari Kamaluddin, Head of Sales Baiduri Finance Berhad Haji Muhammad Ali Bin Haji Metusin and Deputy General Manager of Baiduri Finance Berhad Haji Mohd Rayme Bin Haji Bakri.
Also in attendance were Director of GHK Motors Jake Goh, Chairman of GHK Motors Pengiran Halaluddin bin PM Dato Shariffuddin, General Manager of GHK Motors Au Thien Kiong, Assistant Sales & Marketing Jason Chai, Digital Marketing Nuur Siraaj and Digital Marketing and Data Analyst Hamizah.
THE BRUNEIAN | BANDAR SERI BEGAWAN