Putting the fun in finance, The Influenc(Her) weaves together pop music, dance and dramedy into a musical production that would take you on a journey of self-discovery and financial enlightenment.
In its recent shows, audience were treated to an entertaining and educational evening of performance by more than 30 talented cast members and dancers, taking centre stage in the musical performance at the Jerudong International School Arts Centre Theatre.
The Influenc(Her) is a first-of-its-kind collaboration between Brunei Darussalam Central Bank (BDCB) and Relentless Entertainment and Academy of Performing Arts that covers a variety of financial topics, making financial education more fun and exciting.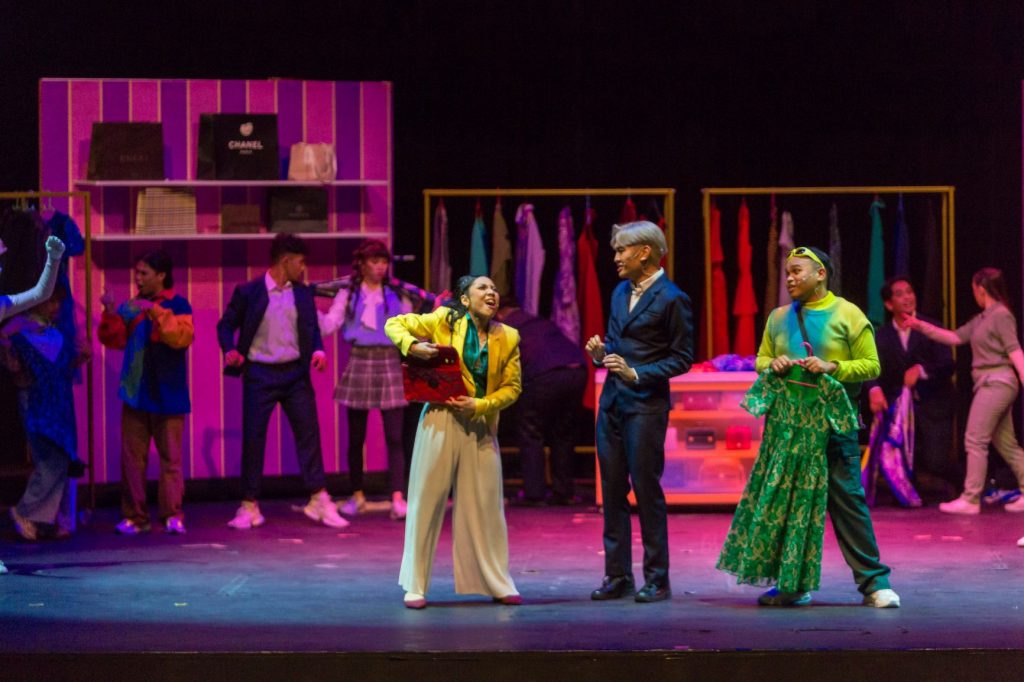 The musical production was inspired by the book and movie 'Confessions of a Shopaholic' by Sophie Kinsella, the show centers around Aisha Ali played by Khalisa Mutalib – an aspiring social media influencer as she navigates love, career and her true love, shopping.
Throughout the night, the audience enjoyed a variety of popular music thematically tied to the musical such as Ariana Grande's 'Break Free', Katy Perry's 'Teenage Dream', Jessie J's 'Domino', Elton John's 'I'm Still Standing' and many more.
The stage production of Influenc(Her) captured the financial lessons from managing debts wisely to avoiding financial scams and scammers like Carlos.
The heart and soul of the musical production are the performances which are collectively nothing short of amazing. The cast delivered remarkable synergy and charm throughout the evening and there were many standout moments.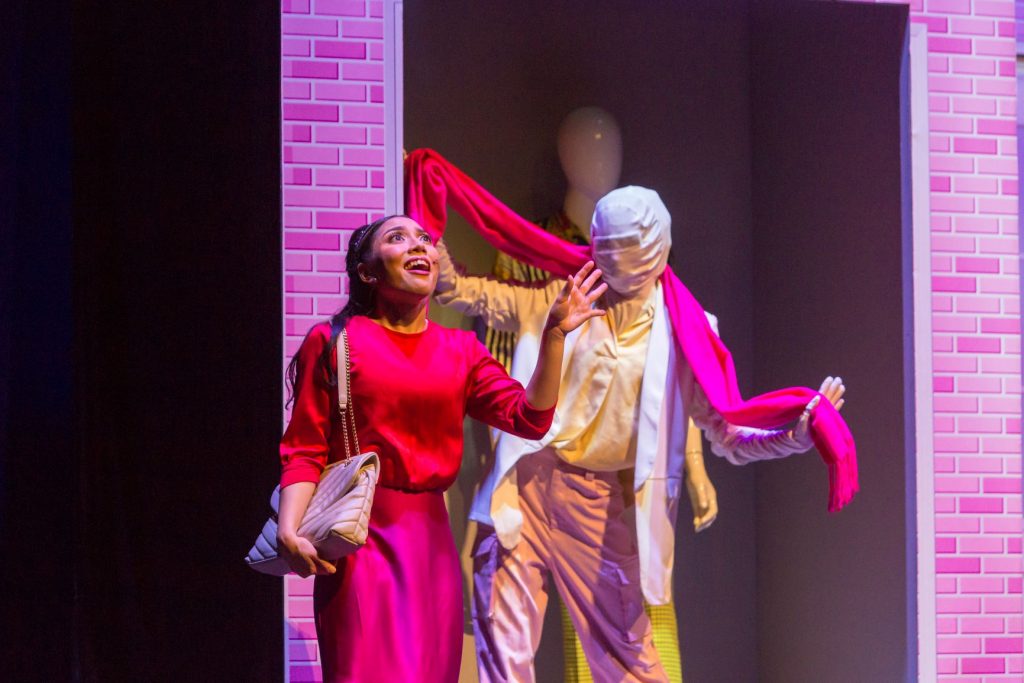 The musical opened with the main protagonist Aisha Ali narrating herself as a little girl on how she loved fashion and clothes from a young age.
Aisha Ali was played by Khalisa Mutalib, portraying a young woman who has a passion for fashion and an addiction to shopping and finds herself in a world of debt.
Khalisa was full of energy and entertaining to watch. Wearing a pink scarf, the 22-year-old brings abundant heart and soul to her character Aisha, who is likable and funny in her most naïve moments.
Khalisa is no stranger to the stage and has performed in musicals for almost six years but The Influenc(her) marks her first leading role.
"I started my musical journey in 2018 with SEEDS but took a pause from the industry to advance my studies overseas. Despite being occupied with my academics, I still kept the passion alive by taking the stage as the main cast in a university production at the University of East Anglia," she shared.
"Then shortly after I completed my undergrad degree last September, I joined Relentless' Musical Mania 4. Now, I am back with The Influenc(Her) and am deeply grateful for the opportunity to spread the appreciation for the arts in Brunei," she added.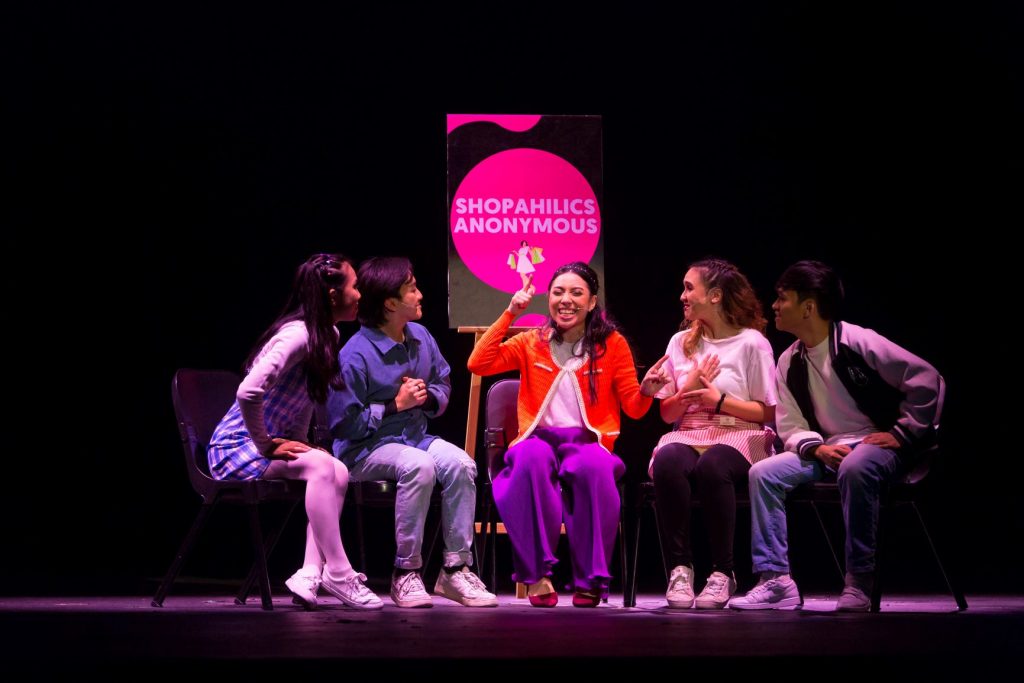 For Khalisa, understanding the background of her character is important to mold the basics before being on stage.
The 22-year-old spoke about her experience embodying her character: "It was a physically demanding yet healthy experience as I had to maintain a strict fitness discipline and vocal diet for an entire month,"
"I had acting, choreography and singing lessons almost every day for the past month or so. But with Mardi and Amy's abundance of effective acting tips and direction, I was able to embody Aisha by giving her a backstory of my own. This made it easier to be in the right headspace during every scene rehearsal we had," she added.
"As for my singing, I trained with Teacher Marcel 4-5 days a week to improve my breathing and vocal technique as well as to increase my range by doing a number of dynamic vocal exercises," she further added.
Khalisa also talked about how being a part of the production and a passionate team has helped her with her confidence to step out of her comfort zone.
"Every time I get on stage, my throat dries up from nerves. But having everyone on my team, my family, and the audience to inspire in the back of my mind, I was able to gain confidence and turn the nervous butterflies into excitement to perform. And once I step on stage, my body and brain go on auto-pilot," she said.
One of the highlights is the character Aisha's relationship with Amin, who is played by Amin Nordin. The duo have strong chemistry on stage that shines through in their performance. Both characters also have a yin and yang dynamic truly balancing each other out.
Speaking of standouts, yet another came in the form of Hafiz Sulaiman's portrayal of Hazwan, or better known as Hazzie in Influenc(her) who brought a fun lease of life into the show
Hafiz's delivery of his comedic lines was his biggest strength making the best friend role more than just a side character.
"Preparing for this role has been amazing! It did take me a while to fully immerse myself into this role but with the help of Amy and Mardi from Relentless, it became easier for me to understand who Hazzie is and eventually do this character naturally on stage," he shared.
Early exposure at the age of 13 and his journey from performing in a small musical in secondary school to bigger scenes in SEEDS and Relentless forged Hafiz's musical identity.
During the production, the 25-year-old also learned important financial and off-stage life lessons: "From my character, I have learned to always be a support for all your friends and to have a lot of fun. Hazzie taught me the warmth of being in a close-knit friendship and what it's like to be someone's support system. Hazzie also taught me to not enable people to shop more than what they can afford."
"From Influenc (Her), I learned that overspending can cause so many issues. Small financial issues can lead to bigger ones that are harder to solve. The musical also taught me to be wary of my spending," he added.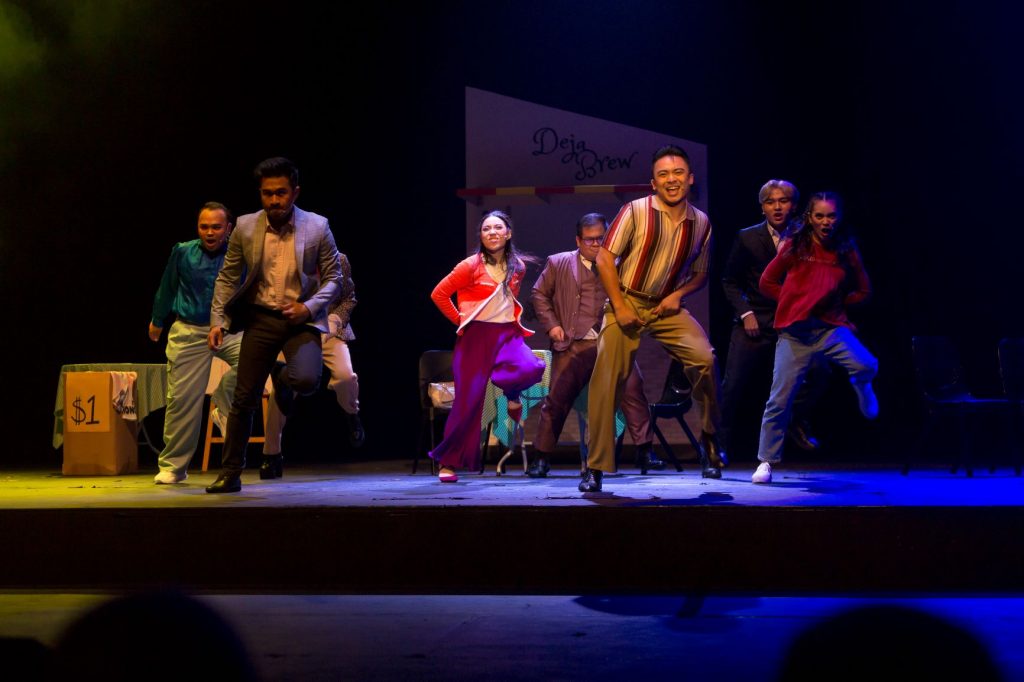 In contrast to the bubbly characters onstage, Dan the Debt Collector played by Safwan Hj Mohamad has a fantastic blend of stoicism and quirkiness with his character. Commanding the stage at ease.
"Dan The Debt Collector has quite a quirky nature. He's a bit of a comic relief, having the "nasally" voice, but he remains relentless in chasing down the main character Aisha Ali, who is both in deep trouble and in deep debt," he shared.
From his demeanor to his pronunciation of words, when preparing for the role of Dan, Safwan shared that he spent days learning and understanding the background of his character.
"Preparing for the role of Dan involved spending some time with the director (Sumardi Hedus) to understand what he wanted to have Dan be like. After that, it was hours spent on experimenting to find the voice of the character, the way Dan moved, and generally just embodying the character," he shared.
According to Co-Founder and Assistant Director of Relentless Entertainment, Amy Cheong, The Influenc(her) was attended by more than 4,500 guests for all six shows and has been well-received.
"We were initially very nervous of how the audience would react or receive the Influenc(her) especially because while the story is loosely influenced by 'Confessions of a Shopaholic', it is an original script written by Relentless," Amy shared.
"We're so happy and relieved that our audience received the Influenc(her) well. What's most important is that we reached the objective of educating our audience of the importance of spending within their means as well as to stay away from love and financial scams," she added.
When asked about the inspiration behind The Influenc(her), Amy said that BDCB came up with the brilliant idea of doing a musical to celebrate the annual National Savings Day.
"When they first approached us with the idea, we were surprised but truly honored that they wanted to collaborate with us and promote financial literacy in a fun and entertaining way," Amy shared.
"I would have to say it was definitely educational, as we had to do our research on financial terminologies as well as the various situations that occur in Brunei to ensure it was relatable to a Bruneian audience," she explained.
"It took us a few months to solidify the plot of the musical and then the writing began. This one (The Influenc(Her)) is different and very special to us as we put a lot of ourselves into the script, the direction and even the choreography of every dance and scene the actors were in; from how the characters spoke to the way they would react in different scenarios was meticulously crafted and directed by our director Mardi," Amy added.
Founded in 2008, Relentless has since produced 10 musical shows—including their first musical hit, such as "Enchanted Forest" in 2012.
For the past 15 years, the local academy has provided a wider platform for young aspiring artists, actors, singers, dancers and musicians to be a part of their theatrical performances.
When asked about the future, Amy said that Relentless plans to continue to support the performing arts community and provide and develop their Performing arts, musical theatre and dance programs at Relentless Academy of Performing Arts.
"We will continue to grow Relentless Academy and improve as well as expand the programs we provide at the Academy. We have some projects lined up for the end of the year as well as next year in the pipeline already so stay tuned to our Instagram for updates," she concluded.
THE BRUNEIAN | BANDAR SERI BEGAWAN