Two years ago, current full-time massage therapist Rita was at her wit's end with her dead-end job as an admin staff for a private car detailing company.
Being a single mother of four, Rita was in a state of perpetual fatigue, having to work through her day job while moonlighting as a massage therapist at night, just to bring food to the table.
"I would work through the office hours, go home, rest for an hour and then spend the night catering to my clients well until midnight (and) in between all of this were school runs for my kids, it was exhausting," said the 30-year-old in an interview with The Bruneian.
Until one day in 2020, she was referred to Wan Farhan Hj Ibrahim who had recently established Katik, a local on-demand in-house platform aimed at providing quality wellness services straight to your home.
Today, she is one of 14 local traditional massage therapists working with Katik as service providers, sometimes earning up to $300 worth of sales in a day, providing traditional massage and cupping services to upwards of five to seven clients daily.
"Life is easier now because I'm able to earn more through traditional massage, which is my passion because by doing this, not only do I get to earn a living and provide for my family, I get to help people as well," added Rita who has been proving traditional massage services since she was 19.
As simple as a few Katik
The inspiration to start Katik came from the app Go-Life, the lifestyle division of Indonesian ride-hailing giant Go-jek, taking into consideration the great demand for traditional massage and cupping in Brunei, shared Katik Founder Wan Farhan Hj Ibrahim.
"I thought that since the service worked well there and considering our similar cultures, the service should work well here in Brunei as well," he said, adding that Brunei's small geography would provide the startup an advantage in terms of its logistics. 
"The idea is simple and workable, it did not require high capital and with the aid of today's technology like Google Maps and Waze, it should help our service providers to easily navigate their way to the clients' homes," he added.
The ball started rolling in November 2019 when Farhan took part in a three-day entrepreneurial workshop organised by the Society for Community Outreach and Training (SCOT) in collaboration with Standard Chartered.
Aimed at addressing social concerns, the event rewarded grants to entrepreneurs that were able to succesfully formulate and pitch business ideas that can help eradicate social issues like unemployment.
"We won second place and was awarded the $5,000 grant money, which we used to start Katik, and from then on, it was a lot of research, of the industry locally as well as the means in how to create an app for these services," he explained.
"We decided to create a webapp where you can book our services online from your phone or computer. We thought of creating a native app, but we wanted to start small, build that foundation and gain traction, basically, we needed to prove that the concept works," the 37-year-old added.
And work it did. From the less than 50 orders per month when Katik first began operations in November 2020, now Katik receives upward to 100 orders in a week, which Farhan has admitted can be overwhelming, having only 14 local traditional massage therapists currently.
Katik's wellness services currently include traditional massage, cupping and fertility cupping which can be booked in one of two ways; through their website at www.katik.me or through WhatsApp.
Before a user can start booking however, they must register and sign-in to the website, to which they can begin booking their session straight from the home page. From here, they are then redirected to the Booking Form where they can choose a service and when and where they prefer to receive it.
Once submitted, Katik will assign a service provider suitable to the request which can be as quick as within two hours of the booking.
Clients may also book up to four weeks in advance if they choose, and to ensure client safety, Katik service providers can be identified by the official Katik uniform they wear – a light gray polo t-shirt with the Katik logo on it.
Transforming the ecosystem
Though the inception of Katik came from its economic potential, as reflected by similar services providers in other countries, the ultimate goal of the on-demand platform is more nuanced, particularly in its desire to to help transform the local traditional massage and wellness sector.
Ultimately, with Katik, Farhan aims to not only provide employment opportunities, but also to ensure quality service and accessibility to clients as well as to establish standardised rates for the service providers.
After being awarded the seed money to begin Katik, Farhan actually spent a year conducting market research on the local traditional massage sector which actually involved hunting down traditional massage providers who are still in operation.
"Quite often, when it comes to local traditional massage therapists in Brunei, there are a few issues; first they are hard to find, often discovered through word of mouth or only operating within their respective villages," he explained. 
"Second, is the value or the rates that they give. Bear in mind, a lot of these individuals are from low income families or have a low education level, yet they have rely on 'seangkat hati' (a local adage that refers to payment based on a customer's desired amount rather than the service provider)," he added.
"In the context of the sector being in high-demand, how labour intensive it is and the fact that they would have other jobs to supplement their earnings, it is honestly a shame how these individuals were undervalued," he continued.
Katik remedies this by establising standardised rates across all their current wellness services with prices that range from $40 to $65, which not only enables the service providers to improve the quality of life but also as a means to change perceptions of the public.
"We know now that Katik works and is in high demand, but our problem now is meeting that demand because we need more therapists, but they are hard to find because the current generation do not see a future in it," Farhan went on to say.
"If this is left alone, the tradition can possibly disappear but with Katik, I wanted to create something positive, and part of that is to chnage people's perception, that being a traditional massage therapist is a viable option and a lucrative possibility," he added.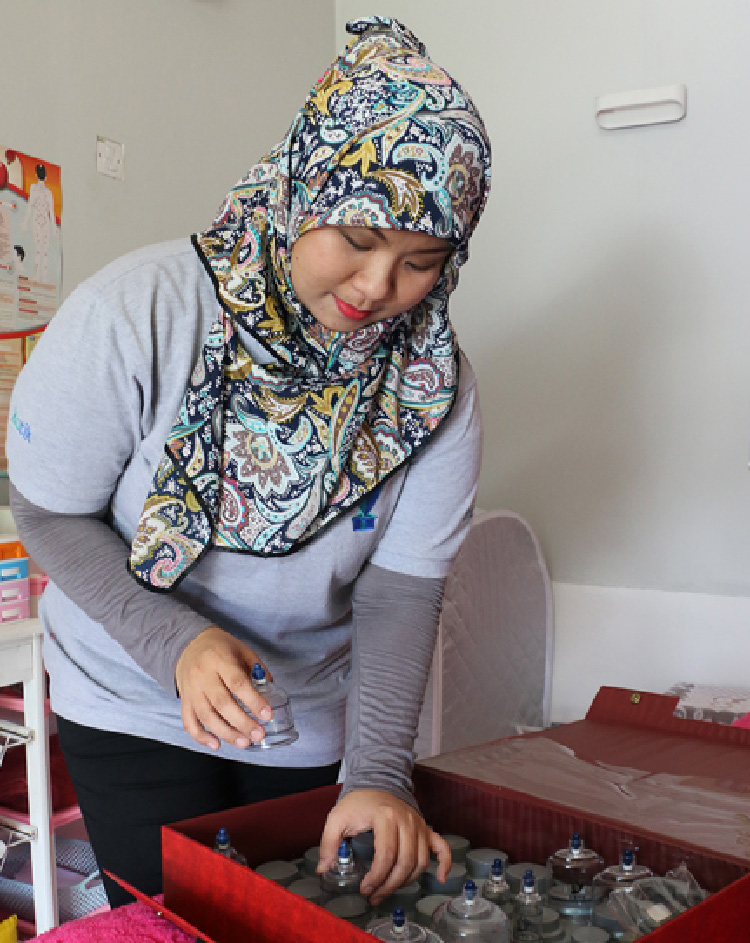 This article was first published on May 22, 2021 in our Weekly E-Paper issue 142
THE BRUNEIAN | BANDAR SERI BEGAWAN