Great news tea-lovers! T4, the trendy Taiwanese beverage outlet is branching out to the bustling areas of Brunei-Muara to quench your thirst.
Following a successful opening of T4's first branch in Seria in 2014, the Taiwanese franchise is now expanding its reach into the Brunei-Muara area with its second outlet at Bangunan HS in Kilanas (same building as Jollibee Drive-thru).
According to the co-owner of T4 Brunei, Mok Chui Hou the decision to have the new store in Kilanas is also owing to its strategic location near a populated and highly dynamic residential and business area making it the perfect location for their second branch.
The international franchise was founded in Taiwan in 2004 with the philosophy of connecting people through a cup of tea. The name and concept "T4" originated from a greeting between people: "A cup of tea for you."
Owners Mok Chui Hou and Lim Wei Sen opened their first T4 branch in 2014 because they both love tea. After trying out many tea franchises, they liked T4 the best.
"The reason behind bringing the franchise into Brunei is because we wanted to introduce Bruneians to the variety of tea that T4 has to offer. Every franchise has its own unique play in this industry. But we are focusing on providing quality tea and to introduce more varieties of tea in this country," Mok said.
Opening an international franchise however had its challenges; from the operation of the business to getting the brand halal-certified, but these never deterred Mok, instead she accepted the fact that building a business takes time and patience.
He noted how T4's loyal customers became a key aspect of the business's seven-year longevity.
"We keep learning. All our teams and everyone who has taken part in our journey has provided us support and feedback which allowed us to continuously improve," he added.
What's inside?
The storefront is instantly recognisable for its bright turquoise colour and its illuminating "Tea for you" slogan.
For the new branch, the owners wanted to evoke a sense of contemporary fun into its design.
Inside, decked in a minimalistic design with an almost all-white interior with cool shades of teal and grey accented details and natural lighting creating a leisurely and relaxed atmosphere for patrons to enjoy.
With an ample and comfortable seating area that can fit up to 25-30 patrons, customers will feel right at home, pulling up a chair and sipping on a fresh flavoured tea.
Putting the Tea in Quali-tea
Whether you're looking for healthier options, creamy flavours or fruit-based favourites, T4 has a wide range of drinks to choose from.
The brand introduced eight crowd-pleasing series in the local market namely; Original Flavour series, House Special Series, Flower & Fruit Flavour Series, Smoothie Series, Milktea Series, Milktea with toppings series, Tie Guan Yin Series and Cream Cheese Series.
T4 is known for their premium beverages. The Taiwanese franchise differentiates itself by its high-quality tea leaves and strong unique taste.
According to Mok, the tea is brewed just right with the perfect balance of flavours, ensuring its authentic taste.
The franchise is all about paying homage to the tea-making culture in Taiwan with most of their range based on four types of tea, including Earl Grey, Jasmine green tea and two types of oolong tea — Tie Guan Yin Oolong and Jadeite Royal Tea, Mok explained.
T4 focuses solely on the quality of its beverages from the preparation of the tea leaves to the temperature of the drink.
Customers can expect to get their hands on the bestsellers, including their TieGuanYin Oolong, Elegant Lady Rose Tea, Chocolate Smoothie and so much more.
For Mok, his personal favourite would be their Tie Guan Yin series. "I like the bold and earthy taste of the tea," he said.
For first-timers, their signature Elegant Rose Tea also comes highly recommended by the owners with its delicate floral notes of flavour without being perfume-y and a hint of lemon. Overall, the drink is simply satisfying and refreshing.
If you are looking for something fulfilling you need to try their blockbuster drink, their Avocado smoothie. A fan-favourite among T4-lovers. The ultra-creamy drink that has the perfect texture to fuel your day.
To celebrate its new launch, T4 is introducing its latest drink, the Strawberry smoothie with jelly — Cooling and extremely refreshing, each sip of the drink picks up a delightful strawberry surprise and jelly sweetness.
For those who are looking for something savoury, T4 offers a wide range of their house-made finger food such as their hot-selling fried calamari, popcorn chicken, popcorn mushroom, fried green beans, among others.
T4 also offer members Digital membership cards via Doripod. Instead of the traditional membership stamp cards, T4 switched to a digital loyalty program that allows customers to score points for every T4 beverage they buy.
Moreover, members will also be able to redeem their birthday gifts, get the latest updates to product launches and promotions.
The system also acts as a wallet that allows customers to store cash within the digital membership card where they can top-up at any amount at any of the T4 branches.
In addition, when asked about future plans for the franchise, Mok said that they are eyeing to open more branches and extending its drink and food menu in the future.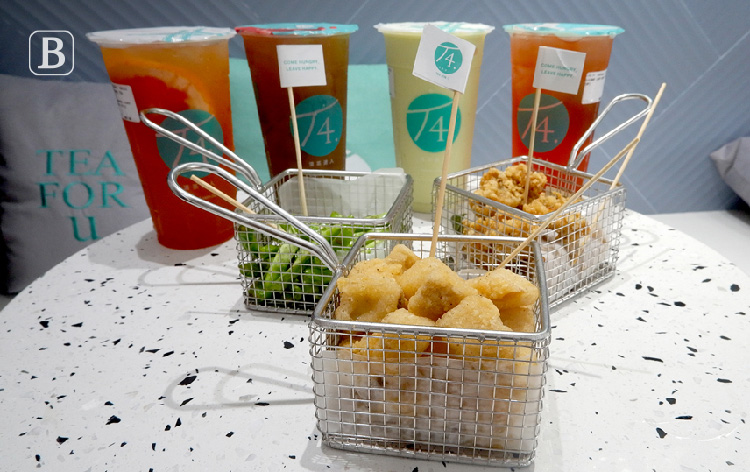 This article was first published on 31 July 2021 in our Weekly E-Paper issue 152
THE BRUNEIAN | BANDAR SERI BEGAWAN